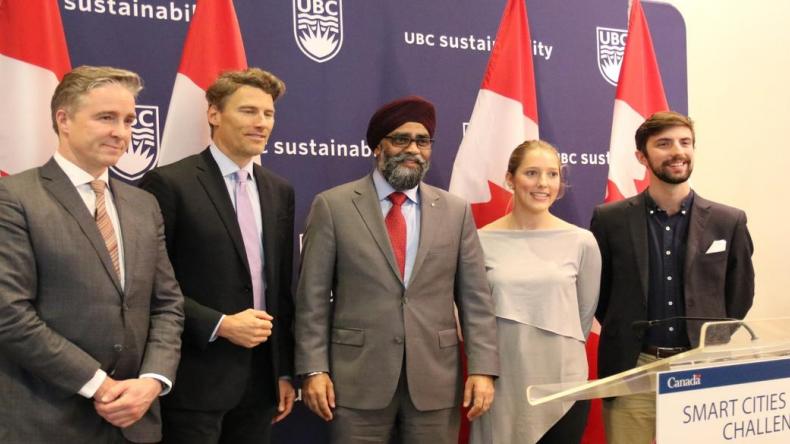 19 January 2018
A Smart City is an urban area that uses data and technology to create efficiencies, improve sustainability, and create economic development in order to enhance quality of life factors for people living and working in the city. Smart cities have the potential to improve how we interact with our surroundings, and address various social issues.
Cities are where social innovation happens, which allows everyone to equally seize the opportunities offered by digital transformation and technological advances. Smart City projects include using sensors to monitor air quality for high pollution levels, as is done in Chicago , yielding information that would help citizens with asthma. Or even sensors to determine when a bus is full, which could send notifications to allow commuters to better plan their route.
Around the world we are seeing more smart cities than ever before, with Vancouver currently ranked 11th on the 2017 Smart Cities Index. Along with the city's efforts to be the greenest, could we also be the smartest?
In December 2017, Honourable Minister Harjit Sajjan announced the Canadian Smart Cities Challenge at the Center for Interactive Research on Sustainability—one of UBC's green buildings—at the Vancouver campus.
Calling the challenge "an opportunity to tackle issues collectively as a city by actively involving citizens to identify and offer solutions to areas of social improvement," Sajjan explained, "we are looking to you, the community leaders and experts to deliver the real results for your residents, through the incredible power of data and connected technologies. By working together and dreaming big you can implement bold new ideas to make real changes in the community, and tangible improvements for the people who live in them."
Also present at the announcement was Mayor Gregor Robertson who accepted the challenge adding that "competing in the global economy [means that we] have to be at the table working as hard as we can to be a smart city. The growth of cities is happening as the biggest migration of human history right now. As we double the city's population and infrastructure we know there are amazing impacts on communities as we grow and change. Using data technology to learn from that, we can set up a system to keep the quality of life that we are accustomed to living here, and adjust to the major challenges we are facing, whether its transportation, or housing being accessible and affordable"
Already, the University has surpassed its greenhouse gas emissions reduction target of 33% below 2007 levels, and is on its way to meeting the 2020 Climate Action Plan target of reducing emissions by 67%. UBC achieved these results by reducing demand for natural gas in buildings through the steam to hot water conversion project and focusing on expanding renewable energy supplies.
UBC Masters of Engineering Leadership student Kimberly Bucket described her experience working with the City of New Westminster during an Urban Systems course earlier in the year: "My project team report was specially related to citizen engagement and big data. Through this process we found that the city of New Westminster experienced the same challenges as any growing city, where an increasing population is putting greater demand on public services and infrastructure. It was our ambition to present a framework for the City that encompassed innovative ways to use technology to help bring people together and improve the livelihoods of their citizens. We found that investing in the right data and technology can lead to more effective public services, enhanced partnership and collaborations, and empower residents to participant in the planning and decision making process within their own community."
George Benson, a former Greenest City Scholar described his involvement in supporting the green economy through his project with the Vancouver Economic commission, which considered ways to tap into underutilised city owned land and infrastructure to support clean tech entrepreneurs. "The exciting thing for me in this project was to develop a number of different solutions related to leveraging land, which I'm happy to say were actually included in the False Creek Flats economic development strategy that was passed by council earlier this year. For me as a Greenest City Scholar and young person, it is very exciting to see something that I worked on have a real impact in the world, and it's amazing to know that institutions like the City of Vancouver and UBC are open to having young people have an impact in a real, tangible way."
Applications for the Canadian Smart Cities Challenge are due by April 24, 2018. Communities interested in participating should visit the Impact Canada Challenge Platform for the application guide and more information.