As British Columbia's largest university across two main campuses, UBC is a destination for students, staff, faculty, neighbourhood residents, alumni and citizens from communities across the region. Trips to our Vancouver campus are made primarily by transit (54%) and carpooling (11%). While in the Okanagan, sustainable transportation has increased to 23% for transit, and 19% for walking and cycling.
54%
OF ALL TRIPS TO AND FROM CAMPUS WERE MADE BY TRANSIT (VANCOUVER)
56%
OF ALL TRIPS WERE MADE BY SUSTAINABLE MODES OF TRANSPORTATION (VANCOUVER)
43%
OF ALL TRIPS WERE MADE BY SUSTAINABLE MODES OF TRANSPORTATION (OKANAGAN)
19%
OF ALL TRIPS WERE MADE BY CYCLING & WALKING (OKANAGAN)
KEY ACHIEVEMENTS
UBC VANCOUVER
New RapidBus service, SkyTrain advocacy​ | A new RapidBus from UBC to the Expo Line's Joyce-Collingwood Station began operating, capable of carrying 4,400 passengers per hour. UBC President and Vice-Chancellor Santa J. Ono and Mayor of Vancouver Kennedy Stewart, continued joint advocacy efforts in local media for a SkyTrain extension to UBC.
Vanpool partnership with Translink and Modo | In addition to 10 new vanpools, the program has also introduced carsharing to regions previously not served by Modo. The pilot is part of TransLink's efforts to provide commuting options beyond the fixed route transit system.
Ride-hailing arrives at UBC Vancouver | With the potential for high usage , ride-hailing services at UBC will follow a new policy framework designed to manage potential curbside and congestion impacts, and support UBC's sustainable transportation goals.
New Bus Exchange at UBC Vancouver​ | The new bus exchange has separate arrival/departure platforms, large canopies for rain cover, improved lighting, and a screened layover facility.
UBC OKANAGAN
New transportation plan in development​ | The plan will tackle scope 3 commuting emissions through infrastructure improvements, Transportation Demand Management strategies, and sustainable transportation opportunities to reduce single occupancy vehicle use.
UBC Okanagan wins national commuting challenge​ | UBC Okanagan encouraged sustainable transportation via a 30% increase in Bike to Work Week participation, and by promoting transit, walking, carpooling and telecommuting options. The result reduced CO2 emissions by 7,120 kg and won the 2019 National Campus Commuter Challenge.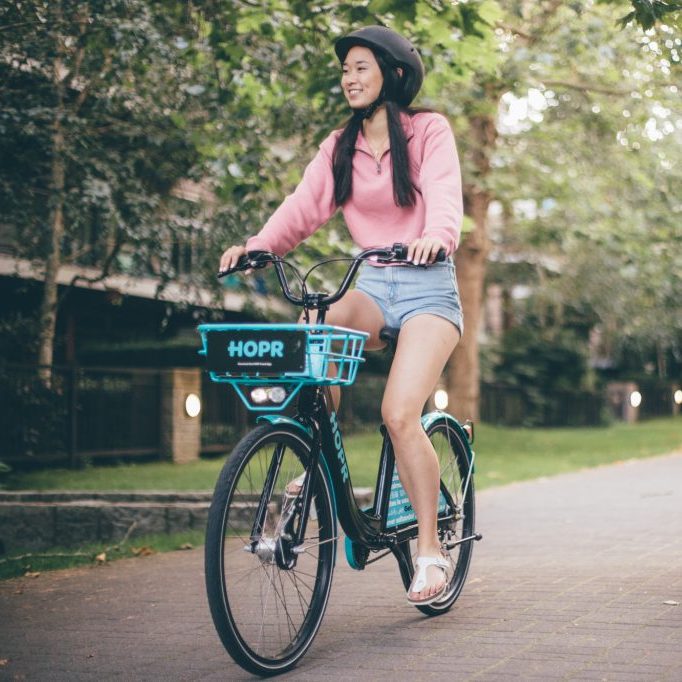 Campus-wide bike share program rolls out across campus
In July 2019, UBC Vancouver's campus-wide bike share pilot evolved into an ongoing program, operated by HOPR. This freefloating bike share program has a fleet of 200 bikes and over 80 designated hubs installed across campus, in both academic and neighbourhood areas.
The program provides an important first and last mile connection to transit, improving transit travel times and access to destinations across UBC's vast 400 hectare campus community. The designated hubs make it easier for users to locate and park shared bikes, they conserve bike rack space for other cyclists, and they reduce potential for bikes to end up scattered around the public realm.
The program has been extremely successful with an average of over 225 trips per day throughout the fall of 2019.