The Campus Biodiversity Initiative: Research and Demonstration (CBIRD) serves as an interdisciplinary and multi-stakeholder hub for connecting students, academics, practitioners and the wider community in collaborative applied research to advance scalable urban biodiversity ideas, policies and actions on campus.
CBIRD is UBC's platform for biodiversity partnership, enhancement, conservation and stewardship through applied research, community engagement, and the growth of a thriving biodiversity network.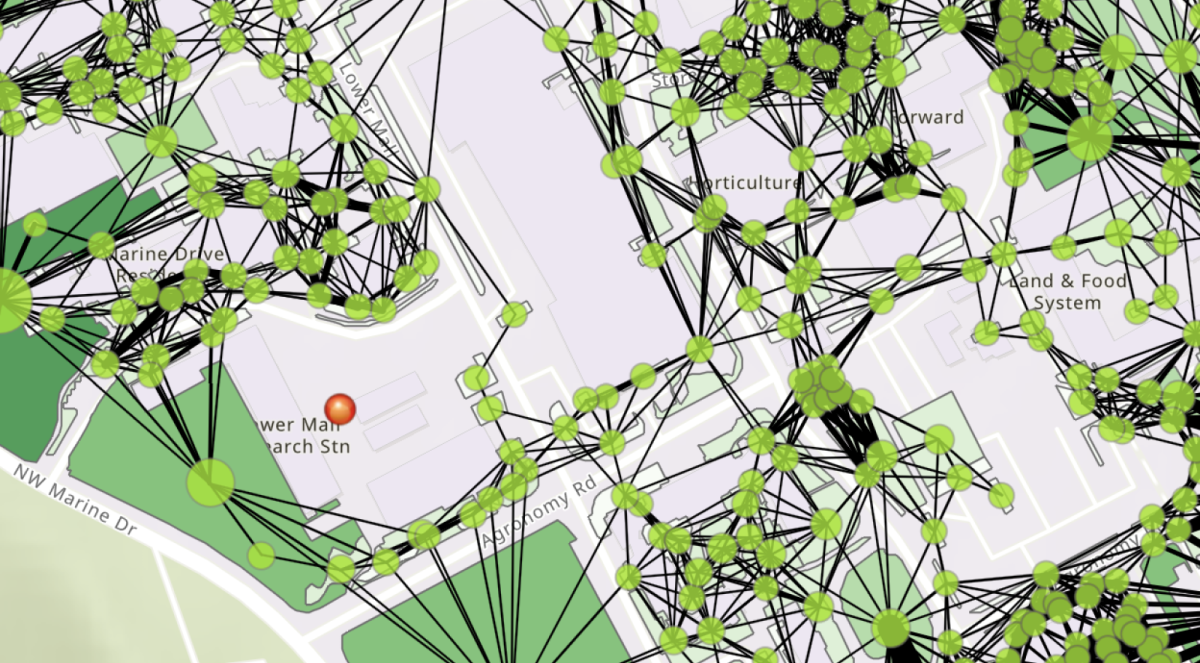 Photo 1. Campus Ecological Connectivity
Campus Ecological Connectivity - In Partnership with the SEEDS Program, Nick Mantegna, an undergraduate in the Urban Forestry program, developed UBC's first analysis and innovative map of the connectivity of greenspaces on the UBC Vancouver Campus to inform UBC greenspace design and management moving forward.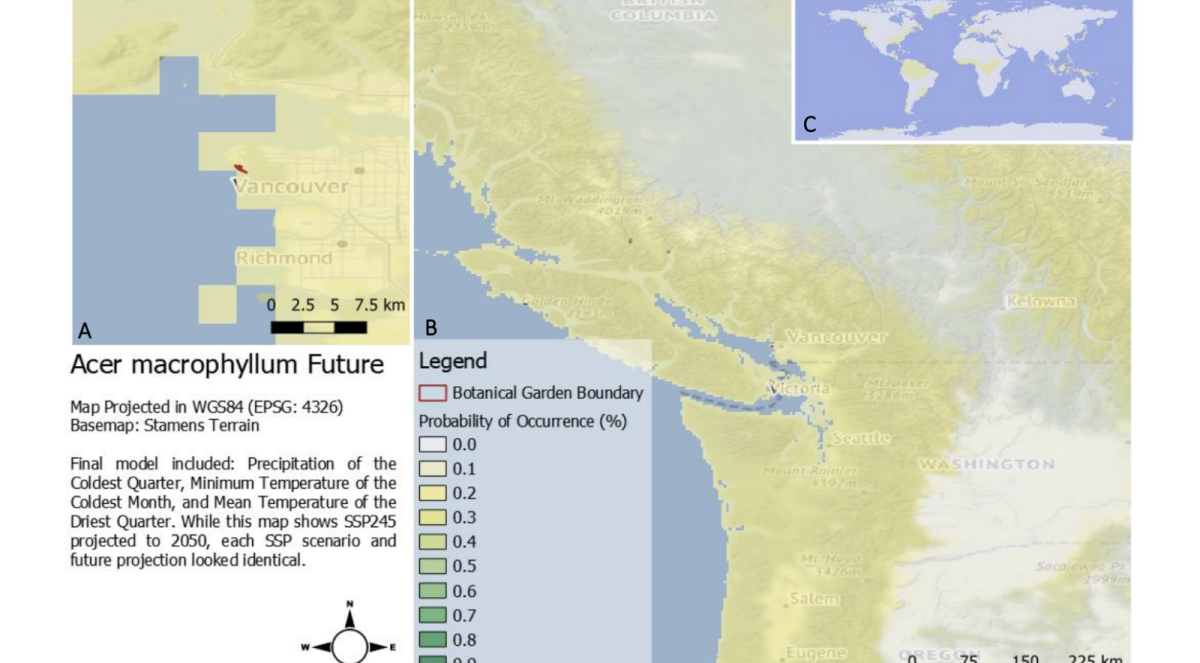 Photo 2. Climate Adaptation Scenarios
Climate Adaptation Scenarios - Four species of Maple at the UBC Botanical Garden. In this project, MGEM student Courtney Stevens completed a climate suitability analysis for four species of maples, both native and exotic, informing practices at UBC.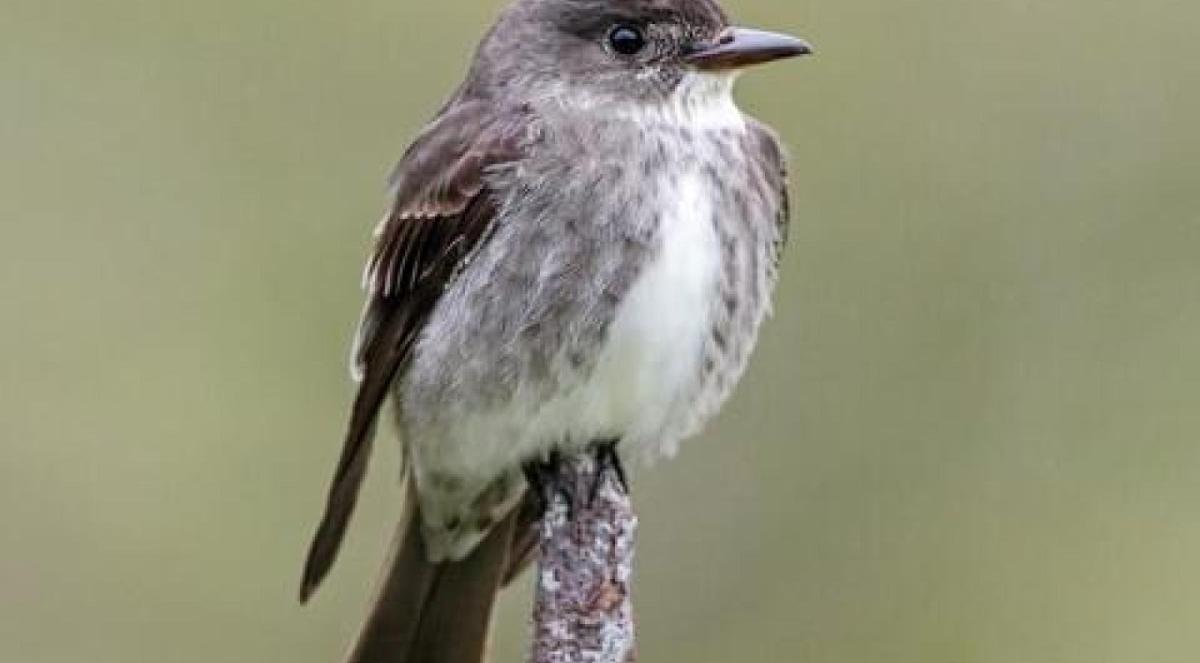 Photo 3. Birds on UBC's Van Campus
Birds on UBC's Vancouver Campus. This student-led project used a mix of community surveys and ecological information to develop a list of conservation significant species where scalable habitat changes can be made.
hIGHLIGHTS ​
UNDERSTANDING OUR URBAN FOREST
As communities adapt to impacts of COVID-19, outdoor green spaces are becoming increasingly important for health and wellbeing. Urban forests and green infrastructure are expected to be key assets in urban planning as cities around the world commit to mitigating and adapting to climate change.
This new Urban Forest report highlights relevant student-led research and interdisciplinary collaborations regarding the UBC Vancouver campus' urban forest and biodiversity. The UBC Vancouver campus provides a unique opportunity for piloting different applied research and learning projects using campus land, natural resources, and other physical and planning assets.
BIRD FRIENDLY WINDOW ART PROJECT
UBC PhD candidate Lora Zosia Moon designed this window application as part of the "For the Love of Birds" competition through the SEEDS Sustainability Program. Bird-friendly window art is installed outside the Loop Cafe to reduce collision deaths at UBC.
By participating in a CBIRD collaboration, you can:
Join a well-established interdisciplinary campus network and contribute to applied student research and collaborations that can generate scalable solutions to conserve and enhance campus urban biodiversity.

Help inform and advance UBC's urban biodiversity plans, policies and practices.

Contribute to campus engagement in urban biodiversity.

Strengthen your knowledge of urban biodiversity challenges and solutions from diverse disciplines and perspectives.

Grow your network and make connections with campus operational practitioners, faculty , students and community partners.
ABOUT
Together with the Faculty of Science, SEEDS launched CBIRD in 2016 as a new interdisciplinary initiative funded by a Teaching & Learning Enhancement Fund (TLEF) grant to expand its work in advancing sustainability and applied research on the Vancouver campus to a new thematic area — biodiversity.
CBIRD has evolved into a thriving initiative that includes a governance structure with interdisciplinary faculty and cross-campus operational partners, formalized applied research clusters, and strong alignment to inform campus planning, policies and practices that can enhance, conserve, & steward campus urban biodiversity through meaningful engagement and mutual learning.
WHO WE ARE
CBIRD is led by a Steering Committee including representation from six of UBC's faculties and schools, and 15 academic and operational departments, and provides advisory guidance to advance CBIRD vision to enhance, conserve, and steward campus urban biodiversity. Together with their extended networks, the CBIRD Steering Committee provides interdisciplinary expertise and guidance to help inform and advance the development and implementation of campus policies, plans and practices which address and respond to key urban biodiversity and related issues through local research projects and partnerships that utilize the Campus as Living Laboratory.
Action Teams serve as engaged experts from the CBIRD Steering Committee and other partners who support the implementation of priorities. The CBIRD Ecosystem Services Action Team develops technical analyses and scopes student research and collaborations between staff, faculty and students that can inform campus biodiversity policy and practices. View our UBC Campus Biodiversity Knowledge Networks to see a visualization of CBIRD Steering Committee, Action Teams and affiliated networks, and learn more about the people behind this work.
Applying a community based and systems approach, CBIRD has established the following vision, mission and goals:
VISION
To enhance, conserve, & steward campus urban biodiversity through meaningful engagement and mutual learning, and advance sustainability education and student led research. Through applied whole-systems thinking, CBIRD serves as an interdisciplinary partnership platform to enable this vision to unfold for net positive outcomes for human and ecological health.
MISSION
To inform policy and practice that enhances biodiversity through research, education, campus and wider community engagement, and demonstration.
GOALS
1. Inform and advance policies and plans which address and respond to key urban biodiversity issues
2. Advise and co-develop scalable solutions that inform practices for tackling the urban biodiversity crises through local research projects and partnerships
3. Create applied student research and impactful learning opportunities and interdisciplinary partnerships that utilize the Campus as Living Laboratory
4. Cultivate biodiversity stewards through increasing public awareness and knowledge, demonstration projects, citizen science and biodiversity celebrations
5. Strengthen UBC's leadership in urban biodiversity conservation and stewardship considering future climate conditions
RESEARCH FOCUS AREAS
RESEARCH FOCUS AREA 1: CAMPUS URBAN BIODIVERSITY BASELINE
UBC Biodiversity Asset Baseline Research Cluster:
Goal: Create a baseline of campus biodiversity assets across multiple taxa, habitat types, and ecosystem functions to refine current biodiversity monitoring and inform campus policies and practices
Key Deliverables: Multi-Year Applied Research Initiative: 2022-2025 Campus Urban Biodiversity Baseline Strategy piloted and launched.
RESEARCH FOCUS AREA 2: CAMPUS URBAN BIODIVERSITY INTEGRATED VALUATION
Integrated Valuation of Campus Urban Biodiversity Ecosystem, Social and Cultural Services Research Cluster:
Goal:Develop a deeper understanding of the integrated valuation of biodiversity on the UBC Vancouver Campus.
Key Deliverables: Campus Urban Biodiversity Natural Assets Valuation, including ecosystem and social cultural services
RESEARCH FOCUS AREA 3: CAMPUS URBAN BIODIVERSITY THREAT & VULNERABILITY ASSESSMENT
Vulnerabilities & Drivers of Campus Biodiversity Loss Research Cluster
Goal:Determine key vulnerabilities and threats facing urban biodiversity loss for the UBC Vancouver Campus
Key Deliverables: Threat & Vulnerability Assessment including identification of species most vulnerable, and factors that lead or pose a risk to urban biodiversity loss at the campus and beyond
KEY ACCOMPLISHMENTS AT A GLANCE
STUDENT ENGAGEMENT
Over 400 students conducted applied CBIRD research projects with over 60 staff and community partners generating 78 student-led research reports.
POLICIES PLANS AND PRACTICES
INTERDISCIPLINARY PARTNERSHIPS
Committees & Action Teams
Formalized governance structure includes a Campus Urban Biodiversity (CUBS) Plan, interdisciplinary CBIRD Steering Committee, and supporting Action Teams who provide interdisciplinary expertise and guidance on student research and collaborations that can help inform urban biodiversity related planning and practices, feedback on strategic priorities and initiatives, input on initiative progression, and promoting the communication of outcomes.

The Ecosystem Services Action Team
This Action Team has been taking a lead on integrating biodiversity and ecosystem service practices and principles with emerging policy and planning processes, as well as developing a campus natural asset baseline.
KNOWLEDGE MOBILIZATION
Publications
EVENTS
Biodiversity Showcase - Biodiversity for Resilient Communities (2018): CBIRD hosted its 2nd Annual
Biodiversity Showcase on Biodiversity for Resilient Communities in 2018 at the UBC Botanical Garden. This event brought together a network of biodiversity researchers, practitioners, SEEDS project participants, and engaged community members for an evening of dialogue and learning to showcase efforts towards enhancing biodiversity for resilient cities here at UBC and beyond.
Biodiversity Showcase (2017): CBIRD hosted its first annual Biodiversity Showcase in 2017 at the Beaty
Biodiversity Museum. The event celebrated the milestones achieved after the completion of the first year for CBIRD and student, faculty, and staff collaboration to address real-life sustainability and biodiversity challenges on the Vancouver campus. It provided an opportunity to publicly showcase the year's student biodiversity research and outcomes and to bring together the biodiversity community for networking and educational opportunities. Approximately 100 people from a wide range of backgrounds listened to talks from faculty, practitioners, and nine student researchers
READY TO CONNECT AND EXPLORE A CBIRD COLLABORATION?
Contact us with questions, inquiries on how to get involved in CBIRD, or to take a look at our current opportunities through the SEEDS Sustainability Program.
Liska Richer
Manager, SEEDS Sustainability Program | Campus + Community Planning
Emma Luker
Planning Analyst | Campus + Community Planning