UBC has set ambitious sustainability goals and wellbeing commitments reflected in its 20-Year Sustainability Strategy, UBC Strategic Plan, and Sustainability Action Plans. Several factors have catalyzed UBC's approach to date, including being an early signatory of the Halifax and Talloires Declarations, a commitment that UBC pledged along with other universities to make sustainability a foundation for teaching, research, and campus operations. UBC was an early adopter of sustainability policies and practices including Sustainable Development Policy #5, Sustainability Academic Strategy, a 20-Year Sustainability Strategy, and UBC's Strategic Plan, as well as many action plans spanning climate, water, waste, green buildings, and transportation.
One of the important ways the university has addressed the challenges in supporting these goals is by utilizing a vast Campus as a Living Laboratory approach, where campus serves as a societal testbed for studies that lead to outcomes with transformative impacts.
In 1998, UBC was the first university in Canada to create a Sustainability Office. Shortly after, in late 2000, the SEEDS Sustainability Program was launched. SEEDS was designed as a response to Sustainability Policy #5, which called for a program to enable staff, faculty and students to work together to advance sustainability on campus. The program grew out of UBC's Greening the Campus initiative (1994 to 1998), where some 50 projects related to campus sustainability were researched and produced by UBC students before the program ended in 1998. In 2000, the concept was revitalized and SEEDS was established within the Campus Sustainability Office.
Building on the theme of "Campus as a Living Laboratory," the SEEDS Sustainability Program became Western Canada's first academic operational program to integrate students' energy and enthusiasm for sustainability with faculty members' research experience, and staff members' commitment and expertise to advance sustainability on campus, using the campus as a giant research opportunity or "living lab."
SEEDS EVOLUTION
Since its creation in 2000, SEEDS has evolved and grown in scope. Now situated within UBC's Campus + Community Planning's Sustainability & Engineering Department, SEEDS is closely connected to operational sustainability. SEEDS plays an important role in provision of Research & Development (R&D) functions within the unit in helping to inform and advance operational sustainability policies and plans, and broader University commitments to sustainability and wellbeing.
In its first year, SEEDS worked with four faculties and a handful of participants, and more than twenty years later SEEDS has generated more than 2,000 applied student research reports with over 10,000 UBC students, faculty, staff, and community partners.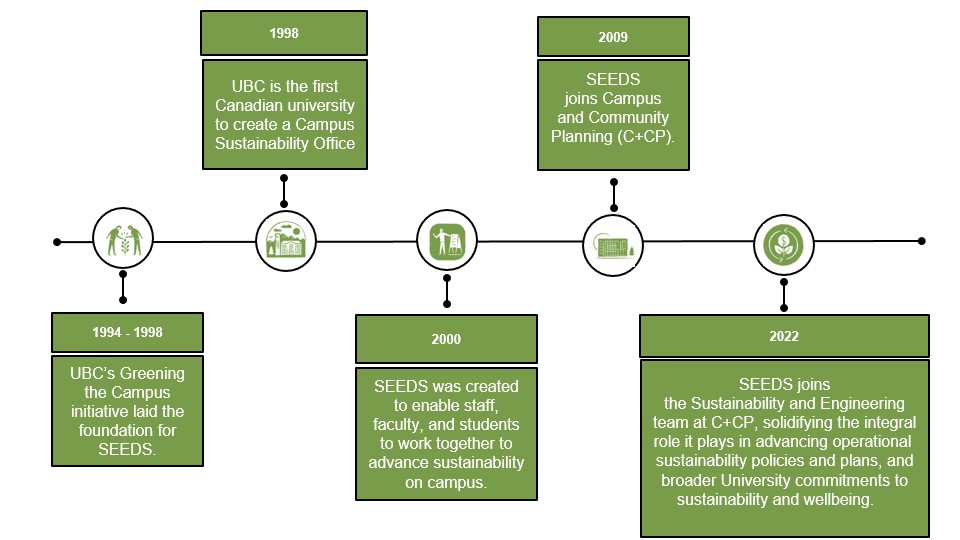 SEEDS TODAY
In 2020, SEEDS renewed its program vision, mission and goals to strengthen alignment with university strategic priorities around sustainability and wellbeing, interdisciplinary research and transformative learning. Supporting actions were created to strengthen how SEEDS utilizes the Campus as a Living Laboratory to co-create impactful student-led research opportunities and interdisciplinary partnerships that advance UBC's ambitious sustainability and wellbeing commitments and create scalable solutions to critical societal issues. In addition, SEEDS rearticulated its objectives and identified supporting goals that could contribute to UBC's Strategic Plan's Pillars including: Transformative Learning, People and Places, Local and Global Engagement and Research Excellence, as well as many supporting strategy areas such as interdisciplinarity, sustainability, knowledge mobilization, inclusion, innovation, and reputation.
SEEDS Priority Areas & Governance Committees
In 2020, SEEDS launched its "Big Five" Research Priorities to represent key interconnected societal issues that advance knowledge and action on UBC's sustainability and wellbeing commitments. Priorities are periodically adapted to ensure alignment with the UBC's strategic priorities. Currently, SEEDS Big 5 Research Priorities include:
Accelerate Climate Action
Maintain & Enhance Urban Biodiversity
Enable the Great Food Transformation
Create Circular & Regenerative Economies
Foster Community Wellbeing & Inclusion.
Committees and sub-action teams composed of students, faculty, staff, and community stakeholders support SEEDS Big 5 Priorities. Each committee advises on priorities, milestones and action plans to help guide goal setting and facilitate cross-cutting initiatives in each area. Four collaborative Interdisciplinary initiatives work in parallel to advance these priorities and harness the Campus as a Living Laboratory:
SEEDS as a Case Study