Welcome to the SEEDS (Social Ecological Economic Development Studies) Sustainability Program. SEEDS creates applied student research and interdisciplinary partnerships between students, faculty, staff, and community partners to advance sustainability ideas, policies, and practices. SEEDS creates societal impacts by using the Campus as a Living Laboratory. Learn about the history of the program, our goals, impacts, and our achievements.
OUR HISTORY
Growing out of UBC's "Campus as a Living Laboratory" approach, SEEDS became Western Canada's first academic operational program to integrate students' enthusiasm for sustainability with faculty members' research experience, and staff members' expertise in order to advance UBC's ambitious sustainability goals. Since its creation in late 2000, SEEDS has evolved to play a critical role in helping the university develop and achieve its ambitious targets and broader commitments to sustainability and wellbeing.
Our approach
VISION
We advance UBC's leadership in sustainability by convening and catalyzing community-based partnerships and actionable solutions towards ecological human health and wellbeing by empowering and mobilizing students to make meaningful and positive change at UBC and in the world.
PURPOSE
Utilize the Campus as a Living Laboratory to co-create impactful student research opportunities and interdisciplinary partnerships that advance UBC's ambitious sustainability and wellbeing commitments and create scalable solutions to critical societal issues.
GOALS
SEEDS Sustainability Program directly supports UBC's rapidly evolving sustainability and wellbeing commitments to create scalable solutions to critical societal issues.
Our goals are to:
1. Advance strategies to achieve UBC's sustainability and wellbeing commitments and the United Nations Sustainable Development Goals as they align with the University's strategic priorities.
2. Catalyze impactful applied research experiences that empower and equip students to explore and develop solutions to societal challenges and advance UBC's sustainability and wellbeing commitments.
3. Foster and strengthen interdisciplinary partnerships between campus students, faculty, staff, and community.
4. Integrate operational and academic efforts in sustainability that connect UBC's curriculum to its sustainability mandate.
5. Co-create and amplify knowledge through meaningful community engagement that translates and mobilizes knowledge into actions.
6. Generate scalable solutions to critical societal issues that leverage the Campus as a Living Laboratory.
CORE PRINCIPLES
Core principles guide SEEDS work and are integral in our approach to achieve our mission and vision.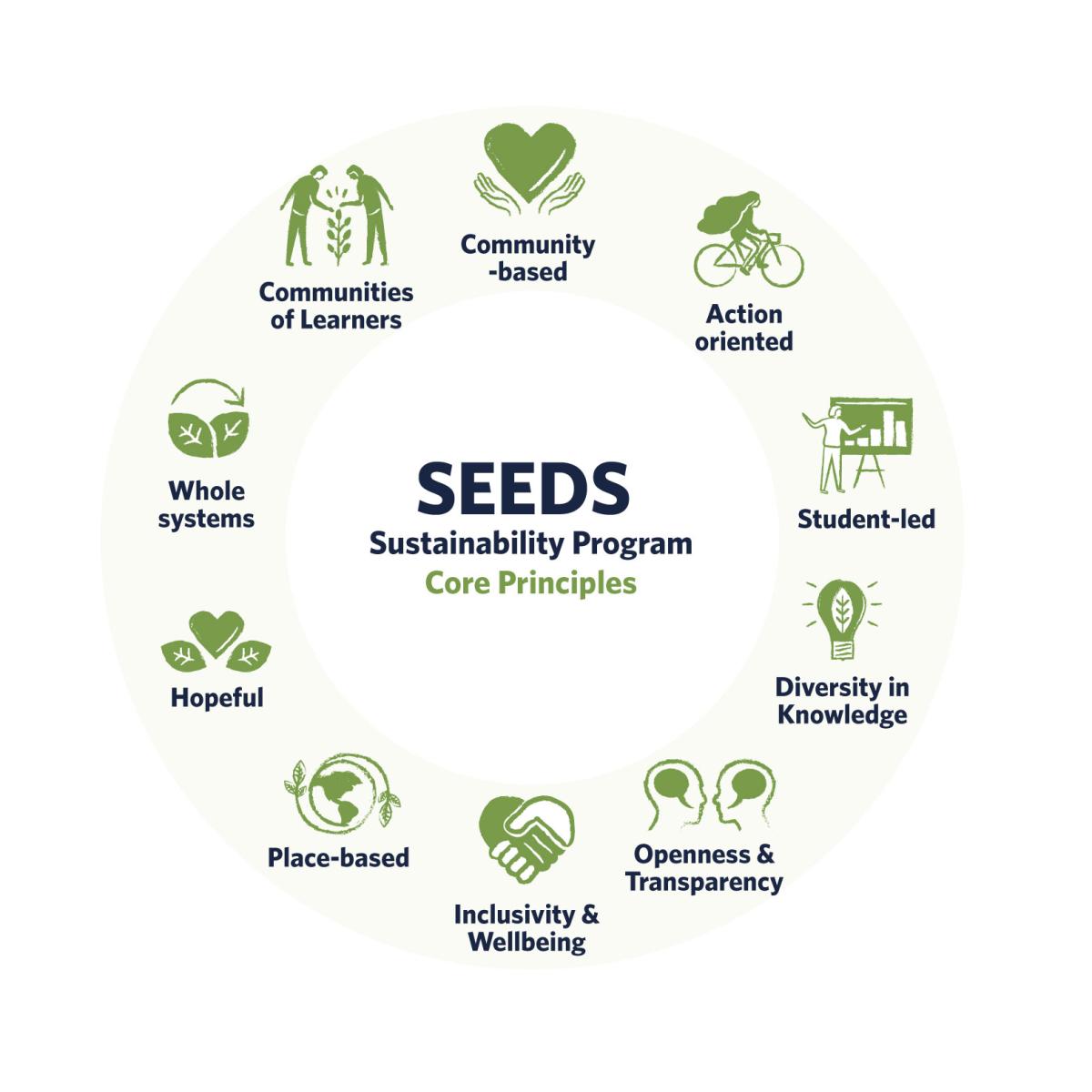 OUR ACHIEVEMENTS
SEEDS has engaged more than 10,000 senior undergraduate and graduate students, UBC faculty, staff, and community partners. Research produced through the SEEDS program has made tangible impacts and influenced decision-making in advancing UBC's commitment to sustainability and wellbeing.
2,000 student-led applied research project
More than 10,000 students, faculty, staff and community partners
Student-led research has been integrated in 250+ senior undergraduate and graduate courses
12 faculties and schools
46 informed and advanced sustainability plans, policies, and strategies
"SEEDS provided an amazing opportunity to work with people from different fields I would never have dreamed of meeting. Directing a project allowed me to develop lifelong skills - such as scientific communication, engagement, and research - that will carry over to future careers. I am grateful to have had the opportunity to present a citizen science workshop to a sold-out audience. I've learned so much from developing and hosting my own workshop and being able to engage knowledgeable speakers."
Student, Biology, Faculty of Science
"Food Services is very grateful for the opportunity to partner with students through the SEEDS Sustainability Program. The chance to have students work on real sustainability challenges and goals for our organization is very beneficial. The research and recommendations that are achieved through the projects are almost always put into action and this helps us provide a more sustainable food system for the campus community. The opportunity to connect and learn from students is an additional positive. We are very thankful for the opportunity that SEEDS offer us."
UBC Operational Staff
"I've found the SEEDS projects to be very beneficial for teaching and student learning. My course has done SEEDS projects for the last 3 years. The students love the opportunity to work with a campus unit and continually describe it as a highlight of their program. They particularly love it when I can point to something happening on campus (a program, initiative, etc.) and tell them how the project done by a previous cohort contributed, even if it's in some small way. The students are much more engaged and motivated compared to other years."
UBC Faculty
The SEEDS Sustainability Program has received international recognition through several awards, and our model has been replicated across many universities in North America and Europe.