Campus Based Innovation
Society is facing unprecedented challenges in the 21st century, including a climate emergency, ecosystem destruction, global urban migration, pandemics, and economic change driven by new technologies. These challenges are complex and interconnected, and require urgent action at local, regional and global scales.
UBC's Campus as a Living Lab (CLL) initiative responds to such challenges by integrating academic research and teaching with campus planning, infrastructure, operations and community development. We are able to use the university campus as a sandbox to explore opportunities and test new ideas in our local context, while learning from both our successes and failures.
CLL projects bring together collaborations of academic researchers, students, staff and partners to undertake innovative projects across a range of scales. The initiative supports the design and construction of innovative buildings, energy systems, transportation networks and food systems, as well as discrete educational or research projects. These projects aim to address the connections between ecological, social, human health and technological issues, while supporting the academic mandate and the well-being of our community.
Living laboratories are physical spaces and human systems in which we design, test, study, and learn from social and technical innovations in real time and real world contexts. They support collaborative experimentation, piloting of innovations, critical assessment of results, and exchange of knowledge.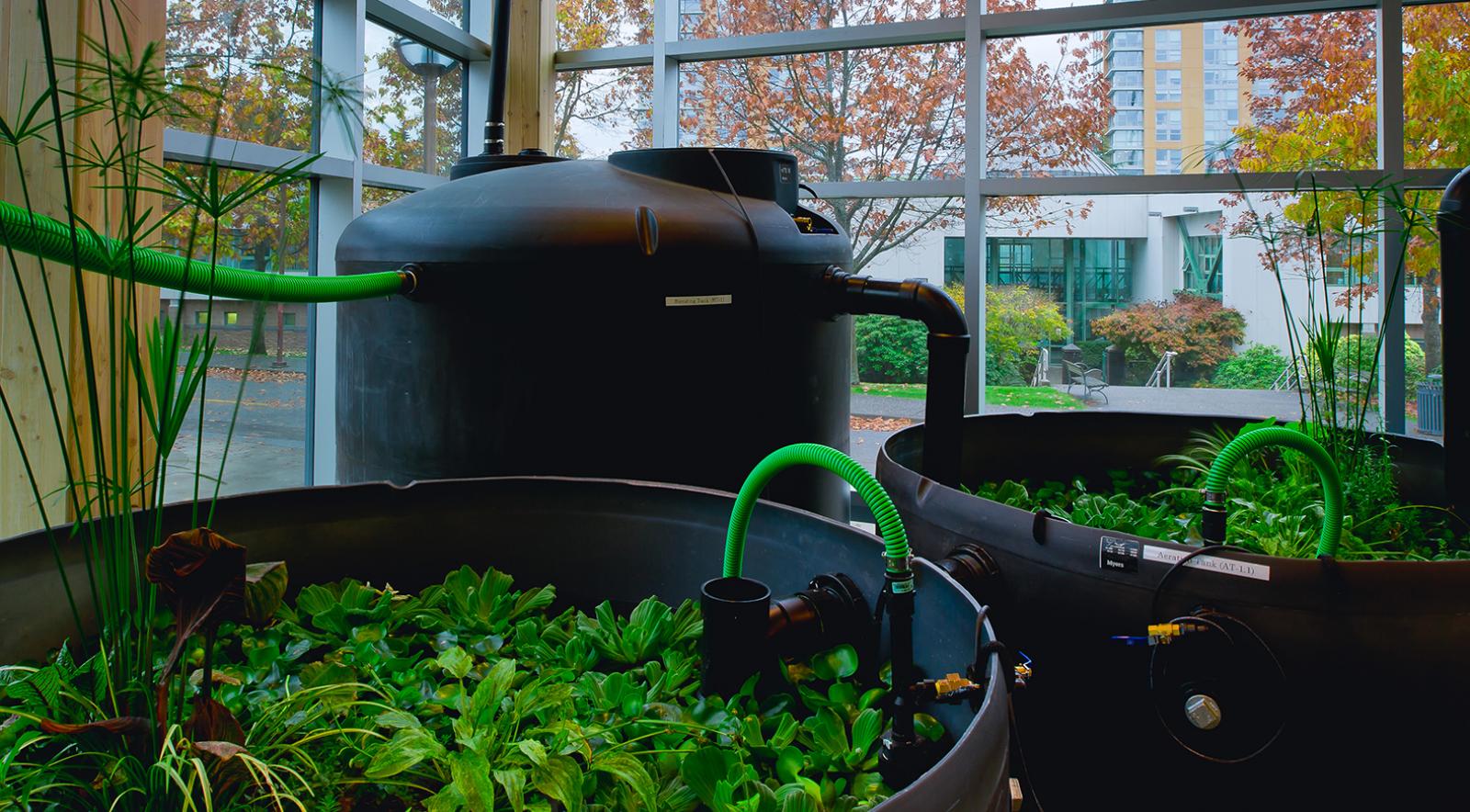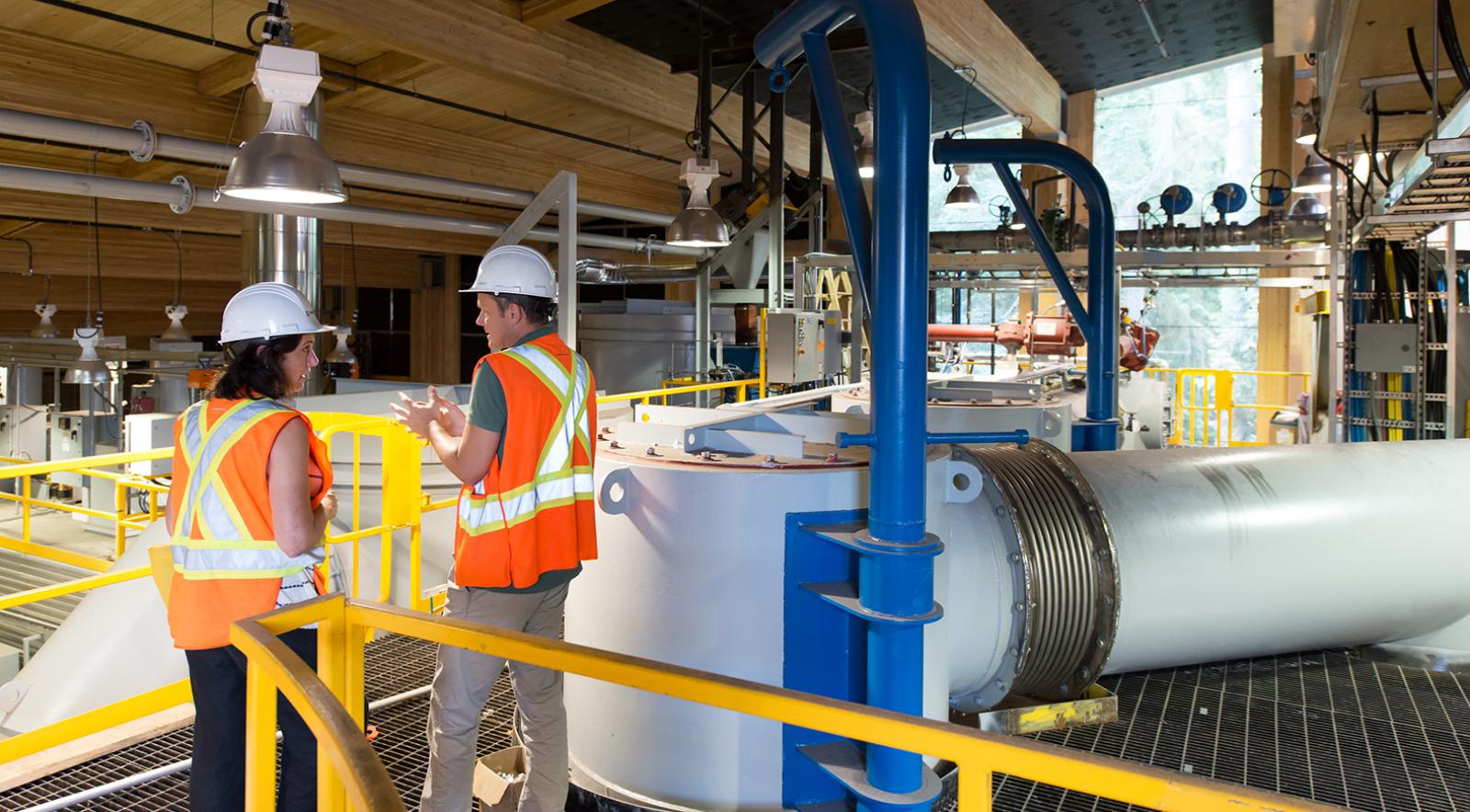 Why a Living Lab?
The UBC Vancouver campus is the ideal context for a living lab because the university uniquely operates as a quasi municipality and through engagement with the campus community and host First Nation, is responsible for all planning, permitting, development, management and operation of campus lands, buildings, utilities and other assets. The UBC Okanagan campus in Kelowna, BC provides unique opportunities for CLL projects on a rapidly developing site in a different geographical and climatic context.
We are working to transform our academic campuses and integrated residential neighbourhoods into a vibrant, sustainable and resilient community. Ambitious goals have been established through policies such as the 20-year Sustainability Strategy, Climate Action Plan, Green Building Action Plan, and Okanagan Whole Systems Infrastructure Plan, which require us to test and create innovation solutions.
Universities are well-positioned to engage in this work as places of knowledge generation and educators of future generations, with a focus on serving the communities and societies in which they operate. Our faculty and students working in sustainability-related research are improving our understanding of global environmental and human well-being challenges, and exploring new approaches, inventions and strategies in their fields. The UBC Campus as a Living Lab Initiative seeks to engage and connect these efforts to advance sustainable solutions and create a healthy, sustainable future in the face of global challenges.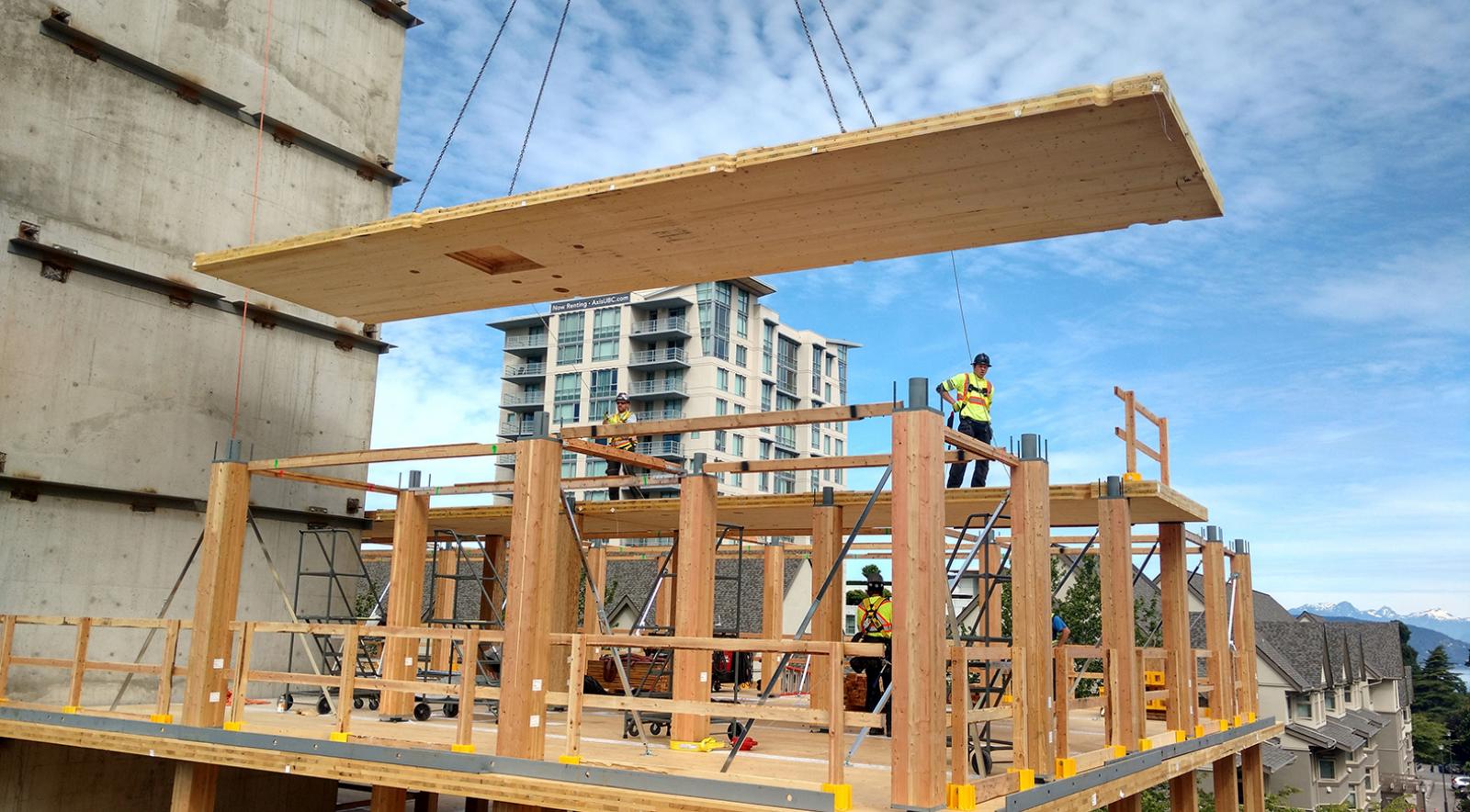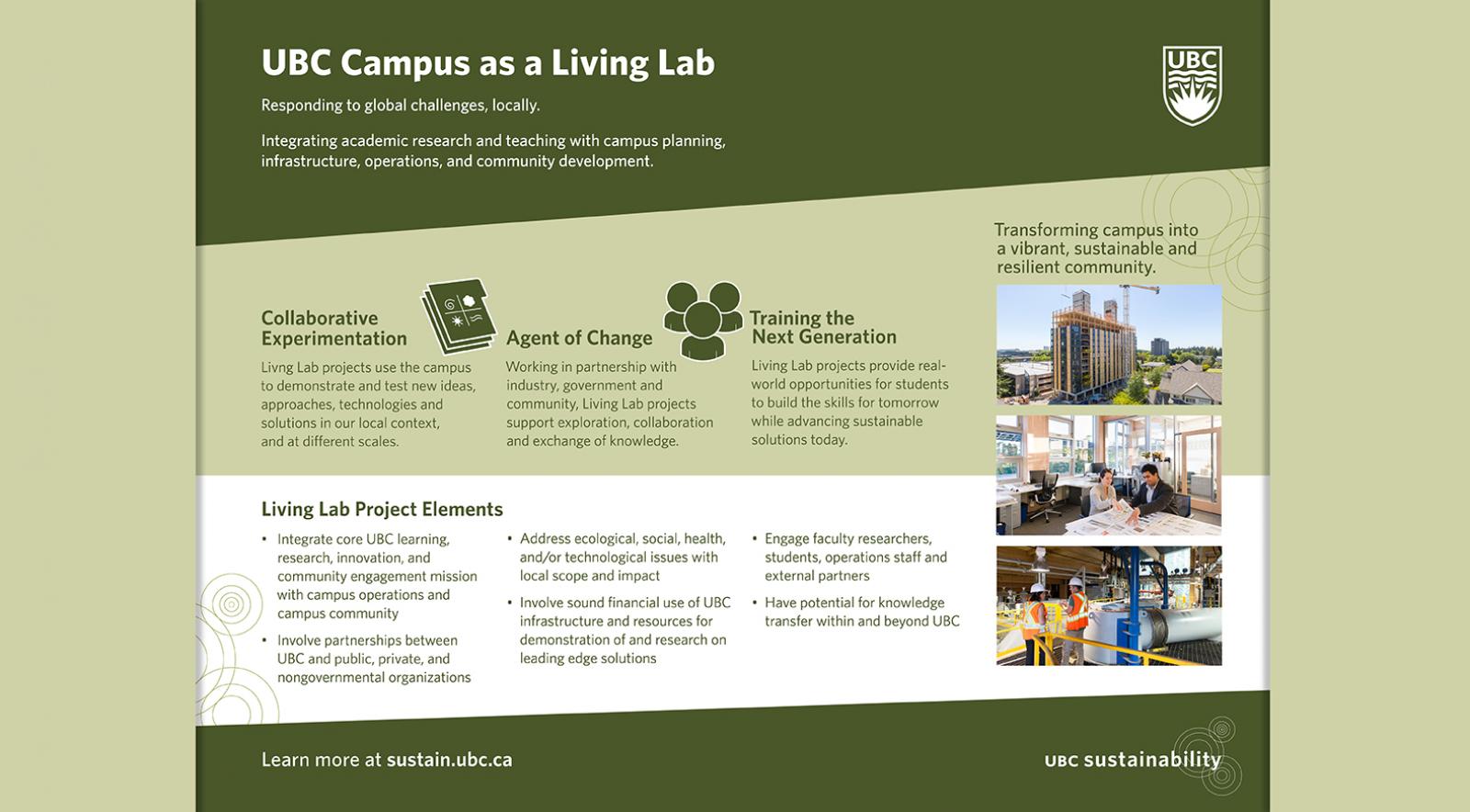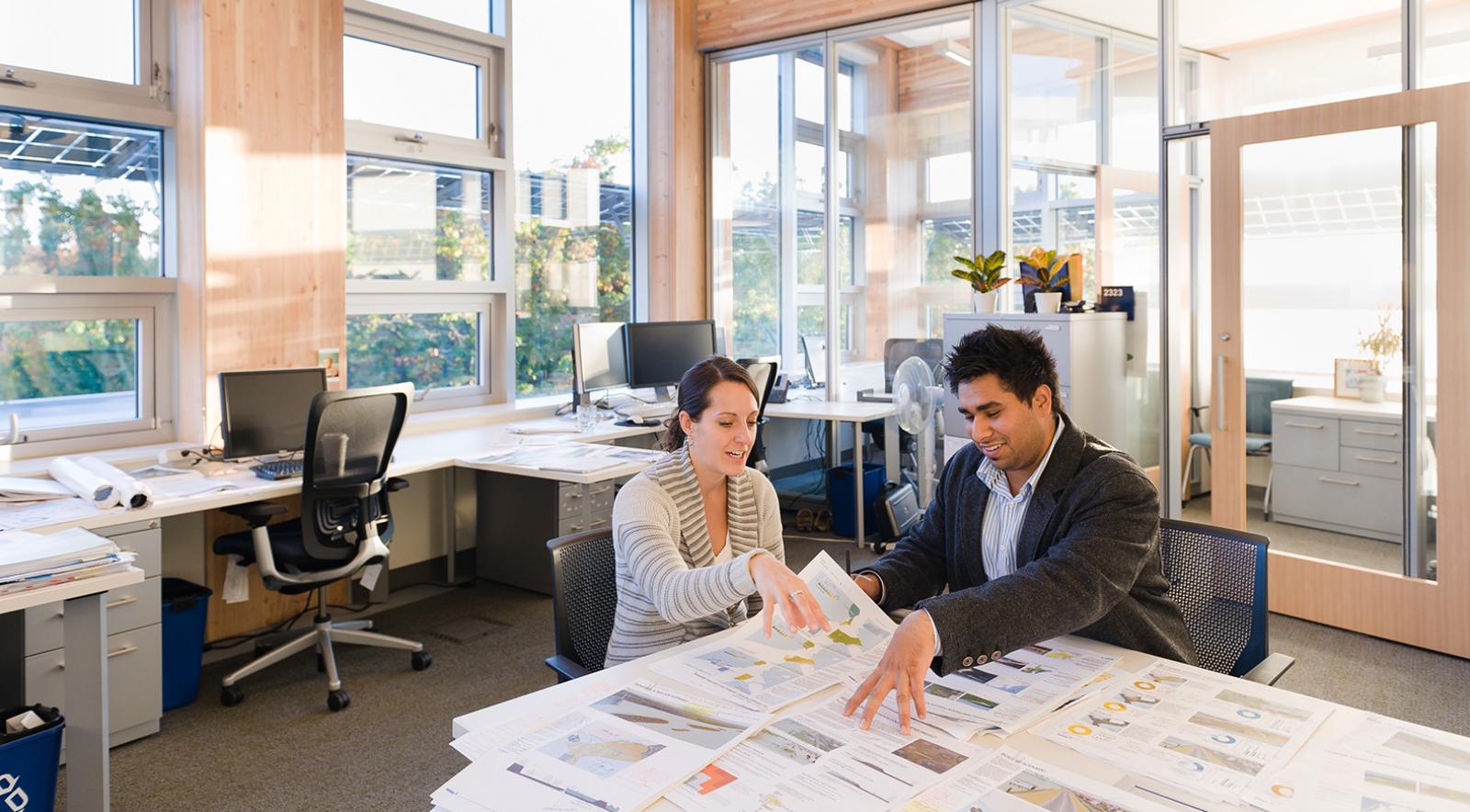 Partnerships
Campus as a Living Lab functions in conjunction with the philosophy of the university as an agent of change. Many CLL projects are developed with industry and government partners interested in testing new technologies and ideas at a community scale which will allow translation to broader applications. The learning from CLL projects is shared through our partners with other communities and organizations. The experiences gained by our students help to train the next generation of policy-makers, practitioners and citizens. As part of a broader knowledge exchange initiative, these projects also provide an opportunity for the university to engage and learn from community members beyond its borders, as part of an ecosystem of innovation and learning.
Research Collections
UBC's sustainability research collections highlight our commitment to transform the entire campus into a living laboratory, and to engage our faculty and students in innovative and applied research to improve our communities, region and world.