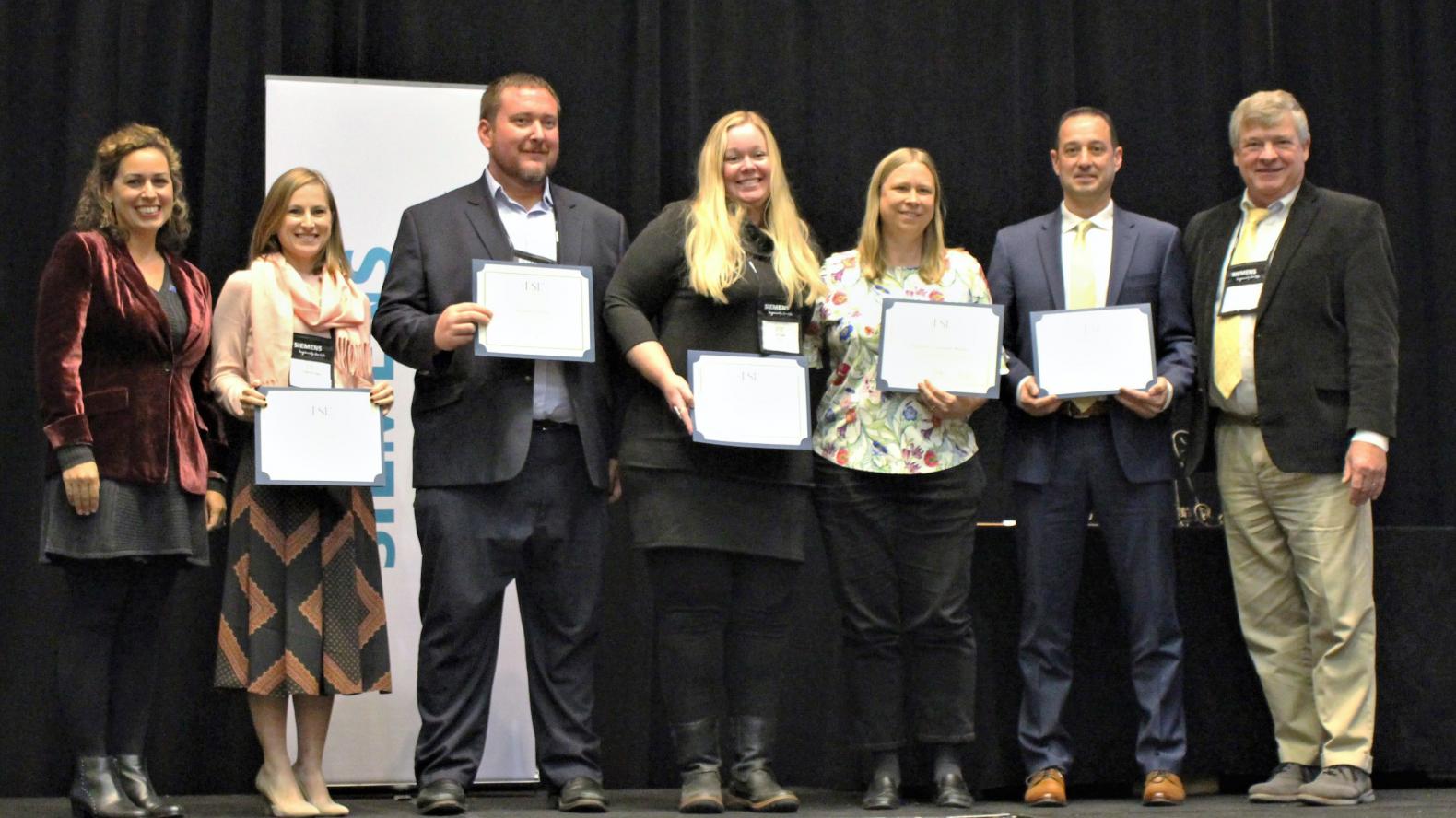 Friday, November 15, 2019 - 16:23
UBC was amongst a number of leading research university to receive the Sustainable Purchasing Leadership Award after demonstrating an improvement in sustainable procurement practices.
"This award acknowledges the ongoing efforts of UBC's world-class research community, UBC Finance, Campus and Community Planning's Sustainability and Engineering Department and UBC's supplier network," said John Madden, Director of Sustainability and Engineering. UBC joins Harvard University, University of Colorado Boulder, University of Georgia and the University of Virginia in receiving the award.
The International Institute for Sustainable Laboratories recognizes institutions that have demonstrated initiative or progress in sustainable procurement with the Sustainable Purchasing Leadership Award. Institutions are judged on criteria including:
Encouraging sustainable procurement in laboratories at multiple levels (e.g. staff, scientists, administration);
Reaching out to suppliers to request information about the environmental impact of products and packaging.
Promoting and purchasing ACT labeled products and/or requested ACT label adoption by suppliers.
"UBC's strong commitment to sustainability and community collaboration contributed to UBC meeting all three of these criteria and receiving this award," said Paul Foote, Green Labs Program Coordinator. This award signifies the passion, commitment and dedication toward environmentally friendly choices and sustainable labs by our faculty, staff and students.
Actions, programs and initiatives submitted for consideration included; the Sustainability Purchasing Guide, Green Products List & Eco-Label glossary, Green Labs researcher training and education, the Ultra-Low freezer rebate program, lab plastics recycling, pilot programs, supplier engagement, and zero waste initiatives.
In the 2018/19 academic year, UBC's Green Labs program reached more than 3000 people through researcher training, education and newsletters. The online Sustainability Purchasing Guide was widely used and labs purchased Environmentally Preferred Products (EPP) through UBC's preferred scientific vendor 13.6% of the time. Foote pointed out that one of the most frequently asked questions he receives from the lab community is "how do we reduce our waste stream?"
In addition to the work by Green Labs participants, research by the student-led UBC Ocean Leaders Program as part of the SEEDS Sustainability Program contributed to UBC's award application. The student's research identified the highest volume of lab waste streams to target with reduction and recycling programs and recommended sustainable purchasing actions across campus.
Sustainable Purchasing and meeting UN Strategic Development goals
Madden explains that sustainable purchasing practices help researchers contribute to UBC's policies and commitments, as well as the UN's Strategic Development Goals 12 for Responsible Consumption and Production, Goal 9 Industry Innovation and Infrastructure, and Goal 13 Climate Action.
The award from the International Institute for Sustainable Laboratories adds to UBC's growing reputation as a sustainability leader, including being ranked #1 in Canada by the Times Higher Education Impact Ranking under the United Nations' Sustainable Development Goal 11 for making communities inclusive, safe, resilient and sustainable, and #1 in the world for Goal 13 – taking urgent action to combat climate change and its impacts.
"Through a number of new plans and actions, UBC continues to deepen its commitment to achieving aggressive targets in sustainable resource allocation, consumption and waste reduction on both campuses through buildings and choices made by our campus communities," said Madden.
UBC's ongoing support for sustainable purchasing is a collaboration between faculty, staff, students and scientists in the research community, UBC Finance, Campus and Community Planning and UBC vendors and suppliers.
Reduce-Reuse-Recycle all start with sustainable purchasing. For more information or help getting started contact:
Visit: UBC Sustainable Purchasing Guide or contact UBC Green Labs at green.labs@ubc.ca