The Fraser Estuary Research Collaborative represents an innovative new approach to focusing a group of applied researchers on a shared outcome – to restore and protect the endangered Fraser Estuary.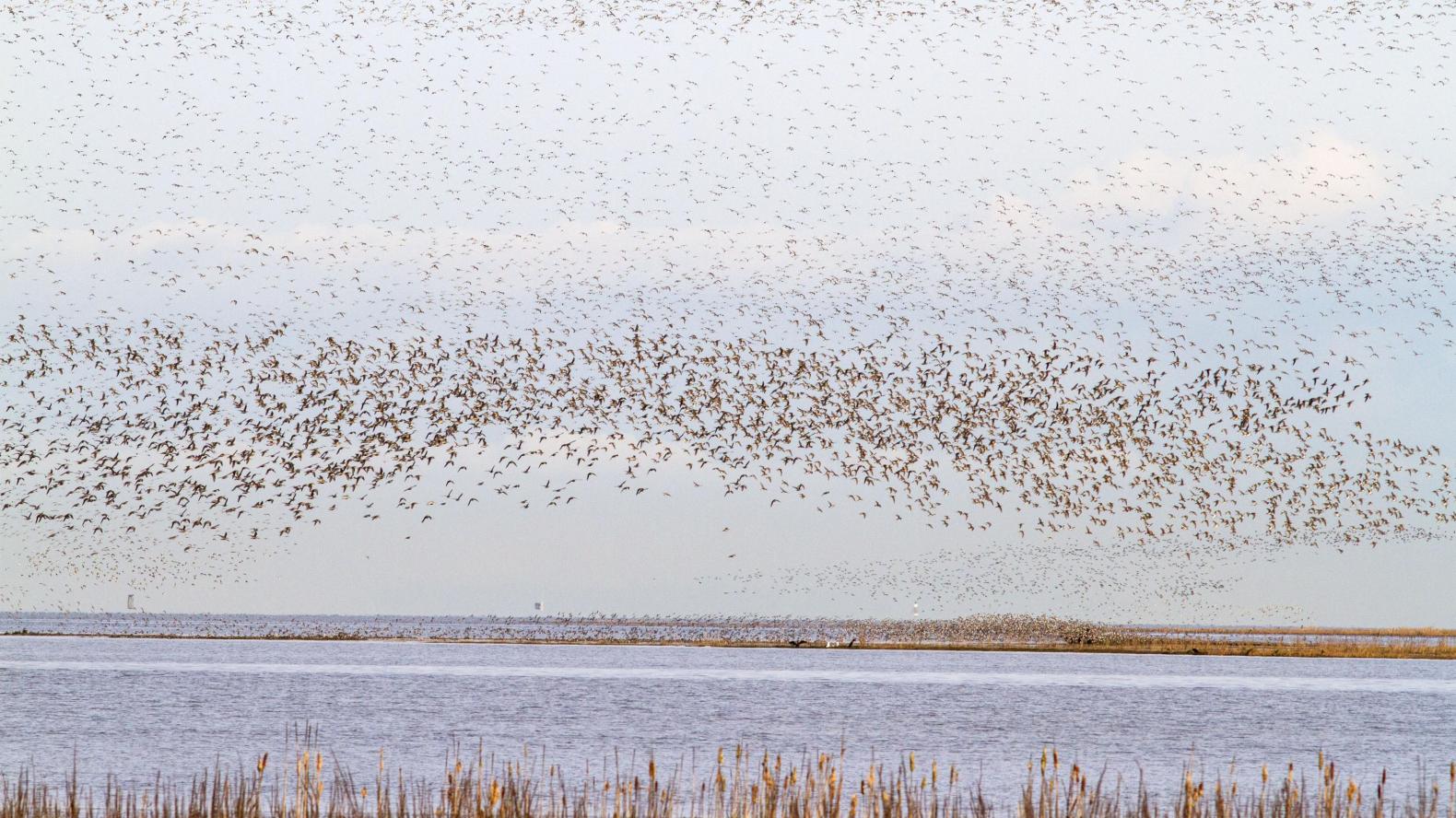 Thursday, January 13, 2022 - 15:55
The Fraser Estuary Research Collaborative represents an innovative new approach to focusing a group of applied researchers on a shared outcome – to restore and protect the endangered Fraser Estuary. This summer, a special cohort of UBC Sustainability Scholars – generously supported by the Sitka Foundation over the next 3 years – will form the Fraser Estuary Research Collaborative with NGO and other partners to do applied research in a unique ecosystem.
Sustainability Scholars' projects make a real difference to the communities and natural world that support us – in this case, to a critical and highly imperilled ecosystem right beside UBC's campus.
See below for more information about these amazing paid internship opportunities, and register for the information session on January 20 to find out how you could spend your summer getting paid to help protect the Fraser River ecosystem.
Estuary Health Precarious: Mounting Threats Show Need for More Research and Action
The Fraser Estuary is where BC's most productive wild salmon river meets the Pacific in a heavily urbanized coastal region, one of the most industrialized areas in the Lower Mainland.
The baseline for the estuary's health is precarious. Habitat loss has increased dramatically: 85% of historic salmon habitat is no longer accessible to fish due to floodgates, culverts and other human-made infrastructure contributing to the dramatic decline of wild salmon populations in B.C, according to a 2021 study by UBC graduate student Riley Finn.[1]
New threats abound. The estuary faces increasing development pressure, most recently from a proposed new facility that will produce up to 650,000 tonnes of cement-like material per year when fully operational, located beside other major projects such as the WesPac Tilbury Marine Jetty Project, South Fraser Perimeter Road Project, George Massey Tunnel Replacement Project, Vancouver Airport Fuel Delivery Project and the Roberts Bank Terminal 2 Project.
How policy makers address flood risk and climate adaptation in the era of the climate emergency will dramatically affect estuary protection. Flood management is also top of mind for the public in BC these days as the phrase 'atmospheric river' enters our lexicon. Pollution continues to plague the Fraser. Ecosystem restoration is sorely needed in many areas.

Coast Salish Peoples and Research Topics
The Coast Salish peoples have relied on the lands and waters of the Fraser estuary since time immemorial. The xʷməθkʷəy̓əm (Musqueam) people depend on salmon and the health of the Fraser River and estuary, and together with other governments, have a keen interest in further research on topics such as Indigenous governance, community-based solutions, climate adaptation, sea level rise, and pollution reduction.
The Fraser Estuary Research Collaborative is designed to coordinate working together with Indigenous communities on applied research that helps to restore and protect the endangered Fraser Estuary. Sustainability Scholars will tackle improving the flood resilience of communities along the estuary, along with many other topics: green and natural infrastructure, pollution, invasive species, eelgrass restoration, and climate change.
UBC research already significantly contributes to Fraser estuary protection/restoration. Faculty are working in areas like Indigenous fisheries, salmon survival, and river history. The Fraser Estuary Research Collaborative can build on this momentum and encourage even greater collaboration in the community.
Applied research projects will be led by UBC graduate students who represent a variety of disciplines. A coordinated approach enables these Scholars to focus on a shared purpose that brings attention to the many research perspectives needed to address the range of issues affecting the Estuary.
As part of UBC's on-going commitment to advance Indigenous rights, this research will draw from multiple ways of knowing and being, and bring together the Coast Salish peoples' territorial and cultural interests and knowledge of the area, the energy and passion of graduate students, UBC research expertise, and the active energy of the NGO sector. Our overall desired outcome is enhanced protection and restoration of the Fraser estuary through the application of evidence-based policy developed in collaboration with the Xʷməθkʷəy̓əm (Musqueam Nation) and other Indigenous Nations.
Partners include BC Nature, the Pacific Salmon Foundation, Resilient Waters, WWF-Canada, and the Salish Sea Indigenous Guardians Association, among others. Exciting project opportunities range from Indigenous led cumulative effects assessment to a graphic rendering of restoration options to identifying and assessing climate change indicators. See below for a full list of projects.
Information session: Jan 20 | 5PM
Attend our information session about the Sustainability Scholars program on January 20 at 5:00 pm. Representatives from several of our partner organizations will speak about the kinds of opportunities Scholars will have while working in the program.
We will also welcome former scholars and mentors to answer your questions about what you can expect as a Sustainability Scholar, and what kinds of opportunities the program offers in terms of skills and job prospects.
List of projects: Fraser Estuary Research Collaborative
The Fraser Estuary Research Collaborative is focussed on advancing efforts to protect the Fraser River estuary in collaboration with key NGO and Indigenous partners. If you are interested in producing new knowledge and supporting Fraser estuary protection through scientific, technical, governance and policy innovations, the following projects might be for you.
2022-040 Fine scale bird monitoring to inform the impact of wetland restoration on the Fraser delta (closes Jan 30)
2022-041 Graphic Rendering of a Restored and Resilient Fraser Estuary (closes Jan 30)
2022-042 Develop shoreline conservation and restoration strategies to retain Indigenous traditional foodlands (closes Jan 30)
2022-043 Flood Management for Climate, Salmon, and Community Resilience in the lower Fraser (closes Jan 30)
2022-044 Ecological Impacts and Demography of Resident Canada Geese in the Fraser River Estuary (closes Jan 30)
2022-045 Identifying barriers and opportunities for eelgrass restoration in the Fraser River Estuary (closes Jan 30)
2022-047 Monitoring guidelines to assess the long-term success of invasive species removal by Naturalist Clubs (closes Jan 30)
2022-048 Innovative approaches to research, knowledge sharing and engagement that centres Indigenous and diverse lenses (closes Jan 30)
2022-049 Identifying and assessing climate change indicators in the Fraser estuary (closes Jan 30)
2022-050 Developing an Indigenous-centric cumulative effects framework to protect the Fraser River estuary (closes Jan 30)
2022-051 Assessing the potential for flood risk mitigation and salmon habitat restoration in the Lower Fraser (closes Jan 30)
2022-052 Evaluation of Regulations Governing Human Activities in the Lower Fraser (closes Jan 30)
2022-053 Research on agricultural land use regulations in the context of Indigenous food security (closes Jan 30)
---
[1] Finn, Riley JR, et al."Quantifying lost and inaccessible habitat for Pacific salmon in Canada's Lower Fraser River." Ecosphere12.7 (2021): e03646.