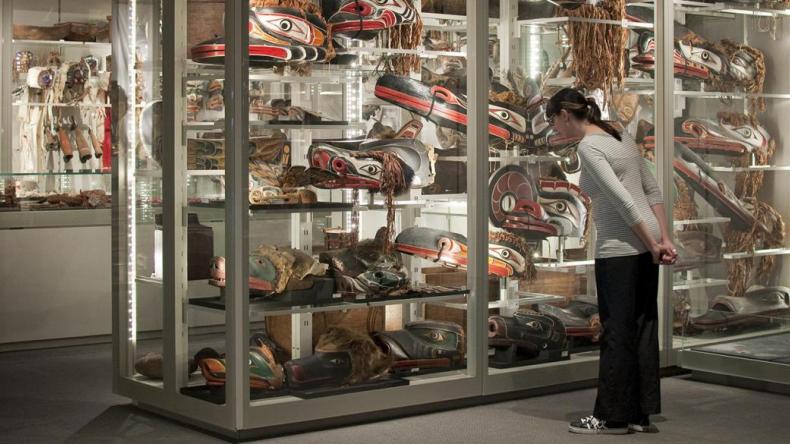 Saturday, June 1, 2013 - 21:57
The first thing you see is a dazzling map of the world made from thousands of crystals. There are no countries or borders, just green land and blue sea, glittering intensely. This is One World — Yek Donia, an artwork by Iranian artist Farhad Moshiri, part of "Safar: Voyage," a new show of contemporary Middle Eastern art at UBC's Museum of Anthropology (MOA). And the dazzling light effects are produced by just four tiny LED bulbs.
"Safar is a bit of an experiment for us," explains Skooker Broome, exhibit designer and production manager at MOA, Canada's biggest teaching museum and one of BC's most visited attractions. "It's the first time we've used modern lighting techniques — notably, LED lights — to create a temporary show, a major summer exhibition."
"Safar" uses about 150 LED lights, which consume much less electricity than traditional halogen or incandescent fixtures. But the savings pale when compared to the museum's recent major refit, in which it replaced more than a thousand bulbs in its permanent galleries with new LED lights, thanks to help from Campus Sustainability and a Power Smart grant from BC Hydro.
A Sustainable Choice
Light-emitting diode or LED lights have many advantages over incandescent light sources: they consume less energy, last longer, are smaller and less fragile and switch on and off faster. In other words, they are much more sustainable, if it wasn't for two major downsides: LED bulbs are more expensive and, until recently, were known for producing bluish light that lacked the warmth of traditional sources.
"For us, perception comes first, not saving money," says Broome. "We'd heard the technology had advanced dramatically in the last few years, but could LEDs create the same mood and environment as incandescent or halogen lighting? That was our top priority."
To find out, Broome spent a year testing various new LED bulbs in small numbers in the vast Multiversity Galleries, where thousands of artifacts are displayed in an innovative "visible storage" system. "I mixed them in with traditional lights, and waited to how visitors or staff reacted," he explains.
"We had no complaints at all, not one! Which is pretty remarkable. It was a polite way of testing out this new technology, without being disrespectful."
Satisfied after twelve months of testing and reviewing the latest literature on the conservation aspects of LEDs, MOA began a big roll-out, replacing about half the bulbs in the museum with new LED bulbs.
Huge Savings
The 1,360 new LED bulbs cost about $45,000, half of which was reimbursed by the grant. The payoff was immediate.
"The electricity savings — 166,400 kWh every year — take about $8,650 off the utility bill," says Lillian Zaremba, Climate and Energy Engineer, Campus Sustainability. "That's enough to power 15 typical homes, or equivalent to removing 1200 fluorescent tubes from campus."
"When I did the calculations, I said, Wow! It pays itself off in less than three years, and the bulbs will last ten years or more on average. For other people who are thinking of doing retrofit projects, that makes it pretty appealing."
UBC is interested in other LED retrofits, but only where it makes sense, says Orion Henderson, Director of the UBC Sustainability Office. "The MOA retrofit offers an exciting opportunity to improve lighting efficiency and employ a technology that is more appropriate to the usage of the building," he explains. "LED lighting can eliminate UV [ultraviolet] light and most IR [infrared] light, which can damage valuable museum objects."
Next Up: The Great Hall
"Changing these bulbs is a big job," says Broome. He's standing in MOA's spectacular Great Hall, peering up at a light fixture 15 metres high, above a forest of hundred-year-old totem poles. "If we could quadruple their lifespans, we'd save a lot of maintenance costs, along with the electricity. And LED bulbs rarely break — they're practically bulletproof."
This is the next item on Broome's agenda: finding a way to replace the museum's other lighting fixtures, including many complex projectors, with LED models. It's a bigger job than the first retrofit, which just involved changing bulbs. But he's in no hurry.
"It took us a year to have the confidence to go forward with the first retrofit, and the technology had changed radically in that year — and will continue to change. What will it be in five years? We have that grace period."