Tuesday, May 17, 2011 - 07:34
Bike to Work Week (B2WW) is fast approaching and UBC Transportation Planning encourages all UBC faculty, staff, students and residents to get involved. There is a skills training workshop, activities across Vancouver, and a commuter station at UBC where you can get a free bike tune-up, snacks, and enter to win great prizes, including a new bike!
An annual event created by HUB, B2WW is a great opportunity for you to commute to and from work with other cyclists, get fit and contribute to UBC's sustainability goals by tracking your commuting kilometers in a friendly competition with other workplaces across Metro Vancouver.
Getting Involved
Participating in Bike to Work Week is free and only takes a few minutes to sign up:
Register with HUB at www.biketoworkmetrovan.ca.
Choose your workplace – "University of British Columbia" – then join a team or create your own.
Map your route to work.
Log your route each day you ride - this will track your kms, GHGs, calories and help HUB encourage cycling safety and infrastructure in the region.
The kilometers you log with HUB will be added to the UBC total. UBC has won the most kilometers cycled for the 1000+ employee category for the past 3 years (Spring & Fall) – so please sign-up and log your commutes so we can keep the streak alive!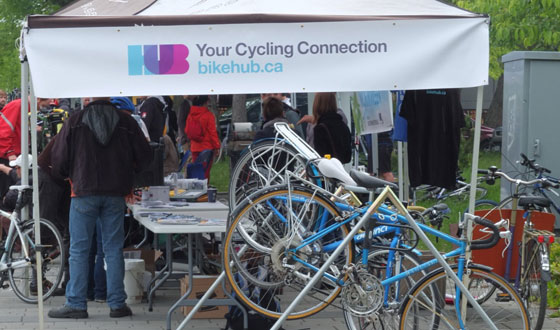 UBC Cycling Skills Training
Wednesday, May 22nd
ANGU 335: 12 - 1pm
A fun & interactive free workshop covering everything you need to know about biking to work: safety scenarios, taking bikes on transit, route planning, what to wear & more!
UBC Commuter Station
Wednesday, May 29th
4- 6 pm
On Agronomy Road just west of Wesbrook Mall - Pharmaceutical Sciences Building Plaza
Free refreshments, giveaways and mechanic services by the UBC Bike Kitchen
Enter to win prizes – including an Opus bike provided by Urban Racks!
This year we have some incredible prizes including a brand new bike from Opus Bikes, an Urban CycleLift which is the ultimate bike rack for your home or apartment, passes to an upcoming Vancouver Whitecaps game, a helmet cover from RockiNoggins and more! Prizes for this year's event have been provided by Urban Racks who provide bicycle parking solutions on the UBC Campus. www.urbanracks.com
For more information and to sign-up for Bike to Work Week visit http://www.biketoworkmetrovan.ca/.
For information on cycling, public transit and other sustainable transportation options at UBC visitwww.transportation.ubc.ca