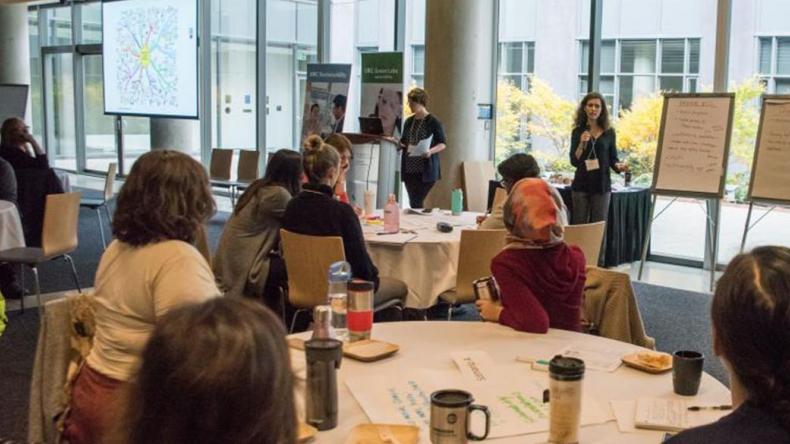 Monday, November 19, 2018 - 13:35
Sometimes, all it takes is an individual with passion to drive change. And UBC has plenty of passionate people who fit that bill.
Nowhere was that more apparent than at the recently launched Sustainability Leadership training program led by Campus and Community Planning's Sustainability and Engineering department held at the end of October.
Over 60 staff, faculty and graduate students from 48 different departments came together for the two half-day workshops to share stories, hear from expert panels on UBC sustainability initiatives and learn strategies and best practices to advance sustainability in workplaces and laboratories across campus.
"UBC has set ambitious sustainability targets to advance resource conservation, but we can't achieve these without the support and involvement of the entire campus community," says Charlene Ponto, Sustainability Engagement Lead and co-organizer of the training. "Sustainability needs to be integrated into everyday decisions of how the University operates, and our champion networks are key to promoting sustainable practices across campus and beyond."
Workshop attendees identified high impact areas to focus on in, discussed challenges and strategies to overcome barriers, and learned about other successful programs currently implemented on campus.
"It was fantastic to see all the new connections, project ideas, and momentum generated from the training, and the cross-pollination of ideas and collaborations across departments and faculties who would not typically work together," Ponto said.
In an effort to advance sustainability within campus workspaces and support the ongoing efforts of UBC employees, the training was designed to support the vibrant Sustainability Coordinator network, which has been active for almost 20 years, and the Green Labs Program, which has recently expanded.
Sustainability Coordinators are able to use two to four hours of work time per month to implement changes and encourage colleagues in areas like energy and water conservation, sustainable purchasing, responsible waste management and more.
The network is supported by Sustainability and Engineering through training, networking opportunities, coaching support and access to tools and resources.
"Through the training we aimed to empower and build the capacity of sustainability leaders across campus," Ponto said. "Having a network of champions distributed throughout the hundreds of buildings and faculties at UBC is crucial to achieving our sustainability goals."
The UBC Sustainability Coordinator Program is now accepting applications. To learn more about becoming a Sustainability Coordinator for your unit, visit sustain.ubc.ca/scprogram.
To learn about future workshop and training opportunities, sign up for our newsletter.
Check out photos from the training session on Flickr or Facebook.