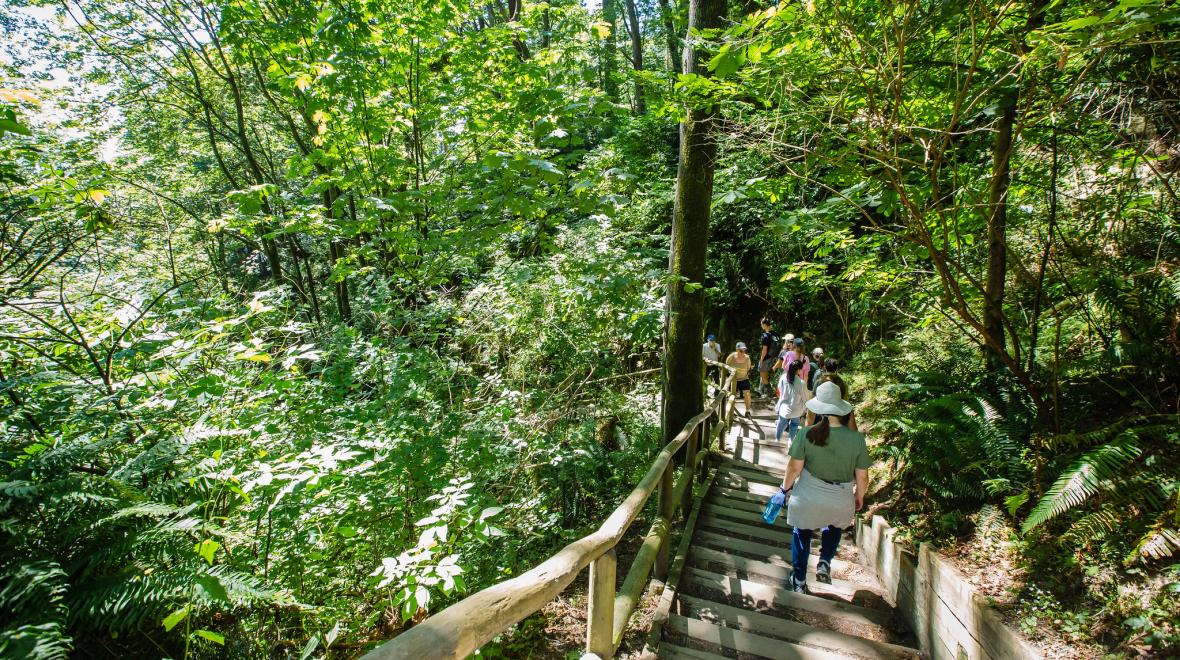 Friday, April 21, 2023 -

17:00

to

18:30
Celebrate a year of sustainability and climate leadership at the UBC Vancouver campus and honour the exceptional commitment and achievements of students, staff, and faculty members. Featuring vegetarian/vegan refreshments and presentation of the Sustainability Leadership Awards.
Friday, April 21, 5-6.30pm
BC Hydro Theatre
Centre for Interactive Research on Sustainability
Highlight your achievements
Submit individual or group sustainability and climate action achievements to be featured at the Sustainability Celebration by following the instructions below. Submissions are limited to 1 slide and due on April 3 @ 11:59pm.
Instructions
1. Download the template in .ppt/.pptx format.
2. List 3-4 achievements highlighting your or your team's accomplishments this past year. For example:
• What projects or activities did you plan and offer?
• How many people did you connect with?
• Did you have a specific event that went really well?
• Did you connect with community members in a new way?
• Have you started working on an exciting new project?
3. Send the completed file to belen.deschutter@ubc.ca.
Sustainability Leadership Awards
Recognize the leadership and outstanding achievements of those committed to reducing climate change, reversing biodiversity loss, transforming to circular economies, and creating more resilient communities. Nominate a peer, colleague, or inspiring leader by April 3 @ 11:59pm.
There are two awards under four categories: undergraduate-student, graduate-student, staff, and faculty. Any UBC member can nominate another UBC member who has demonstrated engagement in the categories listed in the following criteria.
Criteria
Innovation
• Candidate has demonstrated creative problem-solving skills to address challenges that have resulted in a positive and tangible improvement is sustainability or climate action at UBC
• Candidate's work has resulted in creative approaches to advancing sustainability and climate action at UBC
Initiative
• Candidate consistently exceeds the expectations of their role to make a positive impact at UBC through sustainability action, including climate action
• Candidate has demonstrated resourcefulness and creativity to address and solve needs related to sustainability
Leadership
• Candidate inspires others to take action personally and/or professionally through their leadership and passion for sustainability and climate action
• Candidate is willing to take bold steps to inspire action through individual and collective response
Inclusive Communities
• Candidate works to bring community together for collective response toward uncovering and addressing challenging issues within UBC
• Through their behavior, language, and interactions, candidate demonstrates awareness of their power and privilege and fosters actions that lead to a more inclusive, equitable and supportive community at UBC
Note: criteria are offered to guide the nomination; nominees are not required to fulfil all criteria.
FAQs
Does a student need to be currently enrolled at UBC? Do they need to be a full-time student?
A student must be currently enrolled as a full-time student to be nominated for a Sustainability Leadership Award.
Does the staff have to be full-time at UBC?
Both part-time and full-time staff are eligible for the award.
What is the eligible time period for the achievements?
You can nominate an individual for their achievements between January 2022 and March 2023.
Are graduate students eligible to nominate someone or be nominated?
Any student, including graduate students, can nominate an undergraduate student, graduate student, staff, or faculty member. Graduate students are eligible for nomination.
How many people can I nominate?
You can nominate one person under each category: undergraduate-student, graduate-student, staff, and faculty.
Can I nominate myself?
You cannot self nominate for a Sustainability Leadership Award.
How will the award recipients be selected?
A selection committee with diverse representation from each award category will select the recipients.
I just nominated someone; when can I expect to hear back?
The awards will be announced at the Sustainability Celebration on April 21.
When will award recipients be notified?
Award recipients and the nominators will be notified by April 14.
About
UBC has committed to the integration of our operational and academic efforts in sustainability and the Sustainability Hub (formerly known as the UBC Sustainability Initiative), established in 2010, is our way of advancing this broad goal.
Sustainability Hub's new five-year strategic plan outlines a mission of: "Inspiring people to act upon the planet's most urgent challenges through UBC's academic and operational sustainability leadership" by focusing on four key themes – climate, biodiversity, resilient communities, and the circular economy. The Sustainability Hub Strategic Plan also houses various specific action items that catalyze the achievement of these goals.
Related campus strategies and goals include the Sustainability Hub Strategic Plan, UBC Strategic Plan 2018-2028, the UBC Climate Action Plan 2030, the UBC Zero Waste Action Plan, the UBC Wellbeing Strategic Framework, and the AMS Sustainability Action Plan.