What will sustainability at UBC look like in 2030? We called on individual students and student groups or clubs to submit ideas on the future of teaching, learning, research, operations, infrastructure, and community engagement at UBC.
THE CHALLENGE
Whether it was a 30-second video clip, photo series, mock newspaper or magazine cover, multimedia art, or song, we wanted students to get creative in response to the question: What will sustainability at UBC look like in 2030?
Thought starters
We gave students some more questions to start the ball rolling:
Which of UBC's efforts on climate action do you think are working, and what new things do you want to see in the next 10 years?
How could UBC rethink using our physical campus spaces to promote human wellbeing and biodiversity?
How can UBC be more inclusive, equitable, and sustainable at the same time?
THE WINNERS
Our judges selected five winners from over 40 amazing entries. Ideas included tackling climate change, ending environmental injustice, transforming food systems, protecting nature, green building and building retrofits, zero waste, and other sustainability issues. Ideas focused on campus, but they also expanded into life beyond UBC.
"We are blown away by the creativity and passion of the UBC students who envisioned a more sustainable UBC in 2030 for our contest," said Linda Nowlan, Senior Director of the UBC Sustainability Initiative. "If we can realize the visions of our students who entered the contest, there is hope for a more sustainable world."
Climate Justice UBC | Rachel Cheang & Nafeesha Alibhai
As part of Climate Justice UBC, we asked for the input of our community in crafting our vision for a #UBC2030 because we know that there is no just future unless we are all a part of it. Through a myriad of styles, we hope to convey that there is no one direct approach to dreaming and fulfilling our futures.
UBC 2030 - The Past, Present, and Future of Canada | Daphne Liu
Residential schools, pipeline and the "unceded territory of the Musqueam people" – what do they mean to the 18,000 students new to Canada? Through storytelling with a short video and my own drawings, I'm presenting a persona of an international student, Larry, who wants to know what these terms mean but doesn't know where to look.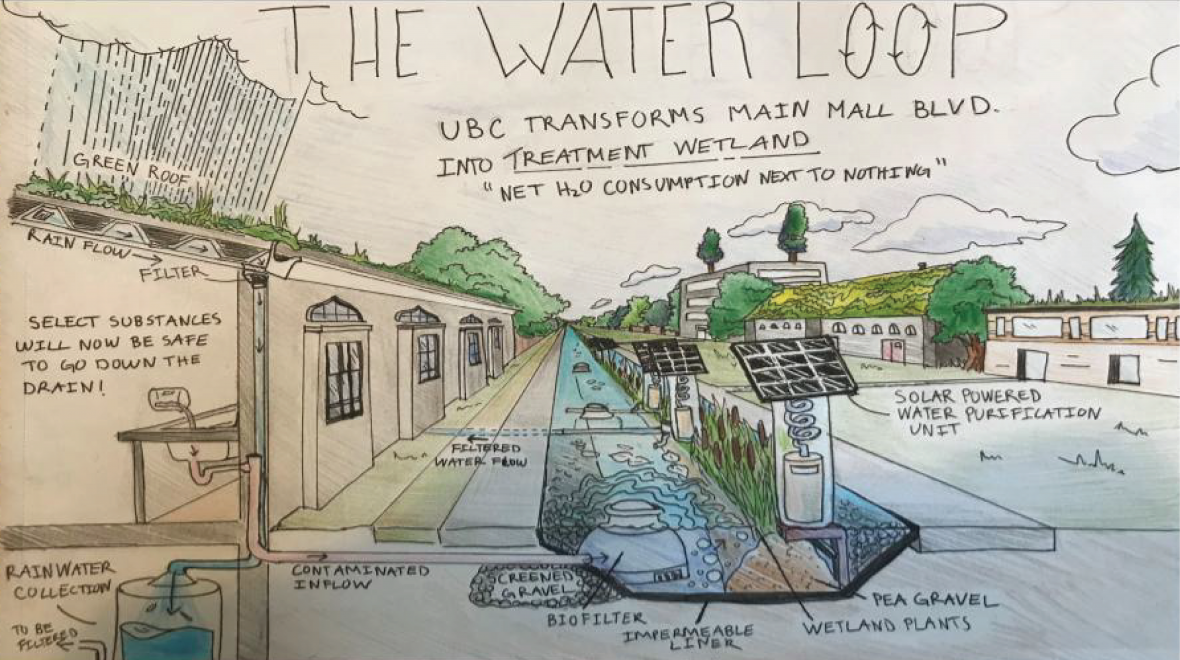 The Water Loop | Marc Massicotte
In 2030, I imagine that UBC has transformed the Main Mall boulevard to a treatment wetland where chemical waste can be filtered, pollutants can be broken down, plants can uptake compounds and be harvested for material recovery and rainwater can be collected by green roof systems and filtered to be used on campus. A closed loop water cycle at UBC!
Represented as a magazine from 2030, our submission focuses on a strategy for empowering students rather than an individual sustainability initiative. UBC's existing sustainability programs cover a wide range of issues, but our submission reflects our belief that student agency is necessary to create a ripple effect that will promote long-lasting change.
This idea challenges each aspect of sustainability - economic, social, and environmental. Our team hopes to push the envelope of thinking if UBC put their full efforts into developing sustainable technology on campus. Project team: Aleksandra Vujicic, Anda Cen, Emma Ng, Jasmine Lee and Tierra Parminter.
all the ENTRIES
Take a tour through all of the entries we received for the #UBC2030 competition. There are so many good ideas in here, our judges had an extremely tough time choosing just five prize recipients.
JUDGING criteria
Our panel of judges used a scoring rubric to assess each entry, consisting of the following criteria.
Sustainability impact. Does your idea promise real and persistent impact and demonstrate a balance of social, environmental, and economic success?

Creativity and originality of ideas. Is your idea original and unique? Or are you suggesting a new way to look at an existing idea?

Feasibility. Can your idea be implemented at UBC in the future?

Quality. Is your idea communicated and demonstrated clearly and effectively through your selected multimedia format?
---
Prize sponsors