The UBC Food System Project (UBCFSP) is a multi-stakeholder and interdisciplinary initiative for connecting campus food system stakeholders spanning staff, faculty and students, in applied research and collaborations to advance a just and sustainable campus food system.
Working together we inspire collaborative action in all that we do to catalyze global change.
By participating in UBCFSP collaboration you can:
Join an interdisciplinary platform to collaborate on applied research and initiatives to generate scalable solutions to advance a just and sustainable food system from food production, consumption to resource recovery

Bring your ideas to tackle the food system crisis and promote just and sustainable food systems to life

Strengthen your knowledge, from diverse disciplines and perspectives, about food system sustainability challenges and solutions

Inform and advance UBC's food system sustainability affiliated plans, policies and strategies, including Climate Action Plan 2030, Zero Waste Action Plan, AMS Sustainability Action Plan, Green Building Action Plan, Residential Environmental Assessment Program (REAP), UBC Food Action Framework, the Wellbeing Strategic Framework and more.

Build your network and make interdisciplinary connections with campus operational practitioners, faculty members, students and community

Create positive and meaningful change
About
Initiated by the Faculty of Land & Food Systems and the SEEDS Sustainability Program in 2001, the UBC Food System Project (UBCFSP) is comprised of representatives from various facets of UBC's food system and applies a radially organized and community-based action research approach to collaboratively identify and implement transitions towards food system sustainability
Since 2001, the initiative has engaged over 2,100 students, campus food system staff representatives and faculty members in 265 projects across 30 courses.

WHO WE ARE
The UBC Food System Project (UBCFSP) involves representation from 22 community partners and academic units across campuses. The UBCFSP has a Steering Committee, which meets quarterly to set priorities and provide strategic direction on how to move UBC food system sustainability forward, and five Action Teams that act as working groups to advance action and research in these priority areas. By taking a systems lens, the steering committee, action teams, as well as individual food system stakeholders that together form the UBC Food System Project all generate SEEDS project collaborations to take on some of the most pressing issues and promising food opportunities affecting campus food systems.
Action Teams: The UBCFSP has five Action Teams composed of students, operational staff, and faculty, to advance food system sustainability including: Climate Friendly-Food Systems, Urban Food Production for Community Resilience, Biodiverse Food Systems, Zero-Waste and Circular Economy, and Food Justice & Sovereignty.
View our UBC Campus Food System Knowledge Networks Map to see a visualization of UBCFSP Steering Committee, Action Teams and affiliated networks, and learn more about the people behind on-campus food system sustainability work.
Applying a consensus building and systems approach, the UBCFSP has established the following vision, mission and goals:
VISION
UBC is committed to a just and sustainable food system, inspiring collaborative action in all that we do to catalyze global change.

MISSION
To serve as UBC's collaborative, cross-campus initiative that brings together partners in academics, operations, and research to further advance UBC's food sustainability initiatives and food system.

GOALS
To conduct a UBC food system sustainability assessment

To identify barriers that impinge on the ability of food system partners to make desired transitions towards sustainability

To create a shared vision and consensus-based guiding principles of a sustainable UBC food system

To develop a shared model, opportunities and actions collectively deemed necessary to facilitate transitions towards UBC food system sustainability

To offer students applied learning, research and professional development opportunities for positive impact on ecological and human health

To positively impact the movement towards the sustainability of the larger British Columbia, Canadian and global food systems

KEY PRIORITIES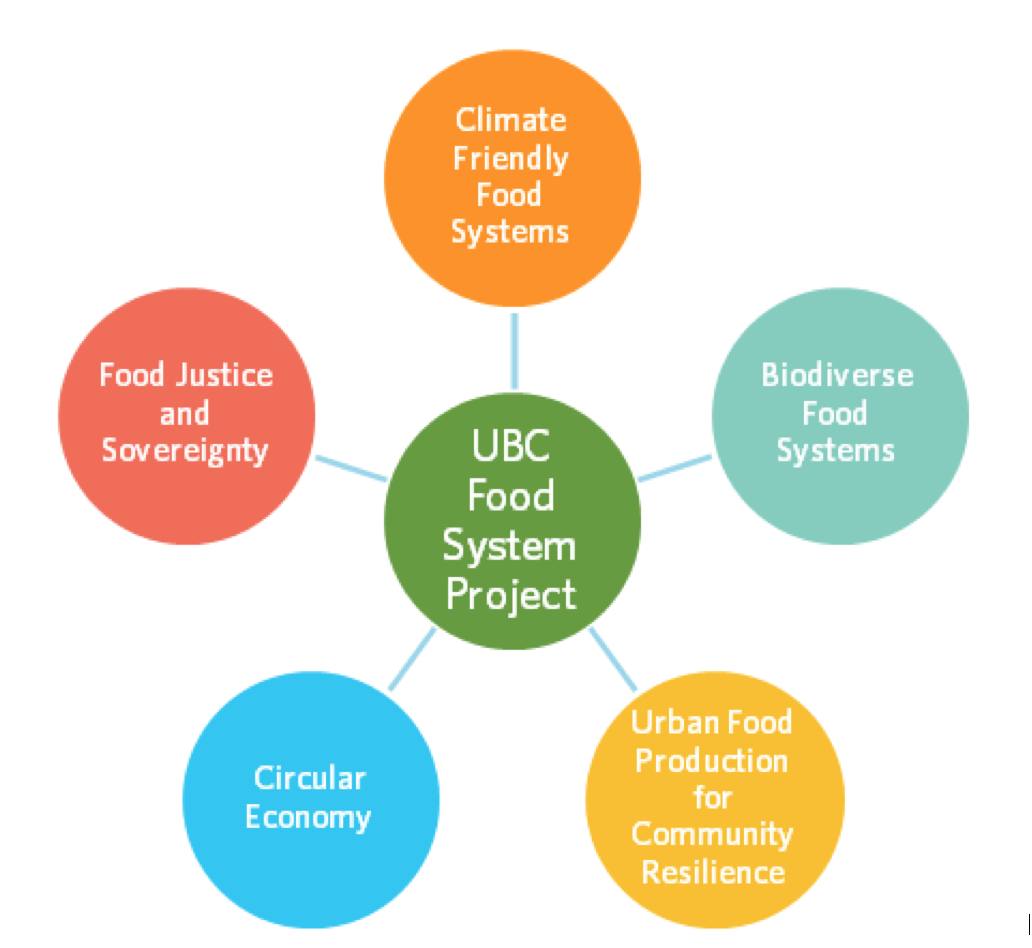 KEY ACCOMPLISHMENTS AT A GLANCE
Since its inception, over 2400 UBC students across 30+ courses have led research projects to advance food system sustainability, generating over 470 SEEDS research reports and demonstrable change in our campus food system.

Formalized governance structure:
Includes a Vision and Guiding Principles for a Sustainable Food System, an interdisciplinary cross-campus UBC Food System Project Steering Committee, and five supporting Action Teams to advance objectives launched:
Climate Friendly Food Systems
Urban Food Production for Community Resilience
Circular and Zero Waste Food Systems
Biodiverse Food Systems
Food Justice and Sovereignty
Conducted diverse research:
Critical topics include food waste recovery, fair trade purchasing, farm to institution partnerships, and community food building. Research has resulted in:
The first formal agreement between campus food vendors and UBC Farm saw local squash being added to students' pizzas and has since evolved to an expanded farm-to-institution partnership

The first student-owned, building-scale composting system in Canada, as part of the AMS Nest's commitment to sustainability

The first food system targets embedded in campus sustainability strategy - AMS Lighter Footprint Strategy

The first "green-tax" on to-go containers at residence dining halls to reduce waste

The development of food recovery strategies with AMS and Food Services

Sustainable food procurement, including the the first local organic fruit sold in campus residence dining halls to the expansion of other local food product procurement

Climate-friendly menu development

An audit of campus foodware, that led to the development UBC's Zero Waste Foodware Strategy

The creation and development of the first campus food garden, and many others since then, and creation of a campus garden guidelines to help others start their own
Contributed research that informed the development of a diversity of UBC's food system sustainability strategies, plans and policies:
Key examples include: Zero Waste UBC Foodware Guidelines, Climate Action Plan 2010, UBC's Food Action Framework, Fair Trade Campus, and AMS's Lighter Footprint Strategy and its most recent update as the AMS Sustainability Action Plan.
Waste: A cluster of behaviour change research projects to improve how we sort our waste, and audits on compost, foodware, and materials used by food businesses on campus have contributed to implementation of the Zero Waste Action Plan.

Food Vision & Values: A multi-year partnership between UBC Food Services and Land and Food Systems 450 course annually baselines and provides recommendations to update Food Vision and Values to ensure continued leadership in campus food sustainability and wellbeing.

UBC Sustainability Plans: Current collaborations are informing the development of UBC's Climate Action Plan 2030 food goals, targets, and actions, and contributing to an update of UBC's Green Building Action Plan, and the Residential Environmental Assessment Program (REAP).
Facilitated knowledge exchange events and outreach activities:
These included thematic Action Symposiums and Food Forums which provide opportunities to disseminate and mobilize initiative accomplishments, learnings and collaborations with UBC students, faculty, staff and community members.
In 2019, SEEDS and UBC Wellbeing co-hosted the first Action Research Symposium on the topic of food insecurity, which brought together staff, faculty, and students to share interdisciplinary research on the current state of student food insecurity, and to work together to identify opportunities to lead in addressing the challenges. The success of this knowledge exchange pilot can be seen in its contribution to launching of the Food Security Initiative (see below).

SEEDS has long been involved in developing campus food-growing gardens, whether it's establishing food gardens in neighbourhoods and academic campus, or directly informing the now-adopted procedures for setting up a new food garden on campus. The result can be seen in over 15 food-growing gardens by residents, staff, students, and faculty that serve the community as sites of research, teaching, learning, food growing, and social connection.
Published publicly accessible web resources including:
UBC Food System Asset Map serves as a centralized platform that showcases food system and food security initiatives, resources, programming, research, and collaborations on the UBC Campus to advance a just and sustainable food system.

Campus Food System Knowledge Networks Map that provides centralized information about UBC people (practitioners, researchers, instructors, students), networks and initiatives connected to UBC's Food System. This tool is to help people connect with others, and enable greater collaboration across our campus, bridging campus operations and academia.

Launched in 2013, a Sustainable Campus Food Guide was developed to raise awareness and facilitated participation in sustainable food system initiatives on campus, and is currently being updated.