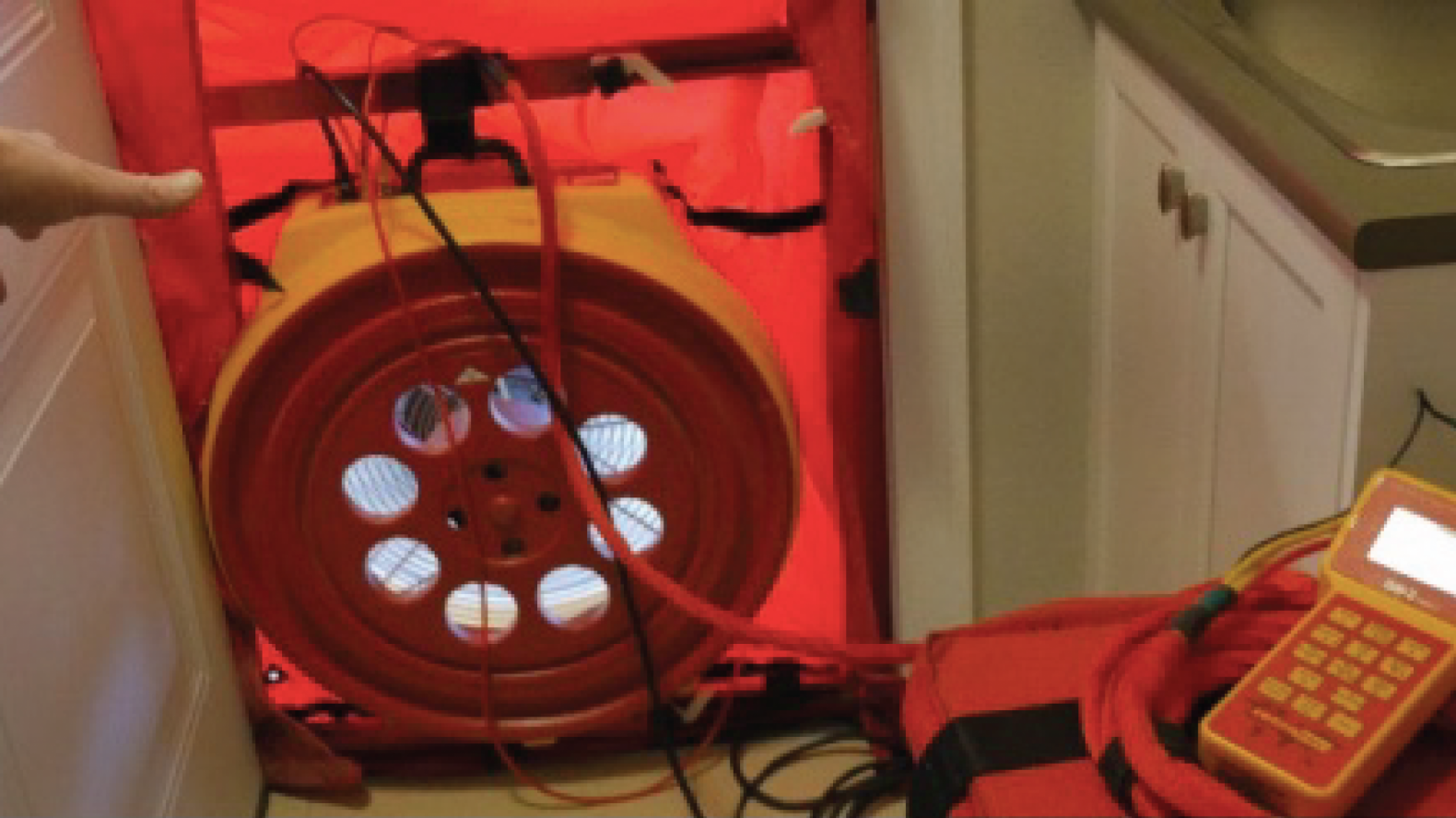 9 December 2020
BCBC 2022 FEATURE
This article was originally posted as a part of the Energy Step Code Council's December 2020 Stakeholder Update.
Jurisdictions that have referenced the BC Energy Step Code in their building bylaws require whole-building airtightness testing for residential and non-residential new construction projects as an essential part of the BC Energy Step Code's performance approach. Airtight buildings restrict air movements between the inside and outside, preventing the migration of moisture, heat, pollen and other pollutants. They therefore contribute to a healthier, more comfortable and ultimately more energy efficient indoor environment.
Airtightness in Part 9 residential new construction is typically measured in air changes per hour (ACH), at 50 Pascal pressure. The lower the air change rate, the more airtight the building. In Part 3 commercial and residential high-rise new construction, the common metric for airtightness is litre per second per meter square (l/s/m2), measured at 75 Pascal pressure. Similar to Part 9 airtightness testing, the lower the result, the more airtight is the building.
This Energy Step Code Stakeholder Update takes a closer look at the best practices for airtightness testing in Part 3 and Part 9 projects, highlights benefits of the process and reflects on BC's industry experience with and feedback on this new requirement.
UBC Campus and Community Planning Airtightness Demonstration
Follow the airtightness testing process from start to finish in this short video, shot inside one of UBC's new multi-unit residential buildings
During summer 2020, in partnership with UBC Properties Trust, and through support from BC Hydro and ZEBx, UBC Campus and Community Planning documented a Part 3 airtightness testing procedure on one of UBC's new multi-unit residential projects. The video shares insights into the testing procedures, preparations, reporting and BC Energy Step Code compliance requirements.
In Search of Leaks: Airtightness Testing Around the Province
Two local governments, from two very different regions of the province, share their recent airtightness-testing experiences.
Richmond's First Step: 100% Compliance
Since implementing the BC Energy Step Code in September 2018, the City of Richmond has approved 78 single-family houses for occupancy. All of the approved houses meet the requirements of Step 1, have an average air leakage rate of 3.0 air changes per hour (which meets the airtightness requirements of Step 2), and an EnerGuide Rating that is 12 per cent better than the prescriptive minimum "Reference House".
Though Richmond requires home builders to meet Step 1, these results point to a better outcome. On airtightness, the average Step 1 house in the city actually lands somewhere between Steps 2 and 3.
This is a sharp improvement over what Richmond's builders once delivered. Historical data sourced from a previous energy efficiency program revealed that the average home had a considerably more drafty score of 5.1 air changes per hour. Richmond's notable improvement attests to the city's effective airtightness training program, supported by BC Hydro and ramped up in preparation for the implementation of the Energy Step Code. Moreover, the results are testament to Richmond's homebuilders' willingness and ability to lead the way in constructing better homes - more airtight, more efficient and more comfortable. Relying on this data, Richmond can move up the Step Code ladder more confidently.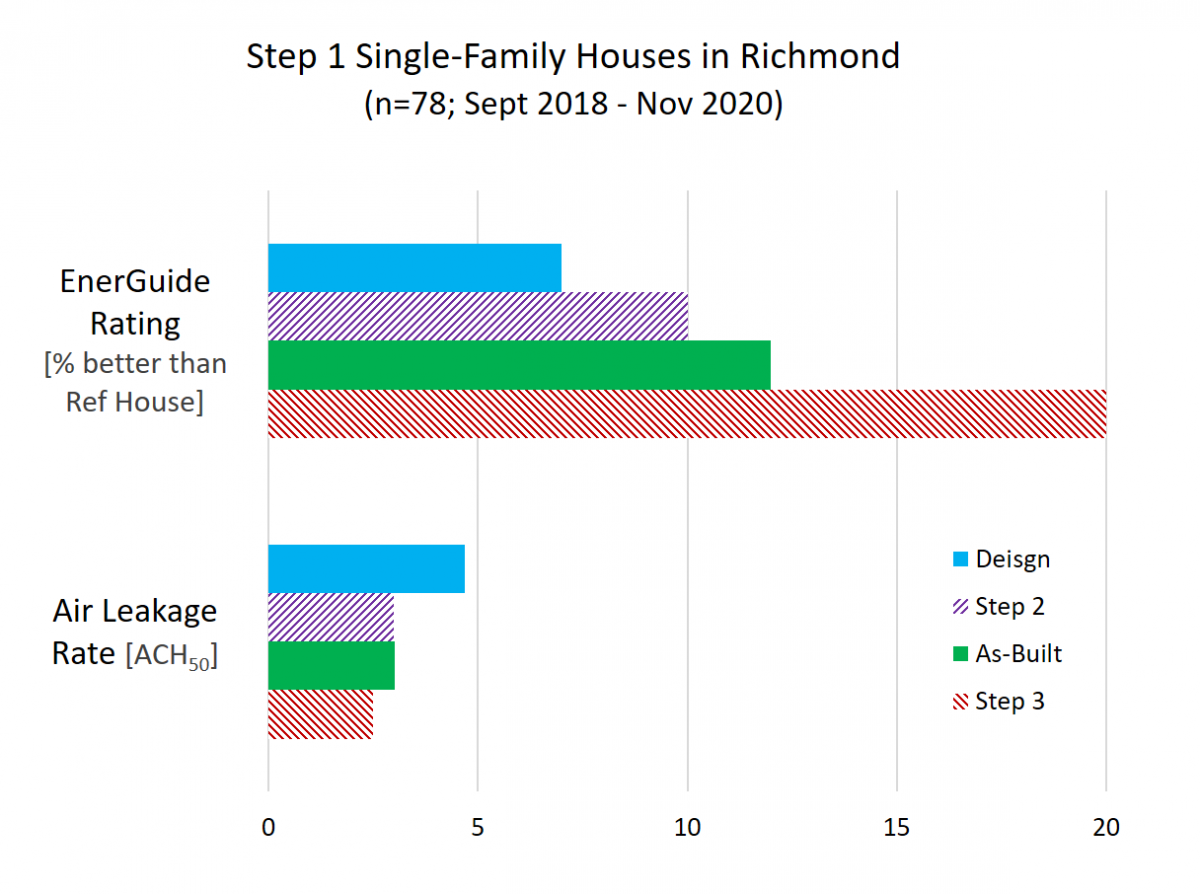 Stepping Up in Northern British Columbia
In partnership with BC Hydro, FortisBC, and BC Housing, the Canadian Homebuilders' Association of Northern BC recently launched a program to ensure builders in Prince George, Quesnel, and Smithers had up-to-date and accurate information on the BC Energy Step Code. The program connects builders with an energy advisor, for services from design to project completion. The association invited builders to attend a mid-construction blower door test, allowing them to ask questions and receive information.
"Working with [our local Energy Advisor] was an eye opener," reported Bruce Kidd, owner of KG Homes in Prince George. "We were able to see that our homes were already pretty tight — which surprised us — and with some minor changes during construction we would be able to achieve Step 4. I think a lot of builders here are building better than they might think and with the addition of things like triple glazed windows, they can improve without a huge financial hit."
Both the City of Prince George and the Town of Smithers are consulting on the adoption of the BC Energy Step Code. For a detailed list of participating municipalities, see the Policy Adoption section below.