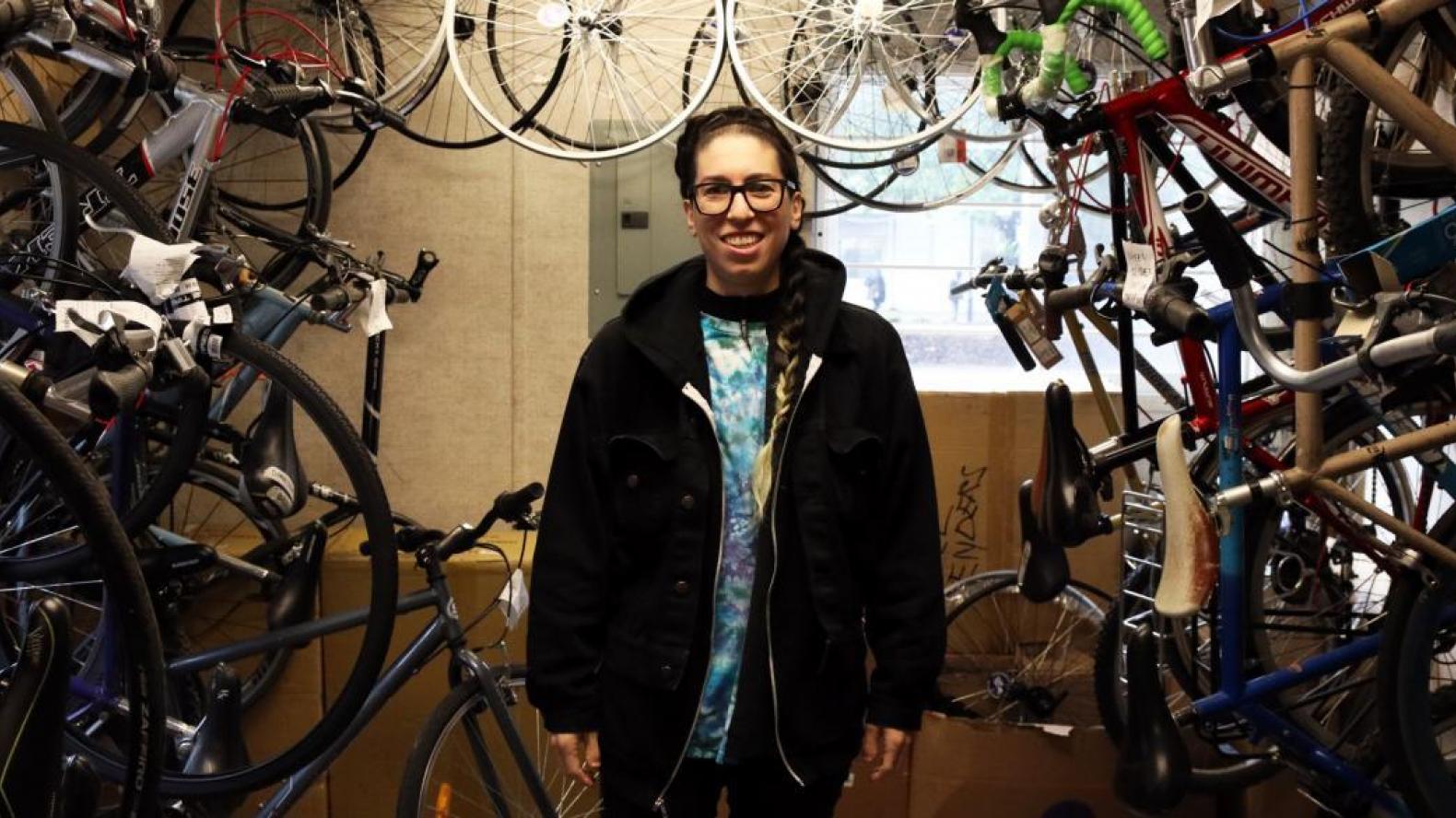 Monday, October 23, 2017 - 15:32
The AMS Bike Co-op's Sunny Nestler on how UBC's Bike Kitchen makes cycling accessible, and what makes the community shop so special.
What makes the Bike Kitchen different from other bike shops?
The Bike Kitchen is a community bike shop, which means our bottom lines are education and recycling, not financial profit. Our main programs are our DIY tool share, access nights such as LGBTQ2I Night and Purple & Yellow Night (where we work on our fleet of shared cycles), and Cycling Resource Centres, which we run off-site at various outreach events. However, you can still make an appointment for full service repairs to your bicycle too!
Part of the Bike Kitchen's services is not just fixing bikes, but also teaching people how to fix their own bikes. How does that work, and also, is it hard?
Anyone can drop in to the Bike Kitchen when we are open or during one of our access nights, and a skilled mechanic will be available to answer any questions you have, teach you the basics, or help you learn a more complicated repair. If you are looking to make your very first repair or change your first tire, our mechanics will take you through the process step by step, demonstrating when needed or giving verbal instruction if you prefer. Working on bikes can be hard but most people find it fun to learn how to use a new tool! If you get stuck half way, feel free to leave it with us for a full service repair. You can also drop in during volunteer day (Wednesdays) or during Purple & Yellow night (Tuesday evenings) to learn how to work on bikes that belong to the shop in a low-pressure environment.
Tell me a little bit about your workshops, like your Women and Queer Nights at the Bike Kitchen? Why was it important to you to set aside safe spaces to learn about bike repair?
Our access nights are a key part of our programming, and include spaces such as Women & Queer Night, LGBTQ2I Night, Multi Lingual Night and others. We aim to hold space for anyone to organize an access night for a group they belong to that is under-represented in our shop or the cycling community in general. If you have an idea for an access night, let us know! Access spaces are important to us because they welcome people into cycling communities who would not have otherwise joined, and therefore would not be well represented in cycling culture. Everyone should have access to and be empowered to use the tools needed to maintain their own forms of transportation.
Can I use the Bike Kitchen if I don't have a bike?
Definitely - try dropping in during volunteer day (Wednesdays) or Purple & Yellow night (Tuesday evenings) to learn the basics of taking a bike apart, and maybe even putting one back together! You can also swing by our programs office (room 4305 in the Student Nest) if you want to get involved with some of our other projects, for example Bici Libre, the Musqueam Bike Co-op, the Kids' Bike Library, or the upcoming Pedalling Art. You can also volunteer to help us with photography and design, contribute to our blog or social media, and help us run events!
All profits raised by the Bike Kitchen fund the Bike Co-op's programming and cycling advocacy outreach on campus and in the community. What were some of your favourite events or campaigns made possible through this funding?
We love working with our friends at the Musqueam Bike Co-op; with Campus and Community Planning, who help us bring cycling repairs and education to groups on campus; and those in campus housing who benefit from our Cycling Resource Centres. This year we also launched the Kids' Bike Library, which has been both fun and extremely adorable!
Do you have any special Bike to Work Week programming coming up that you'd like people to know about?
We will have a repair stand and resources set up at the UBC Bike to Work Week Celebration Station on Oct 25th outside the UBC Bookstore. Cyclists will also be able to register their bike with Project 529, an anti-theft and recovery service at the event too. See you there!