An educational walk led by Sustainability Scholar, Dominic Janus, highlights the risk to the estuary from human activity and explores new ways to protect and conserve the area.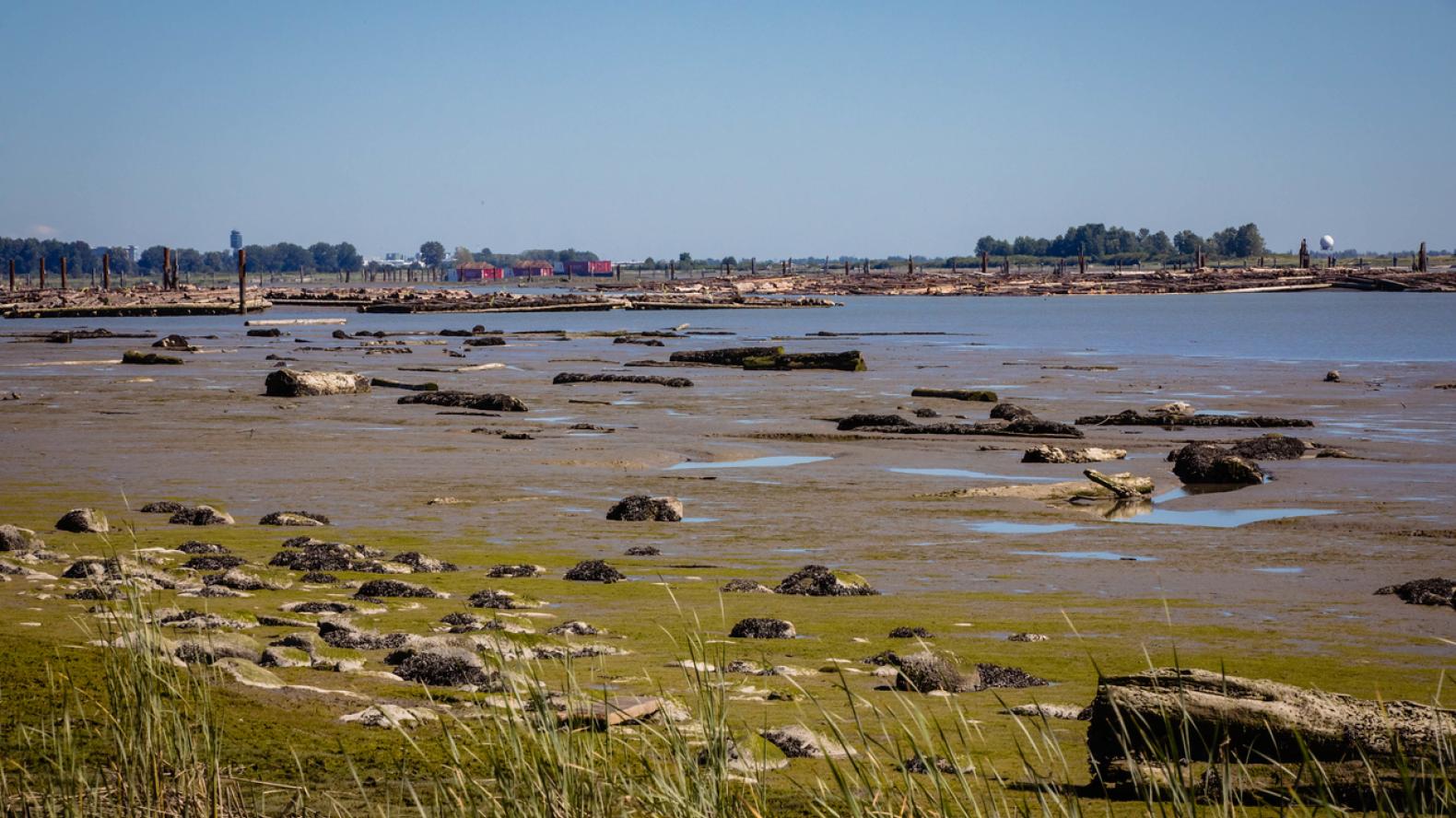 Monday, August 15, 2022 - 11:20
The introduction of Canada Geese in B.C. has led to the overgrazing of wetlands, negatively affecting biodiversity and flood protection in our estuaries. Dominic Janus led a tour of the Pacific Spirit Park foreshore on unceded xʷməθkʷəy̓əm territory (Musqueam), to show us firsthand the how these geese pose a threat to these salty marshes, especially to an ecologically important grass-like group of species, the sedges.
Dominic is a UBC master's student in the Conservation Decisions Lab and a Sustainability Scholar who is researching management and conservation in the Fraser River Estuary. Dom focuses on Lyngbye's sedge (Carex lyngbyei), a dominant species at low to mid elevations in saltwater marshes across the west coast of North America. These marshes act as natural infrastructure that protect shorelines from flooding, nurse many fish species, and sustain some of the most efficient carbon storage worldwide. Due to various stressors like urban development and sea level rise, we've lost 85% of the Lower Fraser River's floodplain habitats since the arrival of settlers (Finn et al. 2021).
Despite wetlands providing many valuable ecosystem services to us, Dom showed us some sedge that had been heavily grazed on at the water's edge hinting to us another, less well known, threat to the estuary.
Canada Geese are not native to Southern Coastal BC. They were introduced in the 1960s and 1970s as a "re-introduction" effort for one of their subspecies that was endangered and the hopes that they would provide wildlife viewing and hunting opportunities. Since the 1960's, their population has exploded to at least 20,000 residing in the Fraser Valley and they've been eating a lot of sedge in the Fraser River Estuary. With few predators, and strong-but-fair legal protection under the Migratory Birds Act,1994, there hasn't been an effective means in of keeping the geese populations in check, and subsequently not a lot protecting the sedge grass from their ravenous appetites. Dom notes how each year, the overgrazing leads to less organic matter for the estuary which leads to less sedge biomass the following year, leading to an increasingly dire negative loop.
This problem extends to almost all estuaries in Southern coastal BC, including Vancouver Island. Similar problems have been documented in estuaries on the east coast of the United States. Canada Geese breeding in the Gulf Islands and other ecologically sensitive islands of Southern BC are also threatening many at-risk species.
With over 100 species at risk, including multiple wild Pacific salmon populations (Kehoe et al. 2020, Chalifour et al. 2022), what can be done to protect these critically important marsh habitats?
Dom said the complexity of governance, jurisdiction, responsibility, and accountability in the Fraser River Estuary contribute to the difficulty of protecting our intertidal ecosystems and that there still may be a lack of funding and research for urgent issues in the estuary. A plan to reduce goose gazing would most likely entail minimizing their access to marshes and/or reducing the population size. Such a plan would need to involve all relevant parties (including but not limited to First Nations, governments, stakeholders, public, and scientists), where objectives are collectively agreed upon, and actions are decided based on their effectiveness, feasibility, and co-benefits.
Leaving the marsh, Dom sent us off with a message saying everyone who values our fish, birds, whales, Canadian biodiversity, and the many cultural, recreational, economic, and industrial values of the Fraser River Estuary should know that we are on course to witness extinctions of many wild populations as the Fraser River Estuary continues to lose its productivity and fisheries. We can learn from the estuary's rich culture and biodiversity, and find solutions that benefit ecosystems and communities for many generations to come.