Each year, about 10,000 birds die at UBC by colliding with clear and reflective glass. Windows reflect mirror images of trees and other vegetation and create a particular hazard for birds.
UBC has collaborated with Environment and Climate Change Canada on bird collision research to try and better understand and mitigate this ongoing tragedy, and has developed Bird Friendly Design Guidelines for Buildings as part of the emerging Green Building Plan.
Now a UBC PhD candidate has designed a window application as part of a competition to reduce fatal bird collisions. The SEEDS Sustainability Program project, installed on the CIRS Building, also tells the story of bird biodiversity on campus.
Penny Martyn, Green Building Manager at Campus and Community Planning said "This is a wonderful pilot to help raise awareness of bird kills. Apparently only about 1% of people know about this problem, so raising awareness could really turn things around."
UBC has developed Bird Friendly Design Guidelines for Buildings which are part of UBC's emerging Green Building Plan, to ensure buildings of the future consider biodiversity in their design.
The Bird Friendly Art Competition was the fifth SEEDS project in three years to concentrate on bird strikes at UBC. Tallies of dead birds, smears on windows and other accident scene evidence such as feather counts led researchers to estimate that there are about 10,000 bird strikes a year on campus. Even if they fly off, most birds are thought to die after hitting a window, from internal injuries.
"This research dovetails with building design," says Liska Richer, Manager of SEEDS. "How can it mitigate these deaths? There are many ways to prevent birds from hitting glass. There are products on the market that prevent birds from colliding with glass by reducing reflections, but research shows that the shapes have to be very close together — within a few inches — or they just don't work. Addressing that issue was one of the criteria for the competition." The design follows bird friendly design guidelines: no gap in the design is greater than 2" x 4", so that birds don't think they can fly through it.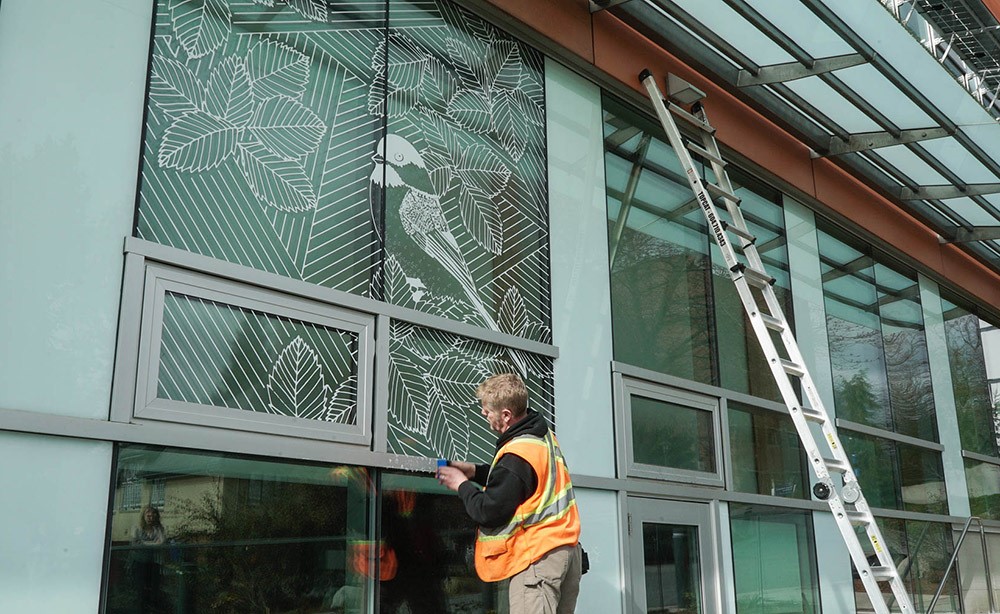 "My artwork focuses on intimacy and intricacy," explains Lora Zozia Moon, a PhD candidate in English who submitted the winning design. "It calls attention to links between flora and fauna and pulls viewers into the texture of the natural world. This intermingling urges us to consider the balance between the creative and the analytical, the arts and the sciences, at a University committed to sustainable transformation."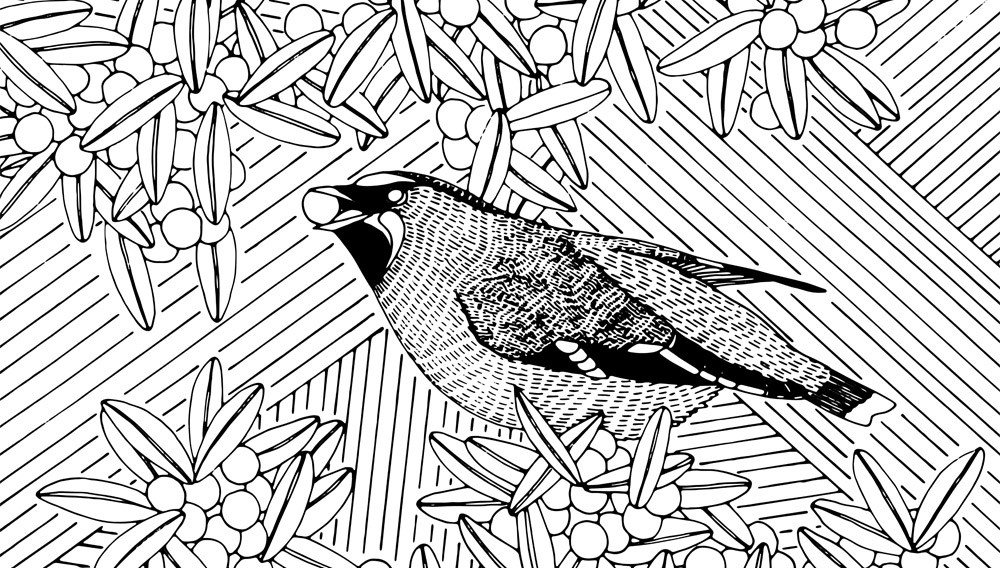 Moon's larger panels — installed on higher windows at CIRS — depict common birds on campus: Black-capped Chickadee (Poecile atricapillus), Anna's Hummingbird (Calypte anna), Steller's Jay (Cyanocitta stelleri), and Cedar Waxwing (Bombycilla cedrorum. "We often overlook these everyday birds," she explains, "which are critical to our shared campus ecosystem. The art adorns the windows of the bustling Loop Café, emphasizing the inseparability of species — whether human or bird — from the intimacy of feeding."
The lower panels, showcasing whimsical counterpart landscapes, stress form, texture, and diversity. "Together the panels encourage viewers to pay attention to campus flora and fauna and ask themselves, 'What is my role in this intricate web of life?'," Moon says.
"This is another SEEDS project to promote biodiversity on campus," adds Richer. "It's part of ongoing research with Environment and Climate Change Canada and Campus and Community Planning's Sustainability and Engineering department to demonstrate the magnitude of the problem and to contribute to wider North American awareness. Hopefully the artwork will inspire similar projects to reduce the risk of birds striking other buildings on and off campus."
Learn more at sustain.ubc.ca/bird-friendly