Friday, November 26, 2010 - 11:07
Residents of Totem Park pulled out all the stops — not to mention a lot of plugs — to compete in UBC's first ever energy-saving contest in November. Their heroic efforts earned UBC a second-place finish in a competition that pitted it against 39 American universities and colleges.
Do It in the Dark was the name UBC organizers gave to the Campus Conservation Nationals, a US-based competition that challenges college and university campuses to achieve the greatest electricity and water use reductions during a 3-week period. Totem Park, home to more than a thousand students, represented UBC, and only competed in reducing electricity use this year; other institutions also worked to reduce water use.
The buzz grew day by day as the contest intensified and caught the imaginations of Totem residents. In the last week, UBC moved from sixth place to second, then slipped back into third again. This encouraged a final push that saw the only Canadian entrant seal second place in the competition.
Efforts included a dedicated Facebook page. "We're not in the clear yet!" read one entry. "To show true dedication, till MIDNIGHT TOMORROW avoid laundry, showers (or take really short ones!), turn of ALL lights (legit do it in the dark!), unplug fridges … or share with a friend … Time to get conservative!"
Over the 20 days of the event, from November 1 to 19, Totem reduced its electricity consumption (compared to the three weeks of October) by 16.3 percent, second only to DePauw University in Indiana, which led the field with a whopping drop of 25.8 percent.
"I am thrilled with how the competition ended!" said Quinn Runkle, a second-year geography major and director of Challenges, a student group that helped organize Do It in the Dark . "The Magic in the Dark event on Thursday night, November 18, was very exciting. A lot of the volunteers were there, BC Hydro came out with tons of prizes, and the magician was a huge hit."
"By then, many Totem residents were looking at the online dashboard" — specially designed software that measures electricity use, and showed how UBC stood against its rivals, in real time — "at least once a day, says Runkle. "And it's safe to say they're still thinking about energy conservation and taking action."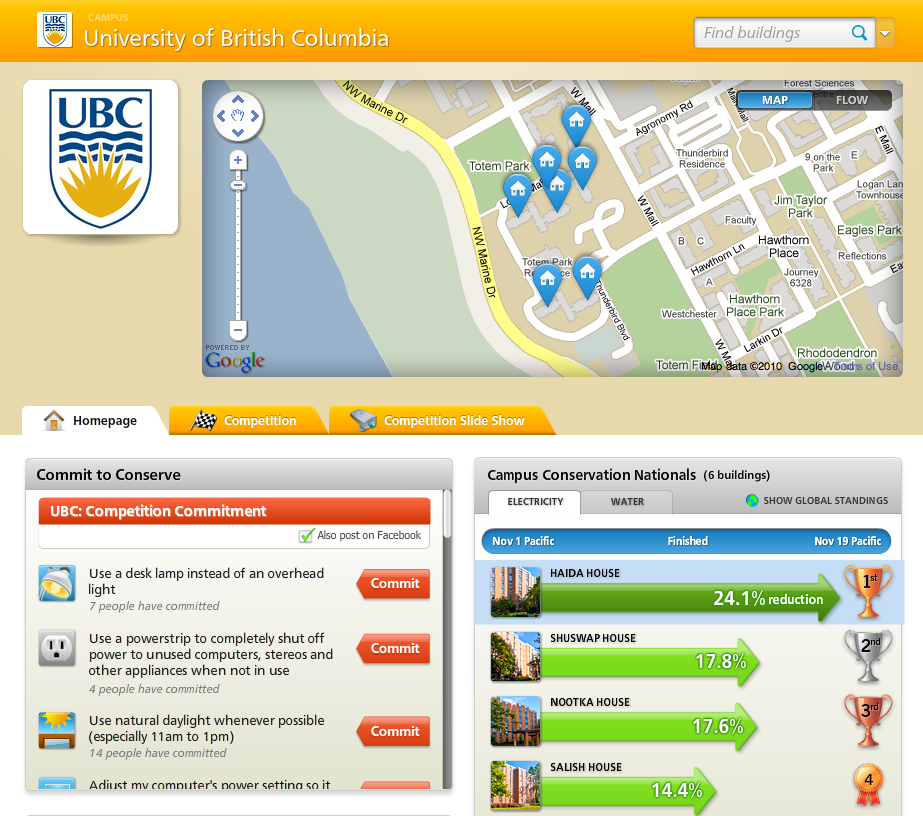 UBC's energy competition dashboard, by Lucid Design Group
In real terms, UBC saved 8,989 kWh of electricity, enough to power one 60-watt light bulb for 17 years, or 200 bulbs for a month. The entire competition saved 510,191 kWh, enough to power one 60-watt light bulb for a thousand years, or a thousand bulbs for one year.
The six houses in Totem also competed against each other, with Haida House emerging as the clear winner, with an overall reduction in electricity use of 24.1 percent. Prizes for the top house (a "house brunch") and for participation (ski tickets donated by Cypress Mountain, an iPod, and meal points) will be handed out during the Totem Park fall banquet on Saturday November 27
"Do It in the Dark was a great experience" says Roshni D'Souza, a third-year biology major and a Totem Residence Advisor. "Although the energy conservation may have been driven by competitiveness at first, it has now become more of a habit for many residents. I think many will take the good habits and practices they learned with them.
"Some of these include turning off the washroom and laundry room lights on their way out, unplugging things that aren't being used (e.g. lounge TVs) and using desk lamps instead of overhead lights. Many residents have also taken to using the stairs, and encouraging/coercing others to, too."
D'Souza explains that the Residence Advisors were kept busy turning off hallway lights during the day, which conserved a lot of energy. "The competition has been a fun and effective way of promoting sustainability at UBC and around Totem. As far as I can tell 'conserving energy' has not been a bother or hindrance to anyone, but instead something that everyone just does. If nothing else many Totem residents are now aware of what 'phantom power' is and how much energy using an elevator really takes."
Runkle agrees that 'phantom power' — the fact that many appliances use electricity whenever they are plugged in, even when they're off — may be the one thing most students remember. "It's with things like that that we'll see real shifts in student behaviour," she says.
Another organizer, M.Sc. student Liz Ferris, says that she hopes "that students will see the connection to the larger issue of sustainability, and the importance of understanding that our current path (as a society) is unsustainable. But collectively, we can work together; small actions taken by each of us together lead to big outcomes."
Now that the competition is over, the collaborators are reviewing the process and the outcomes and looking for ways to make it bigger and better next year. Discussions are already underway to extend the competition to include more student residences, probably starting with Place Vanier, and to include water and steam (used to heat many UBC buildings) in the competition.