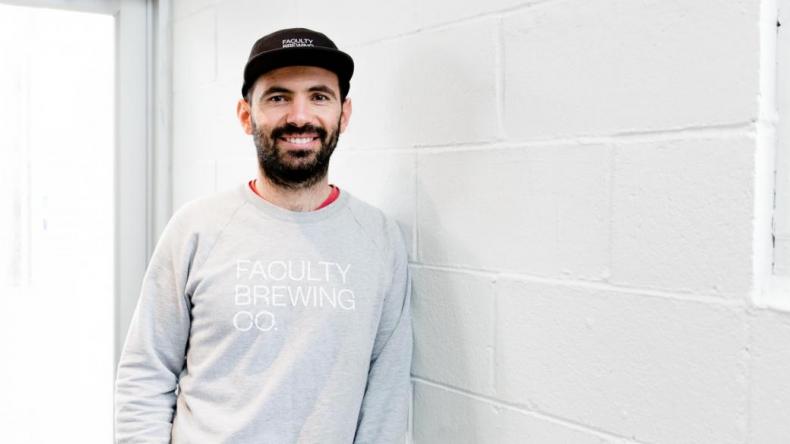 25 July 2017
Mauricio Lozano, founder of Faculty Brewing Co. and UBC Master of Food Science alumnus talks about his passion for learning about sustainability and how he is working to create a more sustainable brewery.
Q. Tell us a little bit about yourself.
Hello, my name is Mauricio Lozano. I am the owner of Faculty Brewing Co., a 7-barrel, 1450 square-foot brewery in Vancouver. At Faculty, we strive to create an open and collaborative environment where visitors can learn about and understand how craft beer is made.
Q: What did you study at UBC? Was sustainability something you were interested in or knew about before you came to UBC?
Prior to UBC, I completed my Bachelor of Food Engineering at the Universidad De Las Americas Pueblas (UDLAP), Mexico, then travelled to Leeds University, UK, to complete my elective in Food Science, so my focus was mainly on food manufacturing and engineering processes. I graduated from UBC in 2009 with a Master of Food Science from the Faculty of Land and Food Systems. This program really opened my mind to the idea of food as part of a global system; the understanding that everything is connected, and realizing the impact of food consumption and production on a global scale. I studied food ethics, the toxicology of food, as well as the regulatory requirements for the production, processing and distribution of food. I came to UBC as an active home brewer and food engineer, so the UBC program really fed my craving (no pun intended) to kick-start my own local, sustainable brewery business in Vancouver.
Q: Why the name Faculty?
The Faculty name was born out of my experience as a lecturer, the wish to educate and empower people with craft beer knowledge, and the idea that the brewery would share all the information behind the brewing process, including the recipes. We aim to work with other breweries and local home brewers to test new recipes and experiment with innovative ideas. Like a university or college, Faculty Brewing Co. is meant to be a place of idea sharing and collaboration. Our beers are numbered using a system based on the course numbering system used by universities and colleges, corresponding to the complexity of each beer's flavour profile.
Q. How do you bring sustainability into your current work?
One of the biggest things we're doing is using 100% renewable natural gas. We're currently the only brewery in Vancouver using the locally produced, carbon neutral energy source, and for us, paying a premium for our energy makes sense long term as it forces us to close the loop and be very disciplined in our energy consumption. We're also part of a keg share program that helps reduce unnecessary empty keg trips back and forth to our outlets on the island. Also, we don't operate our own vehicles. Instead, we use car-sharing programs to distribute beer to our providers. Being a part of a car share program not only helps to reduce our overall carbon footprint, but it means we can triple our capacity when making deliveries as we can have two or three members of the team out in the community at any one time.
Q: How did your time at UBC equip you with the tools you needed to develop a sustainable and thriving business?
My Masters in Food Science was a turning point for me. I was able to choose courses that explored food impact, ethics, and the global economy of food as well as business related courses. With every course I completed, it made me hungry for more (again, no pun intended). I realized that there was an opportunity to take all of the knowledge I had gained from my degree at UBC, together with my background as a food engineer, and channel this into developing a sustainable brewery business model.
Interested in learning more about sustainability education options at UBC?
Explore more than 60 sustainability-related degree programs and over 640 courses.