Between 64 and 128 tonnes of laboratory plastic is generated by UBC researchers each year.
Sign up for the Lab Plastics Recycling Program to help your lab divert plastic from the landfill. Registration is simple and the time commitment is minimal.
Volunteers help educate co-workers and create awareness about the program and its guidelines, monitor collection, ensure that only accepted plastic is recycled and coordinate the transfer of full collection bins to the large UBC "recyclable containers" recycling bins.
Ready to sign up?
Collection Procedure
Once a lab is registered in the program and has received a grey bin, they can begin to collect acceptable materials following the guidelines below. When the bin is full, it is the lab's responsibility to empty it into their building's central UBC "recyclable containers" recycling bin. If you cannot locate a central bin in your building, or it is full, please contact your Building Operations Facility Manager.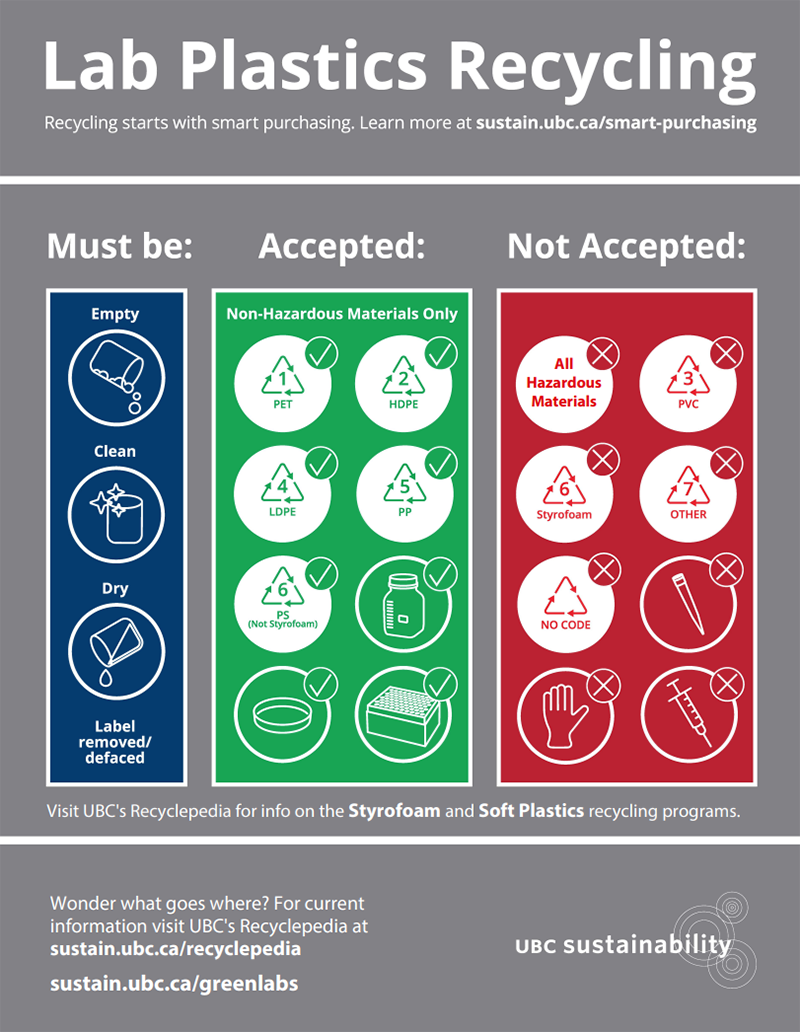 Accepted Materials:
All hard-plastic containers that:
Previously contained non-hazardous materials.
Are empty, rinsed clean, and dry.
Are stamped with one of the following resin identification codes: #1 (PET), #2 (HDPE), #4 (LDPE), #5 (PP), or #6 (PS – rigid polystyrene only)
Note: All Chemical labels should be removed or defaced.
Not Accepted:
Materials previously containing or contaminated with any hazardous materials (i.e. toxic, biohazardous, radioactive).
Containers that are stamped with the following resin identification codes: #3 (PVC), #6 (if Styrofoam-see other programs below) or #7 (O – other materials including biodegradable and compostable plastics).
Containers that are not stamped with a resin identification code.
Lab-specific and hazardous looking materials such as vials, tubes, syringes, pipettes, and pipette tips.
Visit the Lab Plastics FAQs sheet (linked below) or email green.labs@ubc.ca if you have any questions about the above requirements.
Resources
Recycling other materials on campus
Additional recycling programs exist for both Styrofoam and Soft Plastics. Visit the Green Labs Solid Waste Guide for more information on these and other lab waste streams, or UBC's A-Z Recyclepedia for a compressive recycling search tool.
Recycling starts with smart purchasing. Visit Green Labs Purchasing Guide and UBC's Sustainable Purchasing Guide for more information.