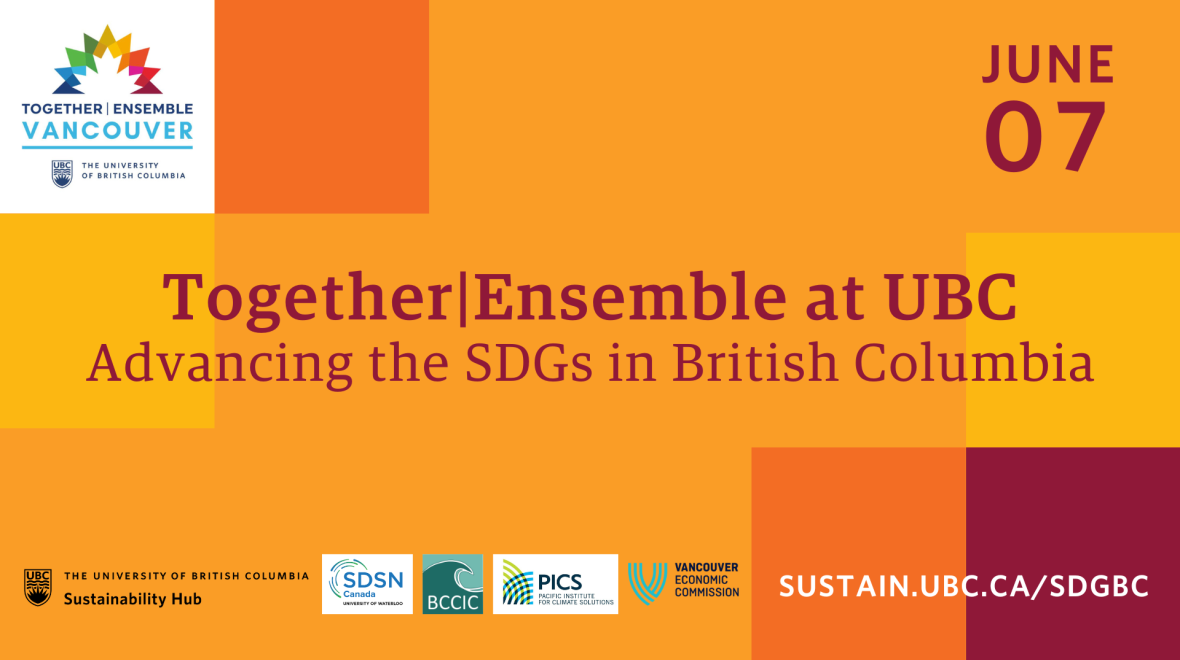 Wednesday, June 7, 2023 -

08:00

to

17:00
UBC faculty, students, staff, community members and organizations across BC are invited to join Together|Ensemble at UBC – Advancing the SDGs in British Columbia as we discuss and explore key cross-cutting themes relating to:
Decolonization
Climate Justice
Education
Just Transition
Events and panels throughout the day will advance participant understanding and appreciation of these key themes as they relate to the United Nations Sustainable Development Goals (SDGs). The notes generated from these discussions will be included in a final Together|Ensemble conference report which will be given to Canadian decision-makers in advance of planned high-level global SDG gatherings at the UN Headquarters.
Introductory remarks by UBC's Interim President Deborah Buszard, Minister Niki Sharma (BC Attorney General), and Sustainability Hub Senior Director Linda Nowlan. Also featuring a weaving workshop with Rita Point Kompst (Musqueam).
Hosted by the UBC Sustainability Hub in partnership with the Vancouver Economic Commission (VEC), the British Columbia Council for International Cooperation (BCCIC), and the Pacific Institute for Climate Solutions (PICS).
This event is part of Together|Ensemble, Canada's national conference devoted to tracking progress on the United Nations Sustainable Development Goals (SDGs) through academic-led initiatives.
Wednesday, June 7, 8am - 5pm
BC Hydro Theatre
Centre for Interactive Research on Sustainability
2260 West Mall, Vancouver BC [map]
REGISTRATION FEES*
General admission: $25/person (includes lunch!)
Students and other priority groups: FREE (Get Promo Code)
​Weaving workshop (optional) $10/person cash. Register your interest for this workshop.
Agenda
8.00am – Refreshments
8.30am – Welcome & Introductory Remarks
Welcome by Alec Dan (Musqueam Representative) and performance by Tsatsu Stalqayu/Coastal Wolf Pack.
Introductory remarks by the UBC President (Deborah Buszard), Minister Niki Sharma (BC Attorney General), and Sustainability Hub Senior Director (Linda Nowlan).
9.30am – Session 1: Decolonizing Education: Complexities, Challenges and Approaches | Led by the Sustainability Hub
While UN SDGs are often framed as a source of inspiration to transform education for more just and sustainable futures, efforts to decolonize education tend to be grounded in a different set of perspectives about possible and desirable futures. In this session, we will hear from experts about their approaches to decolonizing education, including how they tackle the systemic complexities and challenges that exist and arise in this process. The session will explore the cross-cutting theme of decolonization and education, and consider how this theme relates to the SDGs and sustainability more generally.
Panelists
Dr. Cash Ahenakew
Cash (Ph.D.) holds a Canada Research Chair in Indigenous Peoples' Well-being. He is also an associate professor in the Department of Education at the University of British Columbia. Cash is Plains Cree and is a member of the Ahtahkakoop Cree Nation. His research is based in a commitment to the development of Indigenous theories, curriculum, pedagogies and mixed methodologies. His work addresses the complexities at the interface between Indigenous and non-Indigenous knowledges, education, methodology and ceremony.
Dr. Sharon Stein
Sharon is an Assistant Professor in the Department of Educational Studies. Her research asks how education can prepare people to respond to 'wicked' social and ecological challenges in relevant, responsible, and reparative ways. As a white settler educator, she is committed to developing frames of inquiry and pedagogical practices that can support settlers to interrupt colonial patterns and deepen their capacity for relational rigour. She is a founding member of the Gesturing Toward Decolonial Futures Collective and author of Unsettling the University: Confronting the Colonial Foundations of US Higher Education.
Dr. Bernard C. Perley
Bernard is Maliseet from Tobique First Nation, New Brunswick. He holds Bachelor of Fine Arts (studio arts) and Master of Architecture (architectural design) degrees from the University of Texas, Austin. His PhD is in Social Anthropology from Harvard. His academic training is interdisciplinary and aims to transcend disciplinary boundaries to serve his commitment to Indigenous community-based research and advocacy.
Zoe Kompst
Zoe is a two-spirit youth from the Musqueam first nation in Vancouver BC. They previously studied Communications at Simon Fraser University and left to pursue community care work. Zoe has a passion for Native crafting and views the continuation of traditional arts as a form of resistance. They are a beader and cedar bark weaver, and love to learn and teach crafting.
Kshamta Hunter (Moderator)
Kshamta is the Manager of Transformative Learning & Student Engagement with the UBC Sustainability Hub and an instructor in the Faculty of Education. Kshamta manages several engagement programs and provides advising to support UBC sustainability leadership and development goals. Kshamta's PhD explored sustainability leaders' competencies in engaging social innovative solutions to wicked problems. She is interested in exploring and designing responsive and relevant integrative curriculum and pedagogical approaches for the 21st century, through understanding the development of competencies.
11.00am – Session 2: Just Transition: Creating an Inclusive and Green Economy Together | Led by Vancouver Economic Commission (VEC)
Climate change is one of the most significant economic development challenges facing leaders today. As climate change continues to pose physical and transition risks to our economies, all leaders will need to find ways to ensure that workers, businesses, and communities will be protected and supported. Most importantly, the transition to a decarbonized economy will need to recognize how the current economic system has supported many forms of marginalization, particularly for Indigenous peoples, persons of colour, women, disabled people, low-income families, and many other equity-seeking groups.
This session will explore the concept of a just transition and how other approaches (e.g., economic justice, diversity, and inclusion work, etc.) must be integrated to ensure that the future economy is one that is green and leaves no one behind. It will explore how just transition is a cross cutting theme amongst many UN SDG goals such as goals 7, 8, and 11. The session will include an interactive activity and a panel hosted by the Vancouver Economic Commission.
Panelists
Nathan Grandjambe, Senior Manager, Indigenous Economic Prosperity, VEC
As an ohtâwîmâw (father), nôsisê (grandson), wahkomakan (cousin), nehiyô (Cree person), traditional beader, endless storytelling sponge, Canadian, Wealth Manager, and Economic Development professional, Nathan Grandjambe has worn many hats. Concurrently, as someone with both Indigenous and settler ancestry, he has spent his entire life shifting lenses to better navigate the complex currents, contexts and contrasts of contemporary Cree and Canadian cultures.
With a wealth of background in western finance, and an ever-rapacious appetite for traditional teachings, Nathan continually applies two-eyed seeing to his work; Two-eyed seeing being described by Albert Marshall as to see the strengths of Indigenous ways with one eye, and, simultaneously, the strengths of Western ways with the other. Treading new paths with modern fiscal acumen, grounded in cultural perspectives, Nathan is ever engaged in interpersonal relations, communication, and transformation. He also makes a right deadly Bannock when called to do so.
Tessa Jordan
Tessa (she/her), PhD, is Program Head for the Sustainable Business Leadership programs at BCIT. For over 15 years, Tessa has designed and delivered education and training that supports the wellbeing of people and the planet. Currently, Tessa works with individuals and organizations on action-oriented sustainability programs to generate positive impacts for stakeholders (including nature and future generations). Tessa values transparency and collaboration and supports leaders at all levels of organizations to create more equitable, just, and sustainable systems.
Janet Andrews
Janet is the full-time Secretary-Treasurer of the New Westminster & District Labour Council, representing over 60,000 union members in fourteen municipalities located on ten unceded First Nation territories in the lower mainland of British Columbia. Janet is proud to be a part of a grass roots, local organization with a strong tradition of workers speaking out on issues affecting them in their workplaces and in their communities. A member of the International Association of Machinists & Aerospace Workers Union Local Lodge 764 since 1998, Janet serves as one of the labour representatives on the board of Invest Vancouver and is on the Board of Directors of the United Way of British Columbia. She has a BA in Classical Studies (UBC) and an MA in Classical Archaeology (UBC). More information on the NWDLC and their work can be found at www.nwdlc.ca, or by contacting nwdlc@shawcable.com.
Max Cohen
Max is a PhD candidate in Geography at UBC focusing on the history of fossil fuel economies in Scotland and Aotearoa (New Zealand) and pland for green transitions. He was a delegate at COP26 in Glasgow in 2021. Max also hosts a show on B-Side Radio in Vancouver called Rhythmanalysis.
George Patrick Richard Benson (Moderator)
An urban planner by training, and an economic developer by trade, George Benson is Senior Manager, Economic Transformation at the Vancouver Economic Commission, supporting businesses and workers in their efforts to decarbonize and prosperously reach net-zero by 2050. George manages VEC's Zero Emissions Economic Transition Action Plan (ZEETAP), and oversees the BC Heat Pump Technology Attraction Strategy and VEC's climate action and workforce development work.
George brings unique experience from the public, private, and nonprofit sectors, together with deep content knowledge in resilience, urban sustainability, global governance, and new economic systems. He works with individual businesses, industry associations, building code developers, global businesses and networks, and researchers on numerous capacity building, coordination, and market transformation initiatives.
Outside of VEC, George is co-founder and chair of the Climate Displacement Planning Initiative, a BC-based nonprofit working to support those at risk of or currently undergoing, displacement due to climate change. George has previously been involved in the leadership of the US and Canadian urban planning associations and was a member of the World Economic Forum's Global Commission on biodiversity in cities. In 2017, he was recognised by the City of Vancouver with its Award of Excellence for his work on building sustainability and resilience in the community.
12.30pm – Lunch with weaving workshop (led by Rita Point Kompst) and networking
In this session Rita Kompst will lead us into weaving either coasters, hearts or roses from red cedar harvested last year! Rita will talk about the harvesting protocols and the ethical and sustainable methods as we weave our coasters, hearts or roses. We will do a basic weave and also learn how to twine the edges to bind your creation together. We weave our ends in and underneath.
The weaving workshop (optional) is an additional $10/person cash. Register your interest for this workshop.
About the Artist
Rita Kompst
Rita was born and raised in Musqueam. Her late Father, Joe Becker, a former Musqueam Chief, was mainly a carver and a fisherman. Rita started cedar weaving once her Father passed as per her Cultural teachings. She experienced several personal losses over the next 7 years and continued weaving on her healing journey. Her Mentor Todd Devries encouraged her to begin teaching cedar weaving several years ago. Now she teaches cedar weaving full-time.
1.40pm – Session 3: The Pulse of Climate Activism: Indigenous Feminist Movements Leading Climate Responses and Solutions | Led by British Columbia Council for International Cooperation (BCCIC)
Activists and leaders from communities most affected by climate-related crises have the deepest knowledge and boldest ideas for solutions which, if fully recognized and incorporated by the international community, would be our greatest tool in the fight against the emergencies we face.
This session, hosted by the BC Council for International Cooperation, brings together researchers, activists and advocates working internationally within the critical nexus of Indigenous governance, climate action and gender equality. We will delve into some of the transformative work of Indigenous communities in South America, Mexico and BC to address the most pressing issues of our times, the role of solidarity in supporting this work, and to identify how we can learn from this expertise in our own activism here in Canada.
Panelists
Natalie Illanes Nogueira
Human and Labour Rights Program Director at CoDevelopment Canada
Natalie is a Brazilian and Bolivian Quechua warmi (woman) living in Canada for the past 11 years. Her trajectory led her to study social sciences in Brazil and community work in Canada. Natalie's commitment to Human and Labour Rights and Indigenous and Latin American liberation, come from birth and nothing makes her happier than doing work in solidarity with these powerful and vibrant communities.
Natalie had an active role in two unions, being union steward and union president with Workers United Canada Council Local 2864. Throughout her time in Canada, she has done frontline and grassroots work, as well as strategic development and lobbying work because she believes that both need to go hand in hand for social change to be achieved.
Through her work with CoDev, Natalie works to "put together the People of the Eagle, the People of the Quetzal and the People of the Condor, through our very special model of international collaboration and solidarity."
Evelyn Arriagada Oyarzún
PhD Candidate at the Institute of Resources, Environment, and Sustainablity at UBC
Evelyn Arriagada is an anthropologist and MA in social sciences (Universidad de Chile), a MA in Political and Social Sciences (Universitat Pompeu Fabra), and a Ph.D. candidate at the Institute for Resources, Environment and Sustainability (University of British Columbia). Her dissertation focuses on shifting subjectivities, gender dynamics, and hydrosocial relationships in contemporary water justice movements in Chile. Her Ph.D. is supported by a Vanier CGS Award, Killam Doctoral Scholarship, Public Scholar Initiative, and the National Agency for Research and Development (ANID - Chile) – among other funding. Her most recent co-authored publication explores the experiences of 'lived environmental citizenship' in female rural leaders in central Chile.
She is also a member of the Observatory of Inequalities at the Diego Portales University (Chile), where she co-created a School of Female Leaders aiming to empower rural women facing various environmental hazards. Evelyn has participated in diverse initiatives involving academia, ONGs, and communities, such as the Latin American Grupo Ecología(s) política(s) desde el Sur/Abya-Yala (CLACSO), the Action/Research Group for Water (Chile), the Feminist Coordination at the Civil Society for Climate Action (SCAC-Chile), and the Asamblea de Mujeres Insulares por el Agua (Chiloé, Chile). At UBC, she is also a member of the EDGES Research Collaborative (Environment and Development: Gender, Equity, and Sustainability) and the Program on Water Governance.
Neftali Hernandez
PhD Candidate at the University of British Columbia
Neftali Hernandez is a Zapotec PhD candidate at UBC. His experience focuses on sustainable development in rural communities through natural resource management, with a strong emphasis on indigenous governance. He is currently involved in implementing UBC's Indigenous Strategic Plan. Neftali has strong connections to indigenous communities through his family, civic responsibilities, and collaborative research. He speaks Zapotec as a native language and has worked with multiple communities in Mexico on forest management, food security, indigenous governance, and women's political participation.
Neftali has been living with his family in British Columbia since 2014 and has experienced the human-induced impacts of climate change on BC communities. He is currently conducting a short study to collect useful experiences on climate change adaptation in the Global South that can be applied to the BC context. While completing his PhD, he and his family enjoy exploring nature, cooking Mexican food, and swimming.
Jessica Wood (Moderator)
Organizational Consultant
Jessica Wood (she/her) is an organizational consultant and facilitator with over 10 years' experience in executive leadership, government relations and international program design. A former Executive Director and member of the Inter-Council network Jessica has a thorough understanding of effective public engagement, advocacy and network mobilising. As an active consultant, Jessica engages with organizations to improve inclusive governance, advance environmental justice, and imbed intersectional feminist practices. Jessica specializes in change management, conflict resolution, strategic planning, and results-based management. She currently serves on the Board of Directors for CoDevelopment Canada in Vancouver, and the SeedChange Foundation in Ottawa. Jessica is privileged to live on SḴŦAḴ (Mayne Island, BC), the unceded territory of Tsartlip First Nation (W̱JOȽEȽP), one of the five communities of the W̱SÁNEĆ Nation.
3.00pm – Break
3.15pm – Sharing by Student Rapporteurs
The conference's Student Rapporteurs will be active observers at the conference. They will take note of what was said and will report back to the conference attendees on major discussion themes and their own advice and hopes for progressing the SDGs in British Columbia. They will also prepare a conference report that will be shared on the conference webpage and with the Sustainable Development Solutions Network to inform discussions at the High-Level Political Forum 2023 and other international gatherings on SDGs.
Student Rapporteurs
Niki Afsharpour
Having spent half her childhood growing up in Iran and the other half in Canada, Niki has grown curious about the different ways people connect to their environment. This curiosity has grown into a passion for community engagement and involvement, alongside sustainability practices that are intersectional, accessible, and inclusive that help strengthen the relationship between people and place. Niki is currently pursuing a Bachelor's in Environmental Sciences with a concentration in Sustainability Sciences (and a minor in Creative Writing!). For fun, Niki likes to doodle and go on walks!
Vicky Kim
Vicky (she/they) is a Korean settler and a recent graduate, holding a Bachelor of Science in Global Resource Systems (with a specialization in Ecology and Human Geography) and a Minor in Sustainable Food Systems. She is passionate about reimagining sustainability frameworks and epistemologies through an anti-colonial and anti-oppressive lens that centres accessibility, justice, and care. They are grateful for the opportunities to have integrated their love for research, advocacy, and knowledge translation through co-founding ReImagine17 during their time as a UBC student. She can be found reading, taking pictures of nature and people, or playing soccer during her free time.
Olivia Lang
Olivia is a fourth-year student completing a Major in Human Geography, a Minor in Law and Society, and a Master's in Business Management. Growing up in Vancouver has instilled a deep appreciation for nature, inspiring her sustainability work. As a Human Geography student, Olivia is interested in how climate change will disproportionately impact the most vulnerable and marginalized communities globally. As such, she is passionate about the intersection of human rights and sustainability, especially how climate change will affect the rights of migrants or those displaced. In her spare time, Olivia can be found running by the beach, reading, hiking with friends, or playing with her rescue puppy.
Naomi Leung
Naomi (they/them) is a Han Chinese Malaysian settler and guest on ancestral and stolen Musqueam and Tsawwassen territories in colonially named "Richmond, BC." They have a background organizing for climate justice education, harm reduction, and policy change with Climate Education Reform BC, Sustainabiliteens, and The Climate Justice Organizing HUB. Naomi is studying BSc Global Resource Systems where they are integrating studies of climate change, global health, and climate emotions and resilience. Naomi is a visual artist and believes IBPOC art, ideas, joy, and futures deserve to be centered and made space for in the climate movement and dominant culture.
Clarice Tuai
Clarice is going into her 5th year majoring in Global Resource Systems, specializing in urban planning and mobility, with a Minor in Geographic Information Science & Geographical Computation. She is particularly interested in urban planning policies for climate resilient cities from a community-based planning approach. As a daily transit user and cyclist, she hopes to explore her passions for accessible active transportation and movement as the Climate & Movement Lead. In her free time, she enjoys sunset beach swims, taking care of her plants, and hiking with friends.
Fernanda Villasenor
Fer is a fourth-year International Relations student at UBC, studying sustainability through an interdisciplinary lens. She joins the Sustainability Hub as Lead for the Climate Action cohort. She grew up in Mexico and moved to Vancouver in 2016, a move that inspired her to choose her major and understand the global power dynamics between people, institutions and ideas. As a systems thinker, she is interested in a variety of topics, such as exploring the role the economy has in the transition to a net zero world, the relationship between Indigenous rights and sustainability and the power of civic engagement as a driver for change. She hopes to bring her passion for community building and collective action to the role.
Jack Suchodolski, Student Writer
Having previously lived on the ancient homeland of the Lenni-Lenape people as well as the traditional lands of the Coast Miwok people (colonially known as New Jersey and part of the San Francisco Bay Area, respectively), Jack is a settler with Irish, Italian, and Polish ancestry now living on the traditional, ancestral, and stolen lands of the xʷməθkʷəy̓əm (Musqueam) Nation while working as Program Assistant for UBC's Centre for Climate Justice. He is also Co-Editor-in-Chief for the UBC Journal for Climate Justice. Jack holds a Bachelor's in Geography and Sustainability, previously worked for UBC's Sustainability Hub, and was a Climate and Nature Emergency Undergraduate Fellow with the Peter Wall Institute for Advanced Studies. Apart from academics and work, Jack enjoys spending time with family and friends, making music, and appreciating Vancouver's sunsets when weather permits.
3.30pm – Roundtable discussions on the key themes featuring topic experts
Join us for roundtable discussions on what is needed to advance the SDGs in the province in the coming 2-3 years. Designed for discussion, the roundtables offer an opportunity for small group conversations to learn about each other's work and determine how we can accelerate our SDGs progress and what we might need to do differently to help us get there. The conversations will focus on the key themes of Education, Decolonization, Just Transition, and Climate Justice. The notes generated from these discussions will become part of the final conference report which will be shared with the Canadian decision-makers in advance of planned high-level global SDG gatherings at the UN Headquarters, including the High Level Political Forum (HLPF) and the Summit on the SDGs.
Roundtable Experts
Pablo Beimler
Pablo is a Co-Senior Project Manager of UBC's Climate Emergency supporting the implementation of a comprehensive and just response to the climate crisis across UBC campuses. He is a Masters of Community and Regional Planning graduate in the Indigenous Community Planning program at UBC and has a B.A. in Environmental Economics & Policy, B.S. in Conservation & Resources Studies, and minor in Forestry from the University of California, Berkeley. Pablo has years of experience conducting wildfire research and facilitating community-led and focused wildfire management, outreach, and youth education programming throughout Hawaiʻi and in South Lake Tahoe, California. Pablo's deep reverence for nature and passion for bringing together people from all walks of life drives his work as a planner. He approaches community work with empathy, integrity, and a commitment to decolonization and social justice and believes in the power of collective action, deep collaboration, and intersectional movement building.
Max Cohen
Max is a PhD candidate in Geography at UBC focusing on the history of fossil fuel economies in Scotland and Aotearoa (New Zealand) and plan for green transitions. He was a delegate at COP26 in Glasgow in 2021. Max also hosts a show on B-Side Radio in Vancouver called Rhythmanalysis.
Dr. Kathryn Harrison
Kathryn Harrison is a Professor of Political Science at the University of British Columbia. She received Bachelor's and Master's degrees in Chemical Engineering before completing her PhD in Political Science. Professor Harrison has worked in the oil industry and as a policy analyst for both Environment Canada and the United States Congress. She has served as Senior Associate Dean and Acting Dean in the UBC Faculty of Arts. Harrison has published widely on Canadian and US climate policy. She has advised governments from the local to international level, and is currently chair of the Expert Advisory Panel on climate mitigation of the Canadian Climate Institute and a member of the British Columbia Climate Solutions Council. Harrison is a frequent media commentator on climate policy, and tweets at @profkharrison.
Dr. Tara Ivanochko
Tara is the Academic Director of the UBC Sustainability Hub and provides vision, guidance, and oversight to the Hub. Tara received her PhD from the University of Edinburgh where she reconstructed changes in the intensity of the Indian Monsoon over the last 100,000 years and investigated the interconnections between equatorial and polar climate change. Tara joined UBC's Department of Earth, Ocean and Atmospheric Sciences (EOAS) as faculty in the Educational Leadership steam in 2009. In EOAS, Tara has since served as the Director of Environmental Science and as Associate Head Undergraduate Affairs. As an educator, Tara builds relationships between students and community organizations through collaborative research projects. These projects allow environmental science students to actively contribute to building sustainable communities.
Temitope Onifade
Currently a fulltime faculty member and the programme director of the Master of Research in Sustainable Futures at the University of Bristol Law School, Temitope Onifade has lived and practiced law in the notorious Niger Delta where he learnt about environmental issues, igniting his interest in sustainability. Going beyond professional practice and often in collaboration with experts and community stakeholders, he has also conceptualized, designed, and/or led the implementation of several sustainability organizations, including the UBC Liu Institute Network for Africa and Holistic Sustainable Development Network International, and sustainability projects such as Community Sustainability Global and Re-Imagining Agenda 2063, with impacts mainly in Africa and Canada. Building on his legal and policy training in Nigeria and Canada, he has worked as an Affiliated Research Scholar for Canada Climate Law Initiative, housed at UBC but working on issues across Canadian federal and provincial jurisdictions. He is a PhD Candidate at the Peter A. Allard School of Law.
Dr. Bernard C. Perley
Bernard is Maliseet from Tobique First Nation, New Brunswick. He holds Bachelor of Fine Arts (studio arts) and Master of Architecture (architectural design) degrees from the University of Texas, Austin. His PhD is in Social Anthropology from Harvard. His academic training is interdisciplinary and aims to transcend disciplinary boundaries to serve his commitment to Indigenous community-based research and advocacy.
Dr. Sandra Scott
Sandra is a Professor of Teaching, Science & Environmental Education in the Department of Curriculum & Pedagogy, Faculty of Education, and a UBC Sustainability Fellow. Her work is guided by Wonder as the Heart of Inquiry and Eco Pedagogy, which she views as learning in and from nature with Nature as Teacher, Mentor, Life-long Companion, and Guide. Science education is her home, and her experiences developing relationships, teaching, and learning provide the foundation for all her pedagogical pursuits. Sandra welcomes and guides students on a journey to wonder, whether it be through courses in Inquiry, Science Methods, Environmental Education, Research Methods, and beyond UBC in community. Her teaching centres joy, hope, and optimism and follows a constructivist approach guided by collective noticings and wonderings.
Dr. Sara Nelson
Sara is Research Manager at the UBC Centre for Climate Justice. She holds a PhD in Geography from the University of Minnesota, and was previously a Killam Postdoctoral Fellow in UBC Geography, a Simons Postdoctoral Fellow in the UBC School of Public Policy and Global Affairs, and a Fellow with the Intergovernmental Platform on Biodiversity and Ecosystem Services. Her research has focused on the social histories and political economy of ecosystem management; justice claims in industrial and energy transitions; and the labour politics of environmental stewardship.
4.50pm – Conference wrap-up