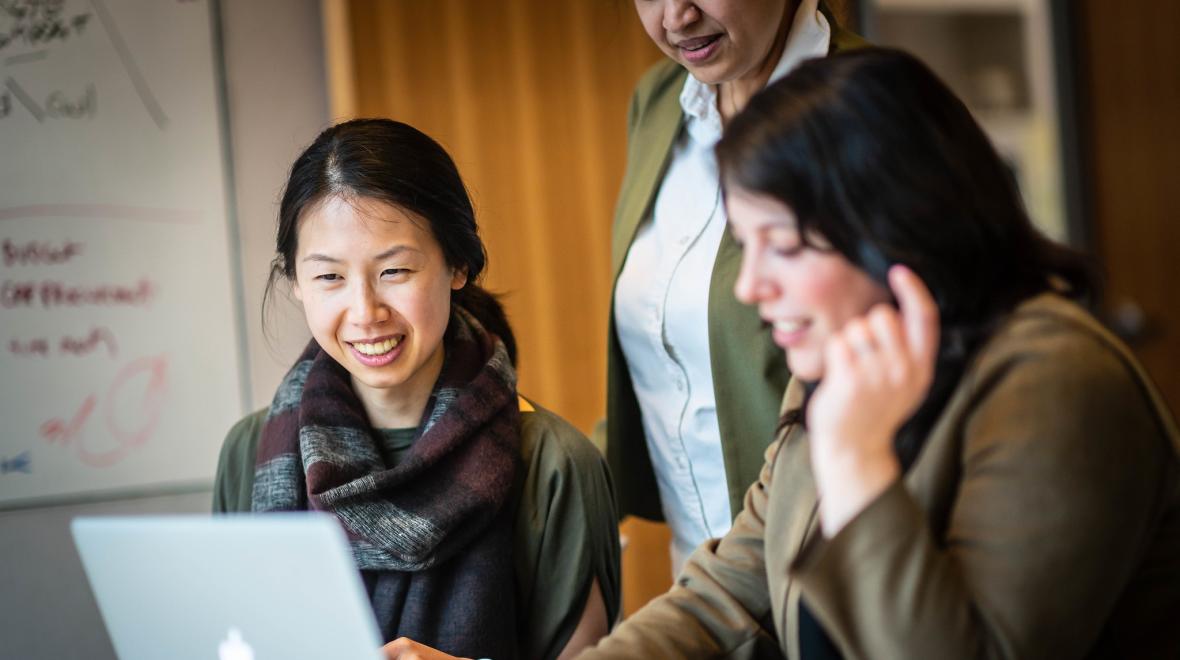 Tuesday, March 7, 2023 -

11:00

to

12:00
**FREE ONLINE EVENT**
In an ever-changing world with increasingly complex challenges, the UN Sustainable Development Goals (SDGs) require rethinking norms and imagining innovative solutions. Post-secondary institutions play an important role in building capacity among learners to address this work. With a desire to create learning experiences that are meaningful, creative and transformative, educators have to reflect on how traditional teaching methods can be improved through innovation in the classroom.
Explore strategies and methods for teaching about the SDGs to improve learning outcomes in universities and colleges across Canada.
Event organized by the Sustainability Hub and SDSN Canada. Part of SDG Week Canada.
Panelists
Kshamta Hunter brings over a decade of experience in sustainability learning and teaching, curriculum design and program management. She is a PhD candidate and a sessional instructor in the Faculty of Education at the University of British Columbia. Kshamta's research explores the intersections of sustainability learning and leadership, using Transformative Learning and social innovation frameworks. She is interested in exploring and designing responsive and relevant integrative curriculum and pedagogical approaches for the 21st century, through understanding the development of competencies for innovation toward sustainability. She holds a masters in sustainability curriculum and pedagogy and is the Manager of Transformative Learning & Student Engagement with the UBC Sustainability Hub, where she is able to shape a lot of her research ideas into practice. She is the co-chair of publications for the Canadian Association for Curriculum Studies and sits on the editorial advisory board for the Journal of the Canadian Association for Curriculum Studies.
Dr. Alistair Edgar is Associate Professor of Political Science at Wilfrid Laurier University, with cross-appointment to the Balsillie School of International Affairs. He is an editor of Global Governance: A Review of Multilateralism and International Organizations (Brill/Nijhoff) and series co-editor for the ACUNS Series on the United Nations (Edward Elgar Publishers) and is a member of the Governing Council of the International Studies Association. He served as Executive Director of the Academic Council on the United Nations System (ACUNS) in 2003-2008 and 2010-2018. Outside of his scholarly activities, he is President of the Canadian Landmine Foundation.
Aditi Garg is an educational development specialist helping educators design courses and programs that allow students to develop competencies for social, environmental, and economic sustainability and to help meet the Sustainable Development Goals through teaching and learning. She believes it is important to build reflective teaching practices based in inclusive and responsive learning. She also helps with curriculum mapping & development and the internationalization of teaching and learning. Her background is in secondary French, mathematics, and outdoor education. In the past, she has consulted the Saskatchewan Ministry of Education on curriculum, resource evaluation, accreditation, and exam validation. She is a first-generation settler with stories and memories in Treaty 1 and Treaty 6 territories.
Rosalind Warner's background includes graduate work in Political Science at York University's Centre for International and Security Studies, a one-year travel-study tour around the world focused on issues of peace and conflict resolution, and almost 30 years of teaching subjects from International Development to Canadian government. Rosalind has researched and published on topics like ecological modernization, global environmental governance issues, protected areas governance in North America, environmental discourses, disaster risk reduction, global health, teaching with the Sustainable Development Goals, and environment and trade in Canadian foreign policy. Rosalind is an Associate Editor of the Canadian Journal of Development Studies, past editor of Unsettled Balance: Ethics, Security and Canada's International Relations, and Ethics and Security in Canadian Foreign Policy, both with UBC Press. Rosalind is a Co-Director, along with Andy Knight, of the Canadian Defence and Security network's Global Health Security Theme, as well as a Research Fellow with the Earth System Governance Project, Chair of the local Steering Committee of the Global Empowerment Coalition of the Central Okanagan (BCCIC Chapter), and Board Member of the Canadian Environmental Network. Rosalind speaks and writes publicly often on political issues of the day.
Dr. Candy Ho is an international award-winning career development educator and scholar whose expertise is recognized globally through keynotes, media interviews, consulting, and other engagements. She is the inaugural Assistant Professor, Integrative Career and Capstone Learning at the University of the Fraser Valley. In this unique capacity, she teaches courses that help students consider their educational and life experiences and how these experiences can enable them to achieve their aspirations, ultimately helping them design the life they want to live. For the 2022-2023 academic year, Candy is seconded as University Lead, Sustainable Development Goals at Kwantlen Polytechnic University's Office of the Provost and Vice President Academic. Finally, she currently serves as Chair of CERIC, a Canadian charitable organization that advances education and research in career counselling and career development, in order to increase the economic and social well-being of Canadians.