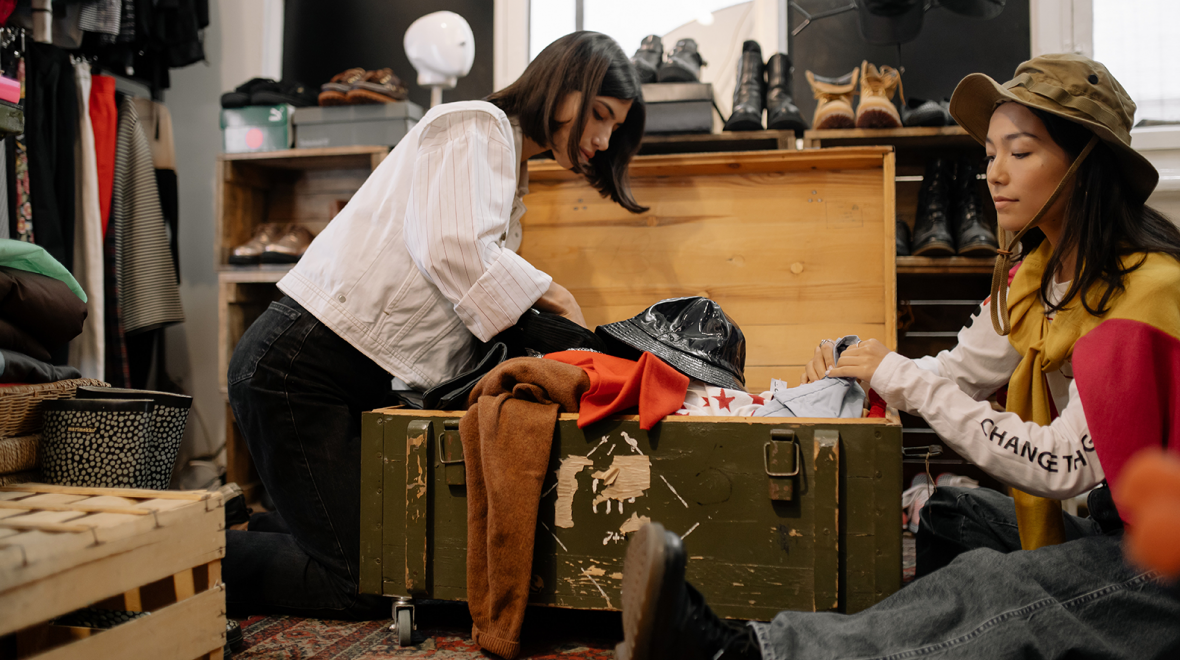 Monday, February 7, 2022 - 09:00

to

Friday, February 11, 2022 - 17:00
**Event recordings are now up on our YouTube channel.**

The UBC Sustainability Initiative is excited to be back hosting Sustainable Fashion Week in 2022!
Join other students, staff and faculty at UBC to learn more about the social and environmental issues surrounding the "fast fashion" industry, and explore alternatives including sustainable buying, clothing repair and reuse, and textile recycling. Stay tuned below for event details and updates, and register for your favourite virtual events.
Events produced in partnership with Working Gear, Threading Change, Frameworq, Knix - and more soon.
Monday, February 7
12pm (PST) | Fashion in the Global South
Join this webinar to hear what brands in the Global South are doing to promote sustainable fashion futures in their local communities. From Fair Trade principles to real-life women-owned and operated fashion brands, learn about efforts to address sustainability issues related to raw materials, processing, manufacture, and branding.
Speakers
Daniel Nwachukwu
David has been a longtime champion of Africa's fashion economy, having a firm belief in the power of culture and storytelling in shaping next generation production. Over the past eight years, his work in fashion has stretched across media, marketing, brand communications as well as design. In each aspect of his work, he has consistently pushed for ethical practices within the sector. A Geography graduate from The University of Lagos, David consciously aligns this background in environmental advocacy and sustainable development with the need to promote a more sustainable fashion ecosystem. He currently oversees strategic communications at Clean Technology Hub and is also a member of the WEF/Global Shapers Community's Abuja hub.
Ashli Akins
Ashli Akins is a National Geographic Explorer and the founder and president of Mosqoy, a social enterprise and non-profit organization that works with Quechua communities of the Peruvian Andes to mitigate unsustainable tourism and development. As one of its three programs, Mosqoy operates a fair-trade textile initiative, to revitalize traditional Quechua weavings in the face of synthetic, machine-made knock-offs that are flooding the markets of Cusco. Ashli is also a PhD candidate at UBC, where she is exploring how to safeguard cultural heritage in an era of rapid economic change. Ashli completed her masters in international human rights law from the University of Oxford, and her bachelor's from the University of Victoria in environmental studies and Latin American studies. She was named UVic's Humanist of the Year and one of its Top 50 Alumni in History for the work she is doing to work towards a more sustainable future.
Tuesday, February 8
12pm (PST), UBC Reads Sustainability with Aja Barber
Featuring Aja Barber's new book, Consumed: The Need for Collective Change: Colonialism, Climate Change, and Consumerism
A call to action for consumers everywhere, Consumed asks us to look at how and why we buy what we buy, how it's created, who it benefits, and how we can solve the problems created by a wasteful system. Barber calls for change within an industry that regularly overreaches with abandon, creating real imbalances in the environment and the lives of those who do the work – often in unsafe conditions for very low pay – and the billionaires who receive the most profit.
Speaker
Writer and consultant Aja Barber hails from Reston, Virginia, and currently lives in London with her husband and their two cats. Consumed is her debut, a treatise on the intersection of fashion, climate change, and social justice. After publicly announcing that she would not use fast fashion companies to sponsor her social media presence, Aja is considered an influential voice in this space. You can find some of her writing on Instagram, and more of it on Patreon, where readers support her work.
Moderator
Rynn Zhang is a Materials Engineering student, hoping to become a leader in sustainable development by coupling her technical engineering knowledge with her vision for an environmentally just future. She was the former Project Lead for the Textile Waste Recycling project with UBC WasteNauts, an engineering design team focused on circular economy principles, and the recipient of the NSERC Undergraduate Student Research Award for a project on the upcycling of cotton waste in Materials Engineering. Rynn is passionate about achieving a sustainable future for fashion considering all the social, economic, and environmental dimensions, through meaningful connections and collaborations.
Wednesday, February 9
12pm noon (PST) | How can a local brand be sustainable?
Panel event featuring local fashion brands including Knix and more. Featuring presentations from designers, education and outreach staff, and local branch managers.
Discussion moderated by Ingrid White from the UBC Sustainability Ambassadors Program.
speakers
Paul Long, Anian Clothing
Having evolved from the belief that, "the clothes we enjoy in the natural world should not be harming it", West Coast fashion brand, Anián, is paving the way for completely circular sustainable businesses in North America. From day one, Anián has been about using natural fibres, manufacturing in Canada and creating transparency. As founder and President of the company, Paul Long acknowledges the value in traditional manufacturing methods and advocates for giving new life to salvaged natural textiles, passionate about finding ways to create that have a positive impact on our shared planet. Designed in Victoria, manufactured in Vancouver, with retail locations on either side of the Strait of Georgia, Anián is truly a local business.
Knix-Heidi Collie
"It is time that all of us lived unapologetically free. Free from self-doubt. Free to be yourself. That's why all our products, from the most comfortable wireless bras to super absorbent underwear, are designed to make you feel more comfortable in your own skin". With this in mind, Knix strives for sustainability in mindset as well as lifestyle, aiming to empower customers and reduce environmental degradation by taking into consideration their impacts throughout production, transportation and consumption. As Ambassador and Product Educator at the company, Heidi Collie is passionate about Knix's position of learning in the wider sphere of social business and menstrual equity. Making progress is better than waiting for perfection.
Lisa McNulty - Ecologyst
We believe in owning fewer, better made apparel pieces that last forever. Why? Fewer, better plays a mighty role in conservation. It saves you money. It supports local manufacturing. It's for Nature, and it's guaranteed for life. We're building the world's most sustainable apparel company. We make all our apparel in Canada and the US, supporting local jobs, and building the highest quality product. We don't use synthetic materials like polyester, acrylic, or nylon that are made from petroleum and create microplastics. Instead, we use all-natural, biodegradable materials like Organic Cotton and Merino Wool to respect the environment and maximize durability. We are unashamedly For Nature, so whether you use our apparel for the exploration of Nature, or to contribute to Nature's well-being, you're supporting a sustainable future.
5pm (PST) | Where do my clothes come from?
Learn more about the global fashion supply chain including issues related to worker's rights, colonization, and who gets paid.
Hosted by Founder of local non-profit Threading Change, Sophia Yang, introducing her unique take on a feminist fossil-free fashion future, including a new project: The Global Innovation Storymap.
speakers
Namrita Lamba
Working in the apparel industry for eleven years in India, Namrita gained in-depth knowledge in product development, sourcing, and manufacturing. However, after having worked so closely in the fashion supply chain, she grew uncomfortable with the harsh impact this industry is leaving on the planet. As an environment enthusiast, Namrita initiated waste management projects and operational changes. She also launched a line of upcycled fabric products that helped consume waste fabric being generated during various manufacturing processes in Indian factories. Eventually, Namrita decided to leave her job and pivot entirely into the sustainable side of fashion. She has been doing research and volunteer work for a few sustainable fashion start-ups and will soon begin her ''Green MBA" program (specializing in sustainability) at the University of British Columbia. Namrita is passionate about discovering things, be it new music, places, or cuisines. Her latest discovery was Soccer! She now loves playing and watching the game.
Chemitei Janet
Chemitei is an Environmental Planning and Management graduate with a passion for sustainable fashion and landscape restoration. She is a climate and social justice activist from Kenya, and also advocates for mental health and body positivity. Her interest in fashion started when she was young watching runway shows and design competitions. Chemitei's commitment to sustainability began in 2017 when she watched the True Cost movie and even went ahead to contest for Miss Environment in her home county Elgeyo Marakwet and won. She expresses her love for fashion and the environment through actively volunteering in environmental organizations such as Greenpeace and GLFx Nairobi, and learning how she can impact change in her community. She incorporates her love for crochet in upcycling projects and loves storytelling through writing.
Sophia Yang
Sophia is a climate justice change-maker with extensive research and policy experience. She has worked for a dozen environmental organizations ranging from federal government agencies, ENGOs, to industry, and academia. Sophia has received Starfish Canada's Top 25 Under 25 Environmentalists award in 2017 and 2018, attended the United Nations Climate Change conference twice as a British Columbian Youth Delegate, and DJs in her spare time. Threading Change was born because Sophia wanted to help raise young people's voices in one of our world's most polluting industries—the fashion industry. Doing so for our planet, and people.
Thursday, February 10
11.30AM - 1.30pm (PST) | Clothing Repair Workshop
Drop-in at the Centre for Interactive Research for Sustainability with your old clothing to learn hands-on skills for repair and re-use. No RSVP required.
5pm (PST) | Youth in Fashion
Meet youth who work in the fashion sector on amazing projects that aim towards a more sustainable future. More details including speaker line-up coming soon.
speakers
Dillea Himbara of Sapodillas
Dillea Himbara is the founder of Toronto-based sustainable brand, Sapodillas. Dillea writes, "The only way I could chase my dreams and create wearable art and fashion was to limit my use of virgin textiles and to only create garments from discarded textiles and second-hand fabrics. Not only is Sapodillas producing garments in a sustainable and ethical way, but we are actively working to divert textiles from landfills. This slow fashion approach allows Sapodillas to produce in a closed loop and create art with the planet in mind." To learn more about Sapodillas, you can visit: https://www.sapodillas.me/
Trevor Bessette of Seaside Reclaimed
Trevor Bessette is the founder of Seaside Reclaimed, a sustainable fashion brand based out of St. Johns, Newfoundland. Seaside Reclaimed is a local and ethical clothing brand that he created as a driver for change in his home province. At its core, Seaside Reclaimed is meant to be an environmentally engaged community of like-minded individuals using everyday choices to make Newfoundland a greener place. To learn more about Seaside Reclaimed, you can visit: https://seasideapparel.ca/
Taylor Hollan of Taylor Hollan
"Sustainable fashion doesn't have to be boring" is the mission statement of California-based sustainable brand, Taylor Hollan. Founder, Taylor, focuses on taking old fabrics and designs to new levels with patchwork, stitching, and a little bit of love. To learn more about Taylor Hollan, you can visit: https://www.taylorhollan.com/home
Friday, February 11
12pm (PST) | LOCAL, MEET GLOBAL
Meet non-profits tackling issues in the fashion industry based in Vancouver. Featuring presenters from Working Gear, Threading Change, Frameworq, followed by moderated panel discussion.
speakers
Sophia Yang, Threading Change
Threading Change is a youth-led, justice-oriented global organization created to address the systemic injustices and inequities that persist in the global fashion industry today.
Sarah Beley, Working Gear
Working Gear is a volunteer-run charity located in the Downtown Eastside neighborhood of Vancouver, BC. We have had the privilege of serving our clients since 2007. We rely on the generous support of individuals, businesses, and organizations to provide industry appropriate clothing and haircutting services to individuals experiencing unemployment or underemployment.
Our Mission: To relieve poverty by providing industry appropriate clothing, gear and supports at no cost to low income or unemployed individuals in search of employment.
Irina McKenzie, Frameworq
Irina founded Frameworq, an event-based initiative that brings together designers and consumers to explore the relationship we have with our clothes using a hands-on experiential approach. Frameworq has partnered with various organizations to fuse collaboration and curiosity into sustainability in apparel, hosting events such as design challenges, recurring fix it events, clothing swaps, exhibitions and fashion shows.
Questions? Email usi.communications@ubc.ca.