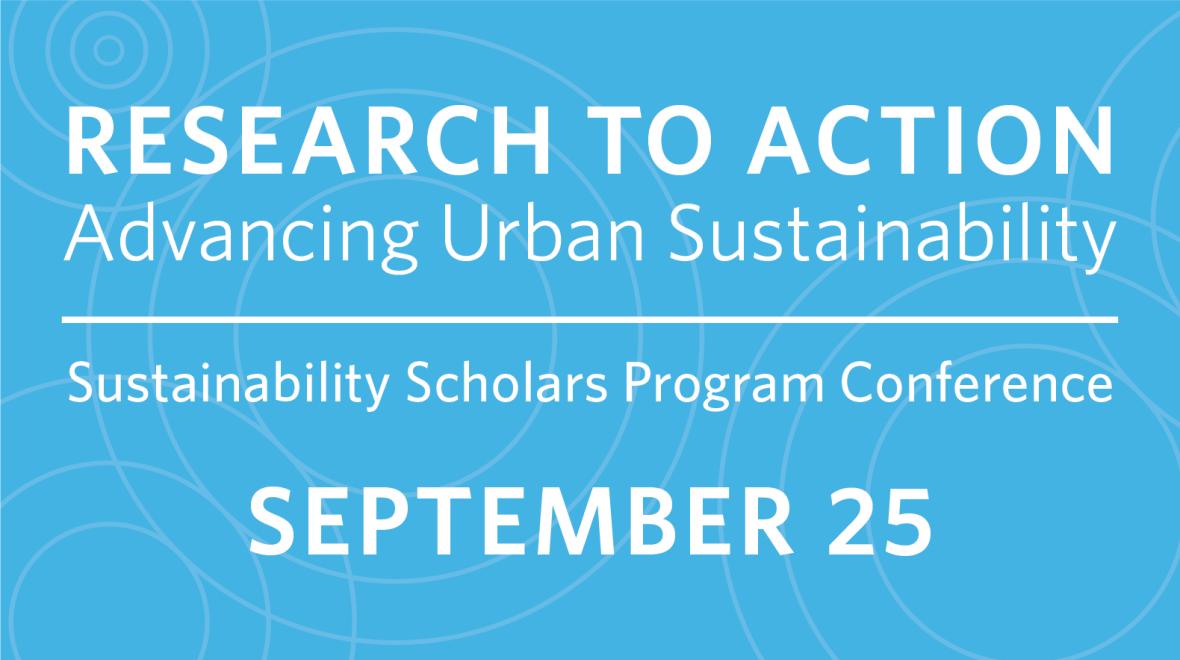 Monday, September 25, 2023 -

13:00

to

17:00
Presented by the UBC Sustainability Scholars Program: A conference on urban sustainability research
What happens when you give bright and engaged students real-world sustainability problems to solve?
UBC Sustainability Scholars are helping to generate real change in the world. Join us to learn more about what our local governments, institutions and NGOs are doing to future-proof our people, our cities, and our urban spaces.
Monday, September 25, 1:00 - 5:00 pm PDT
Online (Zoom link provided with registration confirmation)
This afternoon of engaged discussions will cover a diverse range of applied sustainability projects produced by UBC graduate students in collaboration with partner organizations including the City of Vancouver, Metro Vancouver, BC Hydro, TransLink, local health authorities, local governments, and various NGOs. Following opening remarks, Scholars will present their projects in concurrent themed panel sessions throughout the afternoon. Panels will be moderated by experts from UBC and Sustainability Scholars Program partners.
This event will be held online and is free to all.
Guest Speaker
Melissa Lem, President: Canadian Association of Physicians for the Environment

Dr. Melissa Lem is a Vancouver family physician who also works in rural and northern communities within Canada. President of the Canadian Association of Physicians for the Environment and Director of PaRx, Canada's national nature prescription program powered by the BC Parks Foundation, she is an internationally recognized leader in the field of nature and health. She has also engaged in advocacy and policy work on issues ranging from climate change and hydraulic fracturing to sustainable health care and low-carbon transportation.
A widely published writer, her work has appeared in media including the CBC, Vancouver Sun, Toronto Star, Montreal Gazette, The Narwhal and National Observer. As a climate change panellist on CBC Radio's Early Edition, in-house medical columnist for CBC TV Vancouver and Clinical Assistant Professor at the University of British Columbia, one of her major priorities is knowledge translation.
Dr. Lem was the inaugural winner of University College's Young Alumni of Influence Award at the University of Toronto, recipient of the 2022 Adult Nature Inspiration Award from the Canadian Museum of Nature, a 2021 World Parks Week Ambassador, and sits on the Advisory Committee of the IUCN World Commission on Protected Areas Health and Well-being Specialist Group.
Agenda & Panel Presentation Themes
1:00 pm: Welcome and Opening Remarks
1:10 pm: Guest Speaker: Melissa Lem
1:55 pm: Panel Sessions Open
2:00 pm: Concurrent Panel Sessions

Biodiversity & Habitat 1 (Room A) | Moderator: Linda Nowlan
The case for expanding the critical habitat of endangered Southern Resident killer whales (Dane Pedersen)
Classifying and mapping urban green interventions to support biodiversity and connectivity in Vancouver (Vanessa Amorocho)
Policy review to support establishment of an urban marine park in False Creek (Yash Mehta)
Adaptation & Resilience (Room B) | Moderator: Eliana Chia
Research to develop case studies on climate change adaptation in the Global south that can be applied to the BC context (Neftali Hernandez)
UNDRIP framework to advance Indigenous climate and energy resilience (Sopuruchi Christian)
Developing a GIS-based urban building energy assessment model to support decision making in Richmond (Yang Li)
Climate Action: Increasing Engagement (Room C) | Moderator: Sarah Labahn
A guide to climate action: A toolkit for engaging adults in meaningful, locally situated & long-term climate action (Gabrielle Edwards)
Development of graphics to visualize climate action and inaction in Vancouver: What does our future look like? (Taylor Legere)
Listening to untold stories: Curation of a radio program on the Fraser River Estuary (Viola Provost)
Livable Cities 1 (Room D) | Moderator: Anthony An
Recommendations to improve the health of Vancouver's street trees surrounded by hardscape (Elliot Bellis)
Scoping an Online Green Roof Asset Tracking and Inventory Management System for the City of Vancouver (Emily Edwards)
Zero emissions municipal buildings policy research (City of Port Moody) (Sonia Tsang)
Lifecycle cost analysis of new single-family building construction and electrification on Musqueam (Haonan Zhang)
2:55 pm: Break/Transition
3:00 pm: Concurrent Panel Sessions
Climate Legislation & Partnership Activities (Room A) | Moderator: Sam Filipenko
The role of provincial climate legislation in accelerating climate action at BC universities (Grace Schaan)
Indigenous data sovereignty: Best practices research to inform an Urban Indigenous Partnership Model for the City of Vancouver (Hilal Kina)
Development of an inventory of UBC's climate research partnerships with First Nations in BC (Michael Monclou)
Planetary Health & Food Security (Room B) | Moderator: Maura Brown
Engagement plan to increase clinician participation in sustainable healthcare (Eunice Bawafaa)
Best Practices Research to Advance Food Growing Initiatives in Multi-Unit Residential Buildings (MURBs) (Muh Syukron)
Strategic communication plan and assets on food for planetary health and cultural safety (Patricia Unung)
Capacity Building: Youth Engagement (Room C) | Moderator: Kshamta Hunter
Long-term impact of a nature-based youth program (Amy Bu)
Opportunity windows for youth engagement in climate-related initiatives (Giulia Belotti)
Livable Cities 2 (Room D) | Moderator: Ralph Wells
Heat-pump retrofits in multifamily buildings at UBC (Haley Magrill)
Challenges and successes of carbon reduction projects in healthcare facilities (Pooya Pourreza)
Community relationships crucial to extreme heat planning in Vancouver (Rajpreet Sidhu)
Effectiveness of HVAC systems & protocols in healthcare facilities (Stanley Wang)
Transportation 1 (Room E) | Moderator: Krista Faulkner
EV charger retrofit strategy options for Multi-Use Residential Buildings in New Westminster (Drew Seguin)
Understanding the Sustainability and Equity Benefits of Vancouver's Public E-bike Share System (Madison Lore)
Opportunities to reduce financial barriers to purchasing zero emissions commercial vehicles (Aigerim Akiltayeva)
3: 55 pm: Break/Transition
4:00 pm: Concurrent Panel Sessions
Biodiversity & Habitat 2 (Room A) | Moderator: Paul Simonin
Informing transboundary collaboration in the Boundary Bay Basin to improve water quality and restore shellfish harvesting for Semiahmoo First Nation (Bryce Henney)
Strengthening biodiversity protection: Expanding BC's protected areas (Maithili Devadas)
Cultivating for Waders: Beneficial farming practices for shorebird conservation on agricultural lands on the Fraser River Delta (Vincent Steinfeld)
Flood Mitigation, Adaption, Resilience (Room B) | Moderator: John Cathro
Fostering a shared stewardship of the Bert Brink Wildlife Management Area: Graphic renderings of a restored Fraser floodplain habitat (Frances Ramsay)
Workshop Series on Designing for Flood Resilience (Mauricio Carvallo Aceves)
Transportation 2 (Room C) | Moderator: Kristi Denby
Development of a Green Rainwater Infrastructure (GRI) Toolkit for Rainwater Management Near Underground Rapid Transit Stations in Vancouver (Laura (Yumeng) Liu)
Factors influencing travel mode decisions to access regional parks (Yiyang Wang)
Active transportation to childcare in Vancouver (Molly Barkowsky)
Equitable, reliable, safe, and low-carbon transportation in BC First Nations (Charlotte Bull)
Livable Cities 3 (Room D) | Moderator: Penny Martyn
Retrofitting North Vancouver: Large building analysis and best practice review for the City of North Vancouver (Amir Kari)
Researching Innovative Strategies to Mitigate Overheating and Increase Resilience in Multi-Family Buildings (Atiyeh Baratloo)
Development of a building retrofit toolkit to address extreme heat events (City of Burnaby) (Oluwasina Agunbiade)
5:00 pm: Conference Ends
The UBC Vancouver campus is located on the traditional, ancestral, and unceded territory of the xʷməθkʷəy̓əm (Musqueam) people.