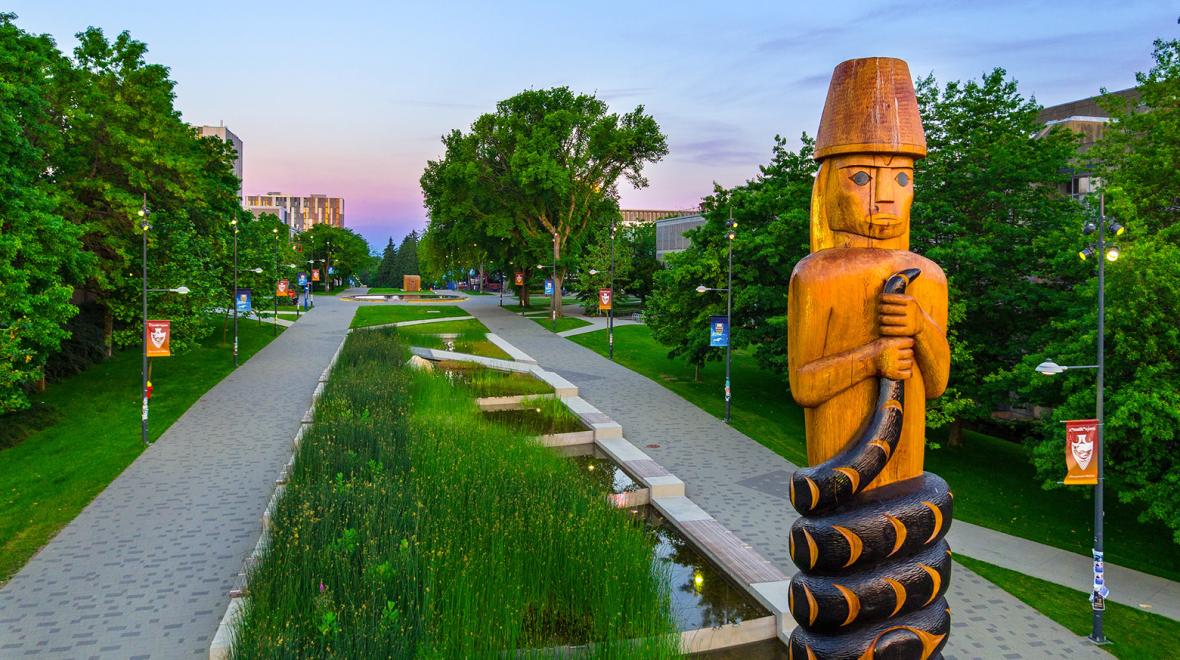 Thursday, May 25, 2023 - 09:00

to

Friday, May 26, 2023 - 17:00
Indigenous governments and communities are at the forefront of responding to the climate emergency and have long been advocating for climate solutions that address underlying root causes. Yet, in our rush to "solve" the climate emergency, we risk reproducing the same harms that contributed to creation of these problems. How can we unlearn and learn the practices needed for grounding our collaborations in ethical and respectful relations with land and community?
Explore and learn together about relationship-centered and transformative approaches for ethical engagement and collaboration. With lectures, workshops, and discussions from various Indigenous and non-Indigenous leaders and scholars, attendees will walk away with an understanding of:
Navigating collaborative processes
Developing authentic relationships and community-centered approaches
Centering Indigenous ways of knowing and being in research and community-building (methodology / theory)
Thursday, May 25 – Friday May 26
Please direct any questions to bryce.henney@ubc.ca.
Agenda
Thursday, May 25
9.15 - 9.30am | Check-In (light snacks and refreshments)
9.30 - 9.45am | xʷməθkʷəy̓əm Welcome
Dr. Larry Grant
9.45 - 10.15am | Keynote Address – Ethical Relation in a Climate Emergency
Candis Callison (Talhtan)
10.15 - 10.45am | Reorienting to research with (rather than on) Indigenous communities
Victor Guerin (Musqueam)
10.45 - 11am | Health Break
11am - 12pm | Understanding and Interrupting Cognitive Biases
Alexis Bunten (Aleut/Yup'ik)
12 - 1pm | Lunch
1 - 2pm | Relationship Building and Cross Cultural Communications
Alexis Bunten (Aleut/Yup'ik)
2 - 2.15pm | Health Break
2.15 - 3.30pm | Imagining Instead of Erasure - Comparative Ontologies & Indigenous Science
Atlanta-Marina Grant (Iroquois), Vanessa Andreotti (mixed settler), Sharon Stein (settler), Tabitha Robin (Metis and Cree)
5 - 7pm | Evening | Social with Dinner
Friday, May 26
9.30 - 9.45am | Refreshments
9.45 - 10.45am | Ethical Relations in Practice Part 1
Jessica Asch (settler), Tara Williamson (Opaskwayak Cree)
10.45 - 11am Health Break
11am - 12pm | Ethical Relations in Practice Part 2
Jessica Asch (settler), Tara Williamson (Opaskwayak Cree)
12-1pm | Lunch
1 - 2.30pm | Lessons Learned from the Land and Community
Atlanta-Marina Grant (Iroquois), Sarah Dickson-Hoyle (settler), Bruce Muir (West Moberly), Carl Te Hira Lewis Mika (Tuhourangi)
2.30 - 2.45pm | Health Break
2.45 - 3.30pm | Learning Together - Exploring the Gaps and Barriers to Ethical Relations with Community
Gä̀gala- ƛiƛetko (Southern Tutchone - Tlingit), Bryce Henney (settler)