UBC, in collaboration with the University Neighbourhoods Association, has developed and released the comprehensive Zero Waste Action Plan. The plan outlines UBC's targets to reach new milestones in waste reduction and management, and the actions required to meet those targets.
What is Zero Waste?
In the context of the Zero Waste Action Plan, Zero Waste means that all unwanted products and materials will be treated as resources that can be used again, resulting in virtually zero garbage generated on campus. This goal is a long-term aspiration and its realization will require changes in industry, product design and other factors outside of UBC's boundaries. However, as outlined in the plan, UBC can begin taking steps to move toward this Zero Waste aspirational goal now.
Initiated in 2011, the plan has drawn from a major waste audit in 2010 and a consultation with staff, faculty members, students and residents. Read on to see what UBC has achieved to date, and is currently implementing on waste management.
Current Situation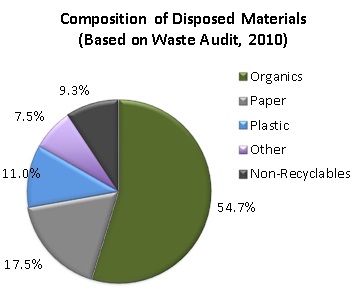 UBC currently diverts 67% of all campus waste from the landfill. This includes both construction and demolition waste (83%) and waste from campus operations (43%) - all figures are from the 2015/16 fiscal year.
A broad range of successful waste reduction programs have been launched over the past several years to increase the amount UBC recycles, from greening our supply chain to promoting reusable containers to food scraps composting.
But we can do more, much more! According to our 2010 waste audit results shown in the pie chart, the majority of UBC's operational garbage is recyclable, with the predominant materials being food scraps, paper and plastic. To divert even more materials away from the landfill, we will need to separate compostable and recyclable materials before they go into the garbage. To do that, we will need the help of everyone on campus.
Read the 2016 Zero Waste Status Report
Pilot Projects
As part of finalizing the plan, a series of pilot projects were conducted to help develop a comprehensive strategy for updating the recycling and composting infrastructure on campus. For example, in 2013 four stream recycling stations were introduced into two of the major libraries on campus, Walter C. Koerner Library and the Irving K. Barber Learning Centre. At Koerner library, after replacing a large number of solo garbage cans with fewer, centralized multi-stream recycling stations, overall waste diversion increased from 18 per cent to about 48 per cent. A follow-up pilot in the Geography building then demonstrated an increase in diversion from 35 per cent to 61 per cent though updates to infrastructure and signage.
Organics Ban
In 2015, Metro Vancouver banned organic materials, including food scraps and compost, from entering the garbage stream. This ban is one of the key drivers of the Zero Waste Action Plan, and is also one of the challenges UBC will face in terms of developing effective collection of clean food scraps across campus, particularly from residences.
Milestones and Targets
The plan puts forward the following milestones and targets:
Implement multi-stream recycling stations and communications across campus by end of 2015, targeting food scraps collection by mid-2015.
Increase overall diversion rates to 70 per cent diversion by 2016, and 80 per cent diversion by 2020
Decrease operational waste disposal to landfill/incineration steadily, despite campus growth, toward the long-term aspiration of a zero-waste campus.
The timeline for meeting the 70 per cent diversion target has been tempered by the time required to roll out new recycling infrastructure, as well as the inherent challenges in increasing diversion rates in multi-unit student and family housing buildings, which generate a major segment of UBC's waste.
Actions
The most significant action within the plan is the cross-campus rollout of multi-stream recycling stations, which include collection of food scraps wherever they are generated in significant quantities. The rollout is supported by the Sort It Out communications and engagement campaign.
There are many other initiatives underway that continue to research and design effective programs to reduce waste in the complex UBC environment, such as improved performance monitoring, updating procurement processes, and developing toolkits to support zero waste event planning.
Learn More
Download the Zero Waste Action Plan to find out more about waste management at UBC.
For more information, contact Bud Fraser, UBC's Senior Planning & Sustainability Engineer.