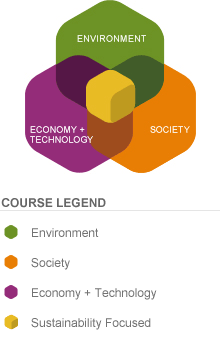 Explore more than 600 courses at the undergraduate and graduate level that address environmental, social and economic aspects of sustainability.
Sustainability courses either concentrate on the concept of sustainability, including its environmental, social and economic dimensions (overlap of the 3 pillars), or examine an issue or topic using sustainability as a lens.
Courses that includes sustainability fall within one or more of the three pillars (Environment, Society, and Economic) and incorporate one or more aspects of sustainability as a distinct course component, unit, module, challenge or an activity.
The listing below was created by asking UBC instructors to self-identify their sustainability courses. Contact us to update or add new course information.
Please note: due to technical issues, part of the listing below is out of date; we are working to resolve this issue. In the meantime, please refer to the links here for the most up-to-date information.
Sustainability Course Listing current to April 1 2018.xls
Summary - Sustainability Course Listing current to April 1 2018.pdf