As a globally renowned university and as British Columbia's largest university across both campuses, UBC is a daily destination for students, staff, faculty, visitors, and residents. When classes are in session, the Vancouver campus sees a population of up to 80,000 people per day. This means that how people commute to and from campus is a critical consideration of the university's environmental impact.
In 2019, 56% and 43% of all trips to and from the Vancouver and Okanagan campuses were made by sustainable modes of transportation. In 2020 as a result of COVID-19, this proportion fell to 32% at UBC Vancouver, but remained at 43% for UBC Okanagan.
Trips Per Person
This dataset contains information on transportation to and from UBC Vancouver, including the percentage share of all transportation modes. Data on transportation has been recorded every Fall since 1997. Single occupancy vehicle (SOV) trips per person have declined by 61% since 1997, and dropped 38% between 2019 and 2020 as a result of the COVID-19 pandemic.
In recent years, efforts to reduce SOV trips have included new RapidBus services, SkyTrain advocacy, a Vanpool partnership with Translink and Modo, ride-hailing services, and a reduction in the commuter parking supply of approximately 25% vs. 1997. Over time, surface parking lots at UBC are being discontinued and replaced with buildings or recreational areas.
Current Performance
green
On track/continued progress made
yellow
Monitor/explore opportunities for improvement
red
Attention required/advance process
commuting
Trips to/from campus by single occupant vehicle at UBC Vancouver
red
trips to and from campus by single occupant vehicle at UBC Vancouver
red
trips to and from campus by single occupant vehicle at UBC Okanagan
green
sustainable modes
Trips to/from campus by walk, cycling, or transit at UBC Okanagan
green
TRANSIT
average trips per day to/from campus by transit only at UBC Vancouver
green
transit
average trips per day to/from campus by transit only at UBC Vancouver
red
Related plans and reports
In depth
Transit essential for a growing campus
Increasing transit accessibility and affordability is a goal that UBC continues to strive towards. In 2003, transit trips to and from the Vancouver campus surpassed trips made by single occupancy vehicles. As a result of past and ongoing projects, public transit continues to be the dominant mode of transportation for the students, staff, and faculty at UBC.
Since 1997, the year that data collection started on transportation at UBC Vancouver, the campus population has increased from 42,300 to 73,300 in 2020. A growing campus population in the face of an urgent need to act on climate change means that pursuing innovative transportation solutions is an ongoing priority for UBC.
In late 2019 UBC signed a historic agreement, the Memorandum of Understanding, with the Musqueam, Squamish, and Tsleil-Waututh Development Corporation (MST-DC) and the City of Vancouver (COV). Through the agreement, the three organizations will push for federal, provincial, and regional support and funding for the SkyTrain Millenium Line extension to UBC's Vancouver campus.
In 2021, the federal Government of Canada announced that it will fund up to 40% of eligible costs toward future planning and business case development of the extension. The extension would increase affordability and accessibility to UBC while reducing environmental impacts and overcrowding along current bus lines. It is estimated that the extension would remove over 2,000 vehicle trips per day, reducing over 300 kilotonnes of air contaminants and GHG emissions in the next 35 years.
To learn more about transit options at UBV Vancouver, check the latest information from Campus+Community Planning.
Featured Datasets
Here are some of the datasets available for Transportation from our online sustainability data portal.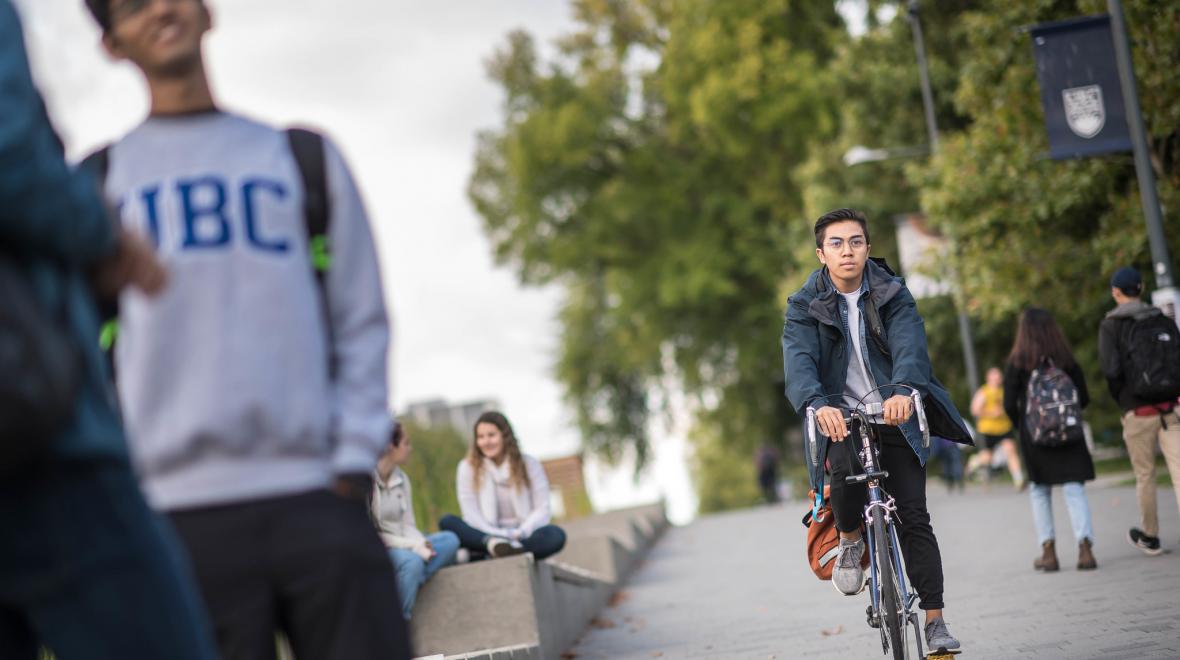 Transportation Mode
Period: 1997-2020
Campus: UBCV
Interval: Annual
Last updated: 25-08-21
Transportation All Motor Vehicle Traffic by Route
Period: 1997-2020
Campus: UBCV
Interval: Annual
Last updated: 25-08-21
Campus Population and Floorspace
Period: 2010-2021
Campus: UBCV, UBCO
Interval: Annual
Last updated: 25-08-21