"As a wildlife scientist at UBCO, I fill knowledge gaps and help translate scientific evidence into management actions that can be used by resource managers, Indigenous Nations, and other governments."
Friday, May 13, 2022 - 15:39
Words by Linda Nowlan, cover image courtesy of Giguere, Wildlife Infometrics
Clayton Lamb is a wildlife scientist at UBCO and a Liber Ero Postdoctoral Fellow. His recent co-authored publication on Indigenous-led conservation of the recovery of an endangered subpopulation of southern mountain caribou has created a buzz around this all too rare success story for wildlife conservation. He will be speaking about the project at a free webinar with the Yellowstone to Yukon Conservation Initiative (Y2Y) on Tuesday, May 17 at 6pm PDT. Register for the event today.
I interviewed Clayton about his work on May 11, 2022.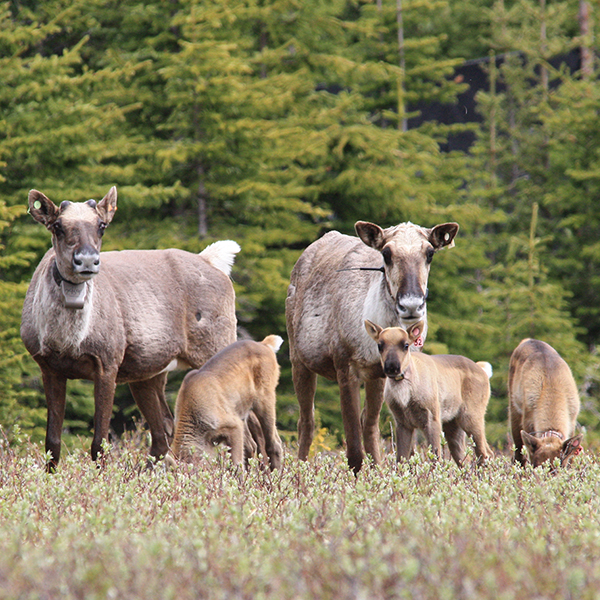 Image courtesy of Giguere, Wildlife Infometrics
Please describe your work as a conservation scientist. Why do you do what you do?
My goal as a conservation scientist is to make an impact on the world. Scientists traditionally thought their work ended at the publication stage and that somehow it would percolate out into the world and make change, but we now know there are more steps needed to make change happen. As a wildlife scientist at UBCO, I fill knowledge gaps and help translate scientific evidence into management actions that can be used by resource managers, Indigenous Nations, and other governments. My major focus has been on wildlife population ecology, road ecology, and wildlife coexistence across western North America, using techniques like non-invasive DNA sampling, and tracking individuals with GPS collars to understand fine-scale connectivity and demography at a population level. Evidence to action is a key part of my work to achieve conservation gains for wildlife, wild places, and local land stewards.
Can you give an example of your evidence to action research?
Roadkill is a big problem in the Rockies, attracting grizzlies out to roads where they get into trouble with cars and nearer to communities where they cause trouble with people. I worked on 'bear bunkers' in one spot along the highway in partnership with the Mayor of Fernie, BC Ministry of Transportation and Infrastructure, Wildsight, and BC Ministry of Forests, Lands and Natural Resources Operations. The road workers would pick up the elk, deer, and other wildlife killed on the highway and drop them at a roadkill pit that became a magnet for bears. We put in concrete blocks, electric fences, and gates in one exclusion pit, the 'bear bunker', where the roadkill could be stored in a way that reduced its attractiveness to bears. It's working. Grizzly bears are no longer being attracted to roadsides and communities by this roadkill.
How did working as a Liber Ero Fellow help your career?
The Liber Ero program was a natural fit and helped me hone my skill set so my science can have more impact. I am now part of a fantastic network of Fellows and a rich suite of mentors and learned how to engage with policymakers, interact with media, improve my science communication, understand the law, as well as deepen my understanding of reconciliation.
Please explain your latest project on Indigenous-led southern caribou mountain conservation.
Southern mountain caribou are endangered and could be lost in our generation. I joined this project in Treaty 8 territory in 2019, supporting the West Moberly First Nations and Saulteau First Nations to achieve their vision for caribou recovery on their lands. The Klinse-Za herd was near extinction when the project started in 2013, and today there would be none left if action hadn't been taken. So this herd would have been extirpated, or locally extinct.
The project used two interim recovery actions which worked well together: predator reduction and maternal penning. I took 20 years of data from collared caribou and learned that reducing wolf abundance provided about 2/3 of the benefit to the herd's survival, allowing the population to stabilize but only slowly increase. The penning was the other interim measure essential to help the caribou increase. Adult females were captured and then moved by helicopter to a high altitude constructed pen where they were cared for by Caribou Guardians from the Nations, part of their Indigenous Guardian program. The Guardians lived in the enclosure and protected the caribou from predation, fed them, helped capture and collar newborn calves, and monitored their health. Together, wolf reductions and maternal penning allowed these caribou to increase rapidly, with their herd tripling in less than a decade.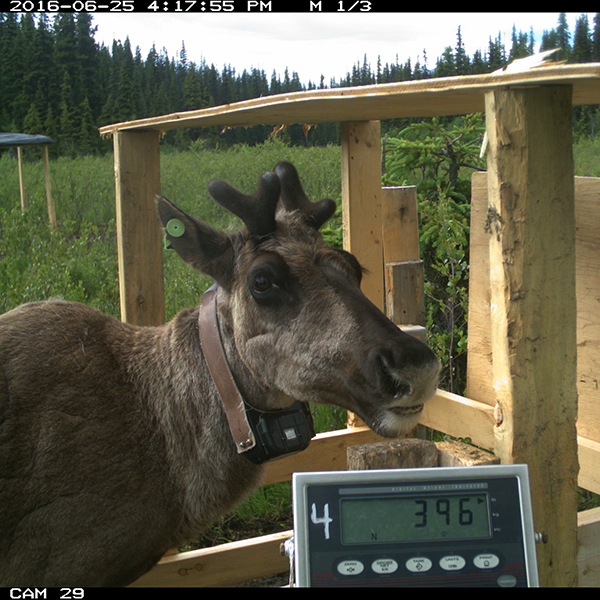 Image courtesy of Nikanese Wah tzee Stewardship Society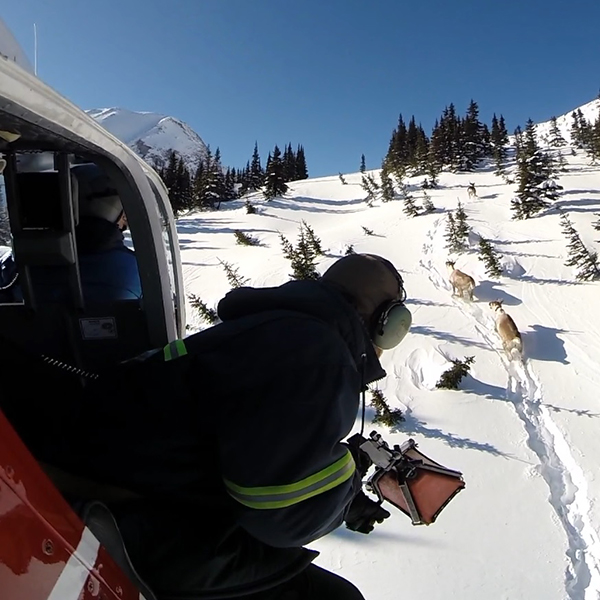 Image courtesy of GoPro, Wildlife Infometrics
What challenges did you face and how did you overcome them?
There were many sleepless nights for folks at the start, pens hadn't been built so high up before. The ones we built were at 1500 metres so in the summer they were cooler and free from bugs, a better fit for the caribou, more like their natural conditions. There also hadn't been a successful project that increased the size of a herd in such poor shape, so we didn't know if the science would work. And getting the partners together, finding funding, and thinking about both short and long-term solutions – all those were also challenges.
What needs to happen for the recovery of this population to continue?
Caribou habitat for this herd had been impacted by logging, hydroelectric dams, and mining in this area which is about 8000 sq km or one and half times the size of Banff National Park. So the short-term recovery actions of our project were critical, but protection and restoration of caribou habitat were also key. Our paper also tells the story of long-term solutions achieved by a Partnership Agreement, a Conservation Agreement under the federal Species at Risk Act that the Governments of the Nations, British Columbia, and Canada entered into with a goal of "expeditiously growing the population of the Central Group to levels that are self-sustaining and support traditional aboriginal harvesting activities, consistent with existing Aboriginal and Treaty rights".
You said that this was "the most important work of your career" and why you're hopeful for the future. Why did it give you hope?
Caribou conservation has been a sombre story in the last 20 years, with approximately 10 herds lost across British Columbia and Alberta, or about 30% of the southern mountain caribou herds. So to get this result of tripling this herd from 38 to 115 caribou so far has been amazing.
The project is a great example of weaving together Indigenous and western science. It touches on so many important conversations happening about equity, reconciliation, treaty rights, co-management, the conjunction of Indigenous and Western science, and the importance of Indigenous-led conservation.
Why was it so important to work with Indigenous Nations on this research?
Indigenous Knowledge held by Elders and knowledge holders about caribou—known as wadziih or wah tzee in Dunne-za and atihk in Cree—was key. We were guided by this knowledge; caribou were once so abundant on the landscape they were "like bugs" said one Elder, who is quoted in our paper.
The Nations involved refused to accept the fate of the disappearance of the caribou they relied on and embarked on this ambitious recovery effort. They did the impossible, the project would not have happened without their leadership, as described in our co-authored paper which has just been published: "Indigenous-led conservation: Pathways to recovery for the nearly extirpated Klinse- Za mountain caribou".1
The Nations see recovery as one step towards reconciliation and restoration of their treaty rights which guaranteed the Nations' ability to "pursue their usual vocations of hunting".
I was also fortunate to work with Y2Y in my Liber Ero Fellowship on this project, a group with a large landscape vision that supported me in learning how to work with Indigenous Nations in a good way.
Image courtesy of Nikanese Wah tzee Stewardship Society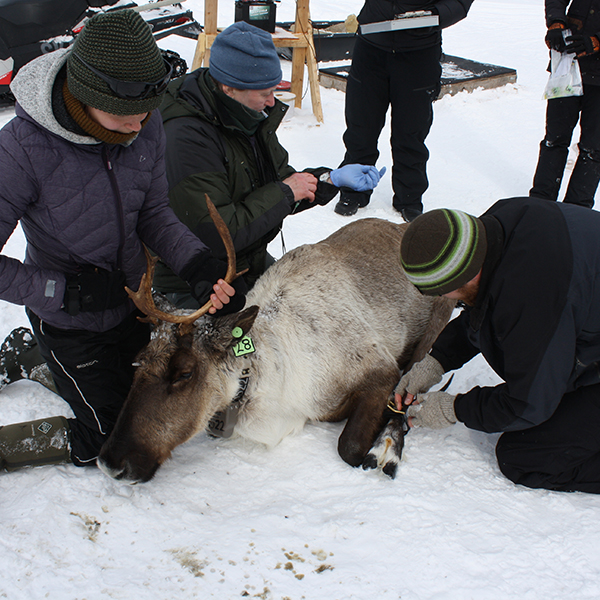 Image courtesy of Giguere, Wildlife Infometrics
What advice would you give to students at UBC interested in following a similar career path?
Do work that you are passionate about, which makes it worth getting up in the morning. UBC has an abundance of expertise and resources with scientists working on everything from large mammals like bison to insects to plants. Get out in the field or into the lab and see if you like the work, there's no substitute for trying the work on for size.
What advice would you give to faculty starting in similar fields at UBC?
As our paper notes, Indigenous-led conservation has had and will continue to have a major positive effect on wildlife recovery and protection across Canada. I would encourage faculty to support Indigenous-led conservation efforts in a way that works for them and Indigenous Nations. We have been groomed to conduct ourselves in a certain way and I encourage folks to work at the pace of trust to establish the relationships with Indigenous Nations, as these relationships are key to the success of the work.
Let's finish with a highlight of the project.
Recently, we put nineteen new female caribou into the maternal pen. It was incredible looking out on the high mountain site when this was happening. I remember seeing about twenty people – Guardians, scientists, veterinarians, helicopter pilots- all working together to get the caribous into the pens efficiently. That is the moment that sticks with me. It's fulfilling to think that there are probably 17 more calves on their way as a result of the latest penning we just completed in March.
---
[1] Lamb, Clayton T., Roland Willson, Carmen Richter, Naomi Owens‐Beek, Julian Napoleon, Bruce Muir, R. Scott McNay et al. "Indigenous‐led conservation: Pathways to recovery for the nearly extirpated Klinse‐Za mountain caribou." Ecological Applications (2022): e2581.