The UBC Point Grey campus is host to a multitude of biodiversity assets and ecosystem services. Our campus is located along the Pacific Flyway, our shores are transected by numerous once-salmon-bearing streams, our endowment lands are home to over 800 hectares of second growth forest, and we are home to UBC Botanical Garden, a living museum of local and international plant species. With these assets within our boundaries, and policy momentum both regionally and internationally, it is our turn to demonstrate UBC's position as a global change-maker through our campus-biodiversity actions.
Biodiversity Assets
The purpose of this map is to identify biodiversity assets on the UBC Vancouver campus. Biodiversity assets are places, people, programs, and projects that enhance, conserve, and educate about biodiversity on campus. Click the square with an arrow to access the map's legend and menu. Have a marker to contribute? Email seeds.info@ubc.ca
Biodiversity Mapping
There have been a number of initiatives to map biodiversity at UBC, from water features, to trees, to habitat. The GIS shapefiles for these projects can be sourced here.
Campus Biodiversity Initiative: Research and Demonstration (CBIRD)
Vision
Cultivating biodiversity knowledge and experiential learning that enables a network of people to provide insight and ideas to advance policy that supports a positive and nurturing relationship between the natural and built environment.
Mission
To create a platform for biodiversity enhancement, conservation and stewardship through applied research, meaningful community engagement, and the growth of a biodiversity network on campus. We will further our mission with the following objectives:
Cultivate biodiversity stewards by increasing public awareness and understanding of biodiversity issues and solutions.
Advancing policies and practices which address and respond to key biodiversity issues.
Utilize the Campus as a Living Laboratory
Take Action
Our partners have provided a number of resources to support biodiversity at your home:
A guide to eco-friendly lawns and gardens
A toolkit to support cimate action and the urban forest in your neighbourhood
More questions or want to get involved in CBIRD? Send us an email at seeds.info@ubc.ca
Events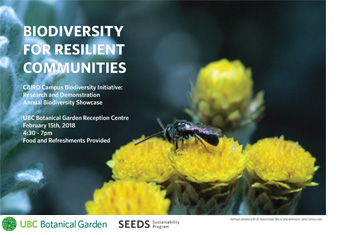 Annual Biodiversity Showcase - Biodiversity for Resilient Communities
Join us on at UBC Botanical Garden for a free evening of dialogue and learning!

February 15th, 2018
4:30 - 7pm
UBC Botanical Garden Reception Centre
Hors d'oeuvres and refreshments will be provided. Register
here
The event brings together expert researchers, SEEDS project participants, and leading practitioners at UBC, City of Vancouver, and Metro Vancouver to convene on actions we can all take to make our communities more resilient, vibrant, and ecologically rich.

Core Biodiversity Stakeholders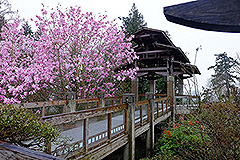 UBC Botanical Garden
UBC Botanical Garden is Canada's oldest university botanic garden, established in 1916 under the directorship of John Davidson, British Columbia's first provincial botanist. The original mission of the garden was research into the native flora of British Columbia. Over the past 100 years, the mission of UBC Botanical Garden has broadened to include research, conservation, teaching and public display of temperate plants from around the world.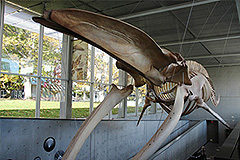 Beaty Biodiversity Museum
The Beaty Biodiversity Museum strives to inspire an understanding of biodiversity, its origins, and importance to humans through collections-based research, education and outreach. As Vancouver's natural history museum, we work to promote a greater sense of collective responsibility for the biodiversity of British Columbia, Canada, and the world. The unique combination of world-class research, paired with beautiful, compelling exhibits, strives to make the research conducted at UBC more accessible to the public.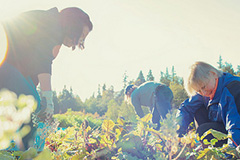 UBC Farm
The Centre for Sustainable Food Systems (CSFS), located at the UBC Farm, is a unique research centre that aims to understand and fundamentally transform local and global food systems towards a more sustainable, food secure future. The CSFS is a living laboratory, committed to finding solutions to both the local and global challenges facing food systems sustainability and translating solutions to improve personal, community, and environmental health. Through our Vision, Mission, and Guiding Principles, the CSFS models new paradigms for sustainable communities.