With nearly 400 institutional and residential buildings on campus, building operations is the largest component of UBC's environmental and carbon footprint. We are working to accelerate green building performance and regenerative design and operate the largest portfolio of green buildings at a Canadian university.
Green Building Certifications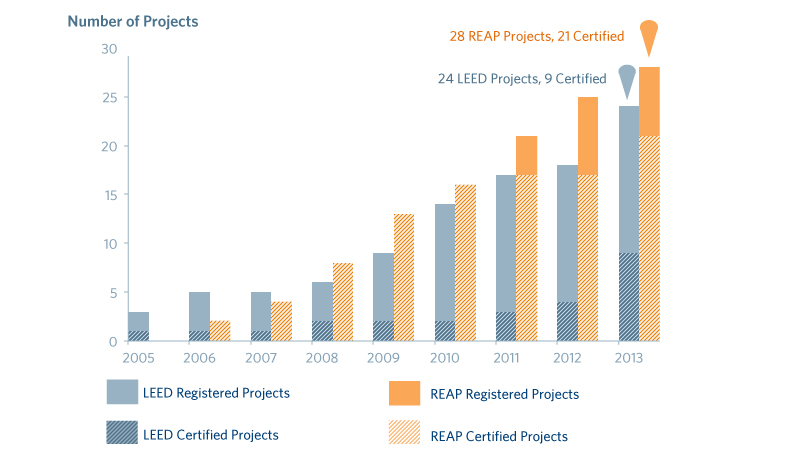 As of 2013, UBC had a total of 24 LEED registered and certified academic green building projects and 28 REAP registered and certified residential green building projects on campus.
*This graph reflects data from both UBC Vancouver and Okanagan campuses.

2013/2014 Key Achievements:
In 2013, three academic building projects were certified through the Leadership in Energy and Environmental Design (LEED) rating system and three residential building projects were certified through the Residential Environmental Assessment Program (REAP), a UBC-specific green building rating system for residential construction.
UBC achieved our first LEED Platinum certification for the Centre for Interactive Research on Sustainability (CIRS) and LEED Gold for our Biosciences Renew and Chemistry Renew projects. UBC also achieved our first REAP Platinum certification for Sail, a 6-storey residential condominium project in Wesbrook Village.
UBC's Green Building Tours Program provided over 111 tours of CIRS, the Bioenergy Research and Demonstration Facility and UBC sustainability locations to over 1,500 students, practitioners, and visiting delegates from across campus and around the world.
Read the full 2013-2014 Annual Sustainability Report.