Did you know? Fume hoods use 10% of UBC's total energy!
Shut the Sash encourages researchers to save energy through one simple action—closing laboratory fume hoods.
Shut the Sash 2015
From February 23 to March 27, Campus and Community Planning is partnered with BC Hydro to host Shut the Sash 2015, the forth iteration of this energy-saving competition focusing on fume hoods.
The competition is now underway in Earth Sciences, Pharmaceutical Sciences and Life Sciences with 41 teams participating!
Featured Spirit Challenge Submission
Coming Soon!

Competition Rules and FAQs
Learn more about the competition and fume hood energy conservation - check out our Shut the Sash Rules and FAQs on fume hoods and energy conservation.
Win Great Prizes
Participating teams will have the chance to win weekly $100 draw prizes or one of three $500 Grand Prizes - simply by shutting the sash. The Spirit Challenge will also be back for teams to earn more points and increase their chances of winning the Grand Prizes!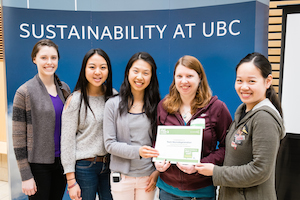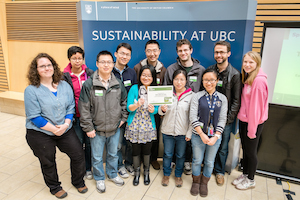 Past Competitions
Shut the Sash 2014
Over 200 researchers in three buildings—Earth Sciences, Life Sciences, and Pharmaceutical Sciences—participated in their first ever Shut the Sash. Researchers formed 50 teams and achieved an overall 81% improvement in average sash height. A new component to the competition was the Spirit Challenge, where teams completed a series of tasks, such as creating prompts and making videos, to promote Shut the Sash as a group. Teams were encouraged to use social media platforms to increase the presence of Shut the Sash. Learn more about the 2014 competition in this feature article.
Shut the Sash 2013
With the same three buildings participating in 2013, the results were impressive. Nine teams kept their sashes shut when not in use for all 6 weeks of the competition—and in one entire building, every sash was shut for 4 weeks of the competition. Read more about the competition.
Shut the Sash 2012
Research labs in Biological Sciences West & South, Chemistry D & E, and Michael Smith Laboratories participated in the first ever Shut the Sash Competition at UBC. Over the six-week competition, monitors recorded an 82 percent improvement in sash closures. Read more about the competition and results.
Results
Over the past three years of the competition, participating labs saved an estimated 163,500 kWh of electricity and 3,915 GJ of natural gas, and reduced GHG emissions by 176 tonnes—equivalent to 105 round-trip flights from Vancouver to St. John's, Newfoundland.
Contact
To find out more about Shut the Sash, please email shut.the.sash@ubc.ca.
Acknowledgements
UBC acknowledges the support of BC Hydro, FortisBC and VWR in our campaign to reduce energy use in labs. UBC's Shut the Sash competition was adapted from the University of Toronto Sustainability Office's campaign guide.