Did you know? Fume hoods use 10% of UBC's total energy!
Shut the Sash encourages researchers to save energy through one simple action—closing laboratory fume hoods.
About Laboratory Fume Hoods
Fume hoods at UBC consume up to 10 per cent of campus energy due to the large volume of air that needs to be heated or cooled and moved through the hoods. Fume hoods are fitted with movable sashes that provide a safety barrier between the hood interior and the laboratory. Sashes should be opened only to set up or modify an experiment, but some sashes are left open when not in use. An open fume hood can use as much energy as 3.5 homes!
Depending on the type of fume hood, researchers can help save energy by simply shutting the sash. Variable Air Volume (VAV) fume hoods in newer UBC buildings are connected to the HVAC system. When the sash is lowered, the fan's speed and the volume of air being exhausted are also lowered, saving energy. Check out the FAQs to learn more.
With over 1,200 fume hoods in various research labs across campus, Shut the Sash focuses on educating researchers and making energy saving easy and fun.
Read more about fume hood safety in the UBC Laboratory Chemical Safety Reference Manual.
Shut the Sash 2014
From February 3 to March 14, Campus and Community Planning partnered with BC Hydro and FortisBC in Shut the Sash 2014, the third iteration of this six-week energy-saving competition focusing on fume hoods.
This year's Shut the Sash competition focused on research labs in three buildings—Earth Sciences, Life Sciences, and Pharmaceutical Sciences.
Researchers—more than 200 grad students, post-doctoral fellows and research assistants—formed 50 teams and competed for two $500 awards, the Grand Prize and the Spirit Challenge, as well as weekly draws for each building, worth $100 each.
Competition Results
Congratulations to our Grand Prize Winner Team Neurodegeneration! Our first Spirit Challenge received 79 entries and we are excited to announce the Spirit Award went to Team Sash for Pizza!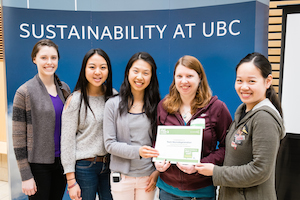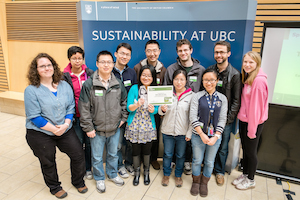 Altogether, participating lab groups achieved an 81 per cent improvement in average sash height. Teams helped to save an estimated 29,500 kWh of electricity, 915 GJ of steam, $7,272 in carbon offset & utility costs, and reduced GHG emissions by 46 tonnes - equivalent to 27 round trip flights from Vancouver to St. John`s Newfoundland. Learn more about the 2014 competition in this feature article.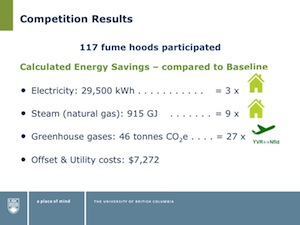 Past Competitions
Shut the Sash 2012
Research labs in Biological Sciences West & South, Chemistry D & E, and Michael Smith Laboratories participated in the first ever Shut the Sash Competition at UBC. Over the six-week competition, monitors recorded an 82 percent improvement in sash closures. Read more about the competition and results.
Shut the Sash 2013
With the same three buildings participating in 2013, the results were impressive. Nine teams kept their sashes shut when not in use for all 6 weeks of the competition—and in one entire building, every sash was shut for 4 weeks of the competition. Read more about the competition.
Results
Over the past two years of the competition, participating labs saved an estimated 134,000 kWh of electricity and 3,000 GJ of natural gas, and reduced GHG emissions by 130 tonnes—equivalent to 78 round-trip flights from Vancouver to St. John's, Newfoundland.
FAQs
For more information, read the FAQs.
Contact
To find out more about Shut the Sash, please email shut.the.sash@ubc.ca.
Acknowledgements
UBC acknowledges the support of BC Hydro and FortisBC in our campaign to reduce energy use in labs. UBC's Shut the Sash competition was adapted from the University of Toronto Sustainability Office's campaign guide.